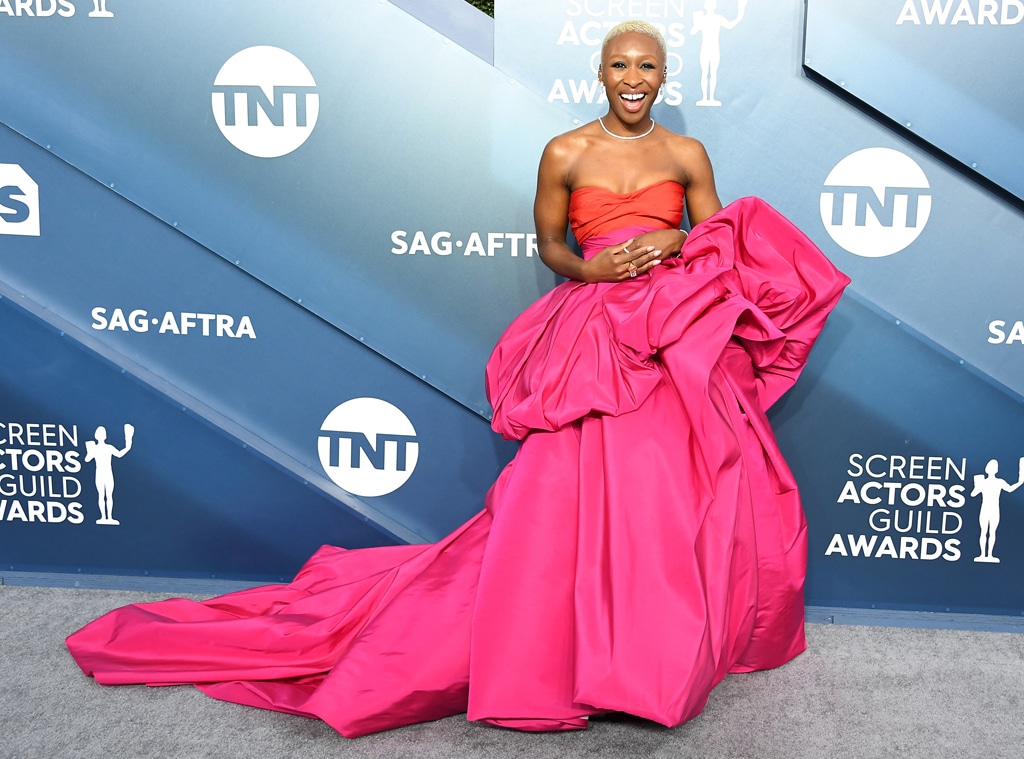 Steve Granitz/WireImage
Cynthia Erivo is speaking out.
On Friday, the Harriet star weighed in on the lack of diversity at the 2020 Oscars in an interview with The Hollywood Reporter. As the only woman of color nominated for Best Actress in a Leading Role on the Academy Awards' shortlist, she opened up to the outlet about the feelings of loneliness during the race to the Oscars.
"It is a moment for celebration, but it also is a real eye-opener," Erivo shared. "It can't just be me alone. There's just such good work going on and this may sound fatalistic, but I would hate for people's work to have gone by and then for us to have looked back and go, "Oh, I wish we would've given roses," when people aren't there to actually receive them. I don't want us to do that."
She continued, "To be in a room and not being able to see other actors [of color] who are nominated, to not be able to share that with another black actress is saddening. I would love to share this moment with someone else."
Speaking up is something that comes naturally to Erivo, who admitted that she "can't help but speak out" when she feels fairness is "being endangered" in the interview. As she explained what attracted her to playing the role of Harriet Tubman, Erivo shared that she wanted her portrayal to give viewers "a different point of view" in regards to the roles that women of color can play.
"You get to see someone who was defiant and who lived her life as a free woman," Erivo said, "To take on that role was to challenge how you see women who lived through that time and how much agency they can have. To see a woman of color in the middle of a period piece holding a gun, saving people, freeing people, it shouldn't make sense, but it was real. I love the idea that it challenges people's idea of what a black woman can be onscreen, and how she can tell a story."
Watch:
Cynthia Erivo on Finding "Harriet's" Voice at 2020 Golden Globes
Another way Erivo speaks up is by not speaking at all. After the 2020 BAFTAs nominations were announced, The Color Purple star refused to perform at the award show because of the lack of representation. Following the news that she wouldn't be taking the stage to sing her Oscar-nominated song "Rise Up," Erivo said she received an outpouring of support. 
"There are black actors who have reached out and said, "Thank you very much, congratulations and well done," she said, noting that her decision was received well in the United States and that she doesn't know how those in the United Kingdom took it. "Over there, I've only been paying attention to those I know and care about who are also black actors and actresses in the business, and demand to be a bit more outspoken about their belief in making sure it's a more diverse playing field, and that we get to see ourselves celebrated as well."
Despite her critically-acclaimed performance in Harriet, her Best Actress nomination and her Emmy, Tony and Grammy Awards, the British star admitted that she feels a sense of displacement in the industry due to the lack of representation and acknowledgement women of color receive. But, she is learning how to change the narrative.
"I do have a feeling that I don't quite belong. I'm lucky now because of the community of black actors and actresses who have welcomed me, so in that respect I feel like I belong," Erivo explained. "But in the wild, I don't quite belong in the United Kingdom and there are places in the United States I definitely don't belong. I'm now coming to the realization that that's part of the charm of me, that I'm a bit of an oddity, where I don't fit."
She added, "I'm starting to accept that if I don't fit in, I don't have to try and make myself fit in."