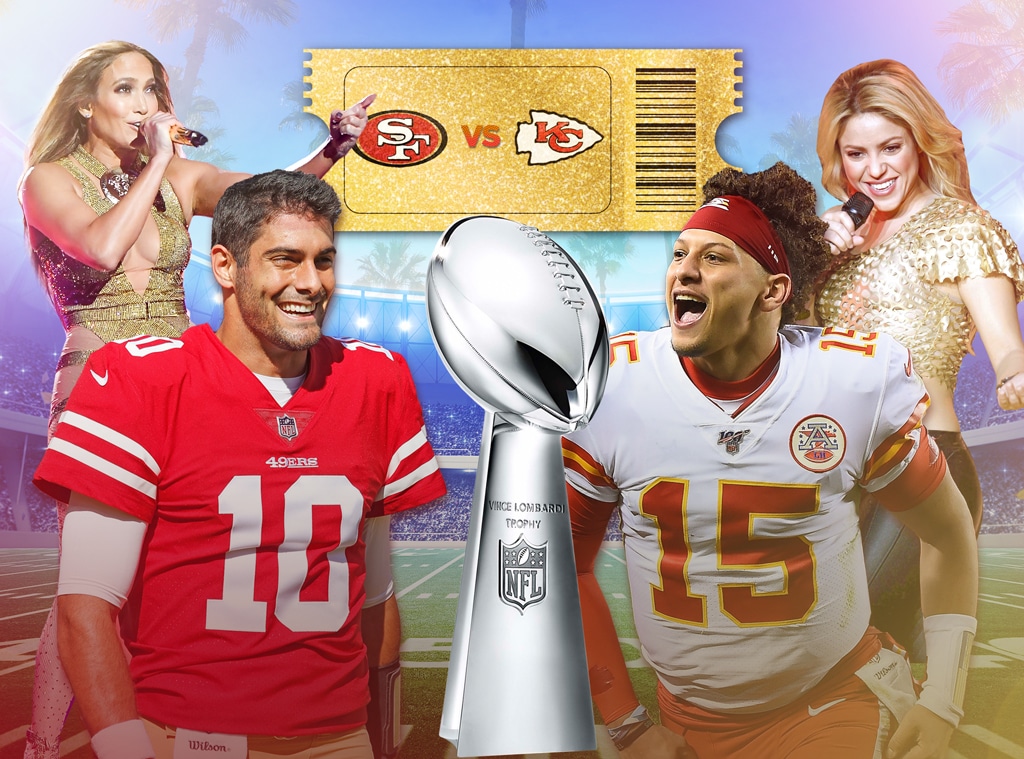 Getty Images; Melissa Herwitt/E! Illustration
The best thing about the Super Bowl: It doesn't matter if your team didn't make it. You barely even have to be a football fan. 
Of course, it's all the more wonderful if one or both apply to you, but for real, there is always so much more than the big game happening on Super Bowl Sunday, from the halftime show to the commercials, celeb sightings, players' families acting all cute 'n' stuff and inevitable viral moments.
Super Bowl LIV, taking place this year at Hard Rock Stadium in Miami, will have all of the above on tap, and amid all the general excitement there will be a fair share of history-making moments to watch out for.
We'll start with the milestones that are definitely taking place.
The Game
• This is the first time the Kansas City Chiefs and San Francisco 49ers have ever met in a Super Bowl.
• This marks the first time that both Super Bowl teams' uniforms are primarily red—but the 49ers will be wearing their white road jerseys with gold pants, to not entirely confuse casual observers.
• Miami is hosting the Super Bowl for the 11th time, making it the all-time leader among cities where the big game has been held.
• The lowest average price of one Super Bowl ticket for sale on the open market has climbed ever higher to a record $5,844 on SeatGeek, while the highest price (a bit closer to the action) was $46,302.
TANNEN MAURY/EPA-EFE/Shutterstock
• 49ers coach Kyle Shanahan and dad Mike Shanahan will become the first father-son duo to be head coaches in the Super Bowl, Mike having previously coached two winning Denver Broncos teams, in 1998 and 1999 (from the '97 and '98 seasons). Mike was also the 49ers offensive coordinator the last time they won a Super Bowl, in 1995.
Jose Carlos Fajardo/Bay Area News Group
• Katie Sowers, an offensive assistant on Shanahan's staff since 2017 and one of three women with full-time coaching jobs in the NFL, will be the first woman to ever coach in the Super Bowl, as well as the first openly gay coach to do so. You'll also see her in Microsoft's Super Bowl ad, "Be the One."
• Per The Undefeated, there will be five black officials on the field, the most over for a Super Bowl: field judge Michael Banks, line judge Carl Johnson, umpire Barry Anderson, back judge Greg Steed and side judge Boris Cheek.
"This should have taken place some time ago," Johnny Grier, who became the NFL's first African-American referee in 1988, told the site. "This took too long. So many black officials were qualified but never got the nod."
The Entertainment
• Jennifer Lopez and Shakira are making their Super Bowl Halftime Show debuts, performing together for the first time for one of the biggest audiences in the world—not a bad way for Shakira to spend her 43rd birthday. It's also the first time two women have co-headlined the event, and two Latina women to boot.
"Two Latinas, doing this in this country at this time, it's just very empowering for us," Lopez said at their official press conference on Thursday. Shakira called it "a very important moment for our community in this country."
The Ads:
• The price for a 30-second spot topped out at $5.6 million, a 5.5 percent increase over 2019. The demand was so high, Fox added 2.5 minutes of commercial time to the game.
• Facebook is running its first-ever Super Bowl commercial, starring Sylvester Stallone and Chris Rock. Other brands new to the big game this year include Little Caesars pizza; Bud Light Seltzer, starring Post Malone; hummus purveyor Sabra, with a star-studded cast that includes Real Housewives Teresa Giudice and Caroline Manzo, RuPaul's Drag Race alums Miz Cracker and Kim Chi, and rapper T-Pain; Hard Rock International; Pop-Tarts, starring Queer Eye's Jonathan Van Ness; Quibi, the streaming service everyone is talking about but which is still upcoming; Hershey, giving the Take 5 bar its day in the sun; eco-friendly shoemaker Saucony; and, believe it or not, Walmart. 
Now on to the grand possibilities:
• If the 49ers win, they will tie the New England Patriots and Pittsburgh Steelers for most NFL championships with six.
• Either coach, the Chiefs' Andy Reid or the 49ers' Kyle Shanahan, will be winning his first Super Bowl ring. Shanahan, 40, is making his Super Bowl debut, while Reid, 61, was head coach of the Philadelphia Eagles in 2005, when they lost to the Patriots in Super Bowl XXXIX. Reid has more regular-season wins (207), playoff wins (14) and postseason appearances (15) than any other coach who has not won a championship.