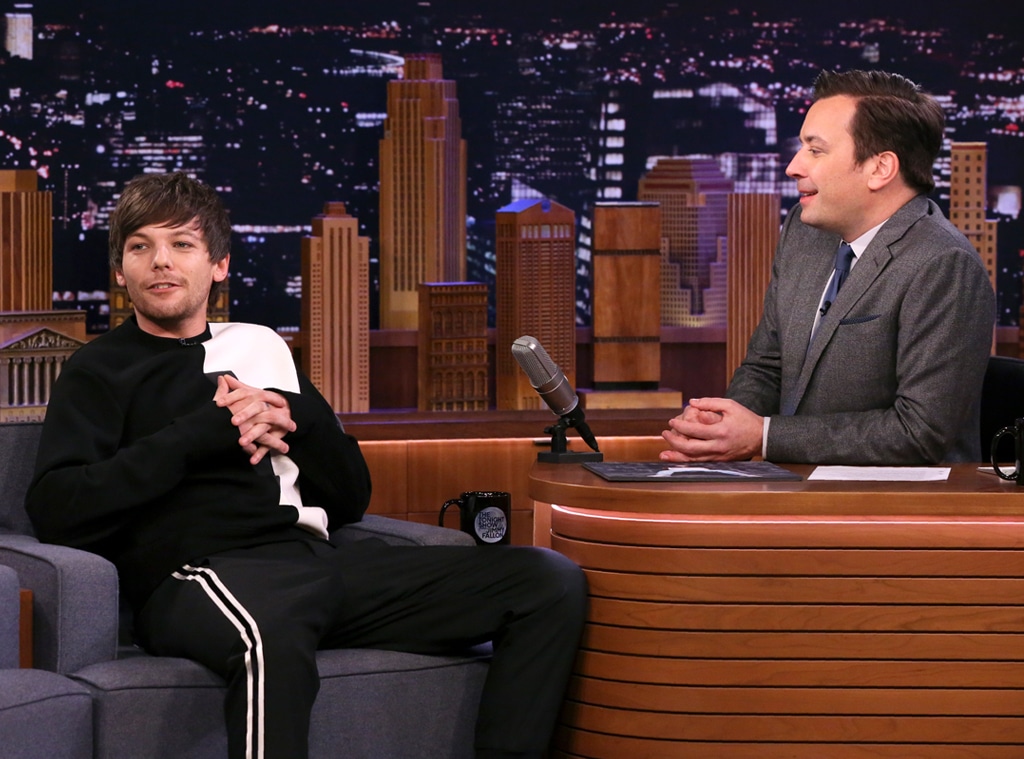 Andrew Lipovsky/NBC
It's systematic, hyrdomatic, ultramatic, it's Louis Tomlinson!
During an appearance on Thursday's The Tonight Show Starring Jimmy Fallon, the former One Direction member celebrated the release of his debut solo album Walls, and then Fallon treated viewers with a clip of the star as a teen performing in Grease.
As Tomlinson explained, he caught the acting bug when his twin sisters started booking gigs when they were younger, resulting in him snagging some extra roles in their projects. When he transferred to a new school, the first thing he did was audition for the school's production of Grease, and being the crooner he is, he landed the role of Danny Zuko.
"Where I grew up in the north of England, it wasn't that cool to do plays," he told Jimmy Fallon. "So, I was a little bit tentative to get involved, but in the end my mom pushed me to do it, and then I got Danny and I absolutely loved it."
"I reckon it gave me the bug," he continued. "Oh, woah, yeah, absolutely. It gave me the [music] bug, I think."
Reading Fallon like a book, the "Walls" singer then asked, "Are you going to embarrass me and pull a clip up now?"
"No, I would never embarrass you and pull a clip up. That would be ridiculous!" the host responded before promptly adding, "I want to show everyone a clip."
Sure enough, a short video of the 28-year-old star popped up, showing Tomlinson rocking his T-Birds leather jacket in the scene where Danny and Sandy first run into each other at Rydell High.
As the clip ended, Fallon cheered and said, "That is fantastic! Hey, look at you now, man. Look at you now."
Then it was time to talk about Tomlinson's debut solo album.
"It's a relief to be here," the singer said of the album's release. "As I said before, it's been four years in the making. What I was used to with One Direction was an album a year, so I've had to be patient, and sensible and understand the process. I think I've learned a lot along the way, but I think it took me a couple of years—18 months, two years—to actually find my feet and work out who I am."
Watch:
Louis Tomlinson's Sister Felicite's Cause of Death Revealed
As he continued, "I had to do my developing in front of everyone else, so there was a bit of treading water, but I feel like where I've landed—and especially with this single that I'm gonna perform tonight, 'Walls'—I'm really proud of it."
Now, put your walls down and check out the rest of the interview to hear Tomlinson dish on his upcoming world tour.