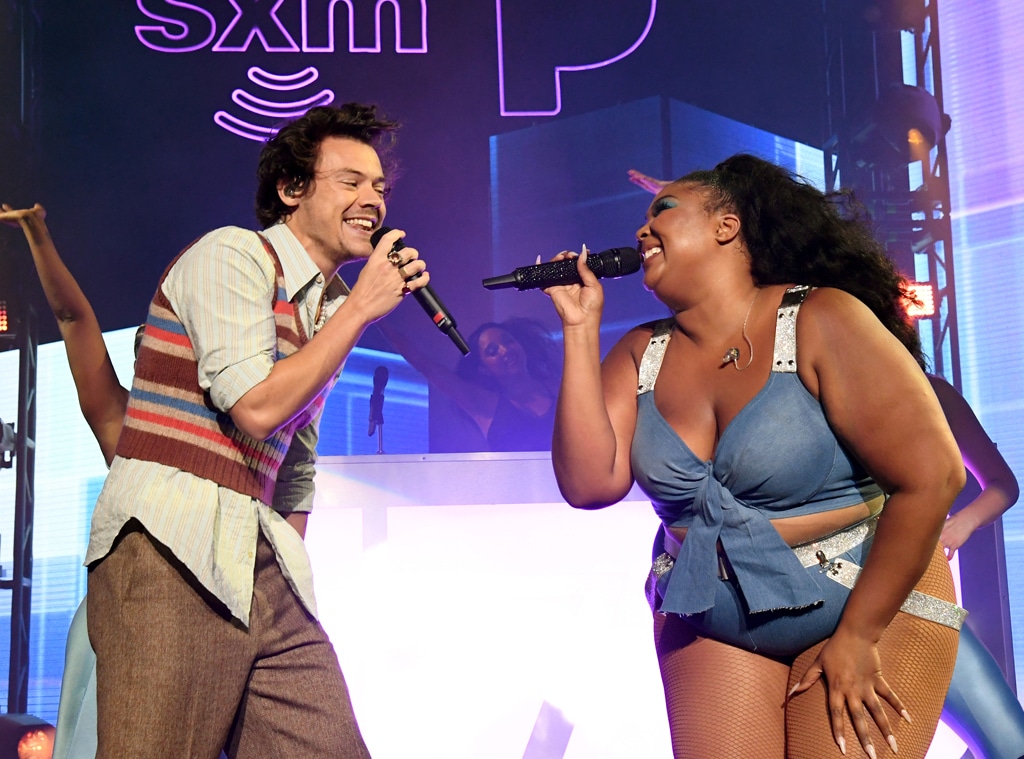 Kevin Mazur/Getty Images for Pandora
Somebody come get this man!
In the best surprise of all time, Lizzo brought Harry Styles out on stage to sing "Juice" together during her concert on Thursday night. The "Good As Hell" crooner was in Miami to perform at the SiriusXM & Pandora Opening Drive Super Concert Series ahead of the 2020 Super Bowl. "Juice" served as the grand finale, and what a finale it was!
In a video taken by one of the concertgoers, the star (who is fresh off the heels of winning three Grammys) is seen getting ready to start up the song when she says, "Hold up, I need to bring someone out. Ladies and gentlemen, Harry Styles!" And the crowd went wild. Even one of her dancers looked shocked as the former One Direction member sauntered onto the stage in his pants and sweater vest combo, and her reaction is all of ours.
The two songbirds proceeded to get all the joy performing the bop of a track together.
Harry (who did a fun as hell cover of the single at the BBC Radio 1's Live Lounge in December) even knew the choreography and danced along with the "Truth Hurts" singer.
The "Adore You" singer (who was already in Miami to headline the Pepsi Zero Sugar Super Bowl party) proved just how much he truly adores Lizzo during this rendition of the song. When he wasn't singing, he was bopping along and excitedly providing backup vocals.
When the "Somebody come get this man, I think he got lost in my DMs" line came in the bridge, the two played off each other before the rockstar screamed "I wanna be way more than friends! What you want me to say, baby?"
In a truly lovely moment, the two stars held hands as they sang the final chorus. Harry, the best hypeman ever, then screamed "LIZZO!" and gestured to the "Jerome" singer as she belted out the final note of the song, which closed out her two-hour performance.
If Lizzo and Harry are shining, everybody's gonna shine.
This pre-Super Bowl concert marked the 31-year-old's first performance since the 2020 Grammys on Sunday. According to The Hollywood Reporter, the singer used that performance as her means of celebrating her three Grammy wins.
"I just want to say this is my first show since the Grammys," she said to the crowd. "I still have not quite processed (it). I feel like tonight is the night to actually celebrate those three Grammys, my family and that beautiful performance my team put together. We gone celebrate tonight."
The pop star also took a moment to honor the late Kobe Bryant and Gianna Bryant, who tragically died the morning of the Grammys.
"I can't be at the largest sporting event of the year without mentioning the tragic loss of Kobe Bryant and his daughter Gianna," she said. "We can't be at this event and not think of them in our hearts and hold them up and honor them as sports fans, as music fans, as human beings."
"We have an effect on each other," she added. "We have to be good to each other. We don't know what tomorrow holds. We don't know if tomorrow's promised. So, I want you all to just really dig down deep inside and be good to yourself, be good to your family. If you have any beef with your family, squash that (expletive)."
There's no doubt that Lizzo was feeling a whirlwind of emotions during her concert last night. And bringing Harry out was just the shot of joy she and audience needed.
Consider this our official pitch for a Hizzo collaboration album.