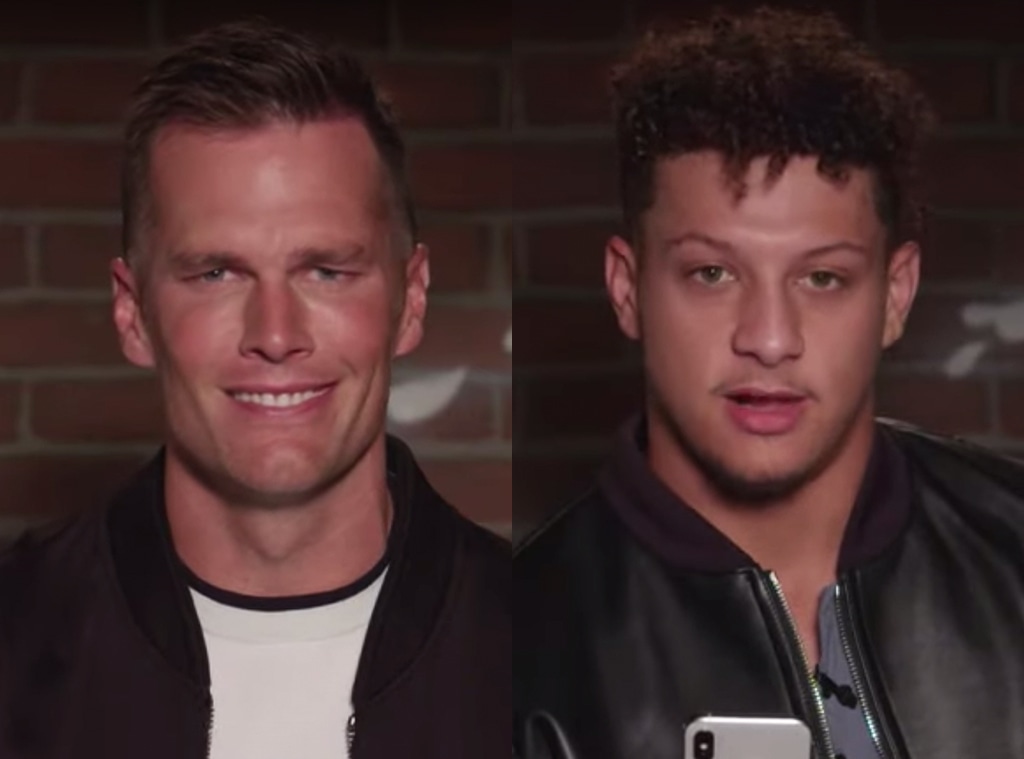 YouTube
Jimmy Kimmel's Mean Tweets are back just in time for the 2020 Super Bowl.
Leading up to football's biggest night, Tom Brady, Patrick Mahomes, Terry Bradshaw and more NFL stars read the meanest tweets Jimmy Kimmel Live could find about them to read aloud, and oh boy, is this round is a doozy.
First up was the New England Patriots quarterback. As Brady read, "Hi. I'm Tom Brady and I am a cry baby and I have a butthole in my chin!"
The famed athlete simply laughed and pointed at his chin in response. Next up was Kansas City Chiefs quarterback Mahomes, who will be playing in Super Bowl LIV against the San Francisco 49ers in Miami on Sunday.
"I imagine Patrick Mahomes barber is a super hero, who has to run out and save the world every time he gets halfway through Mahomes haircut," he said. The player just shrugged as the video moved on to the next athlete, Mahomes' teammate Travis Kelce.
As the tight end said, "This dude Travis Kelce looks like the Notre Dame leprechaun."
Kelce couldn't help but laugh at the tweet and kind of agree.
Up next was Philadelphia Eagles running back Corey Clement. As the star read, "Corey Clement HOLD MUH DICK."
Without missing a beat, Clement responded, "Nah, you hold mine."
Los Angeles Chargers defensive end Joey Bosa took his turn next. As he said, "Joey Bosa's nose is so big it looks like he been lying every day for his whole life."
As he replied, "That's a good one." The next tweet was particularly brutal.
"Pray for Devin Funchess," the Indianapolis Colts wide receiver read aloud. "Ain't nothing wrong with him, he just f*@king suck." Yikes!
Of course, the segment wasn't going to let Brady get off easy. After a couple more players read their mean tweets, Brady popped back up on screen and read, "F*@k you Tom Brady you fat bitch I hope you cry."
As she responded, "I do cry, too."
Eagles running Jay Ajayi was next up on the chopping block. As he said, "Why does Jay Ajayi running look like Forrest Gump running when he had the braces on his legs?"
"That's f*@ked up," he replied. The next tweet was a truly weird insult.
As Los Angeles Rams linebacker Clay Matthews said, "Clay Matthews is the type of dude who farts into a bottle of Sunny D, puts it in the fridge, and then consumes it the next morning."
His response was just a look of pure confusion, and so was ours.
Football legends Michael Irvin and Bradshaw appeared next. As the former Dallas Cowboys player read, "Michael Irvin looks like every old timey table cloth in America got together & had an orgy to make that outfit."
Then it was Bradshaw's turn. As he said, "Bradshaw you ass kissing wuss. Your brain fell out with your hair chicken sh*t!" His clapback was the best of them all.
"Why don't you bite my angry rebel dick?" he said. And finally, Brady came back to close things out.
"F*@k you Tom Brady," he read. "I hope your dog eats chocolate and gets really sick and throws up on your socks." As the star replied, "That's f*@ked up!"
Agreed. Now, put on your helmets and watch the full video to check out the rest of the absolutely brutal mean tweets.