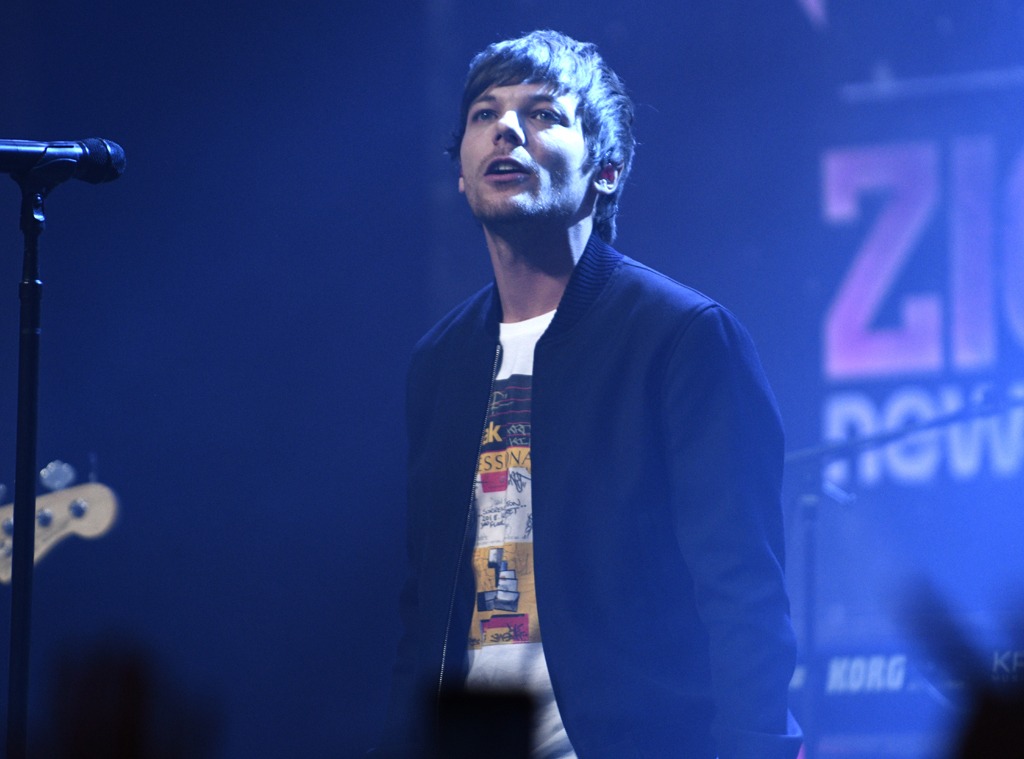 Gary Gershoff/Getty Images for iHeartMedia
Louis Tomlinson has finally found his voice.
After a few false starts and a whole lot of pain, the onetime One Direction member has become the last of his former bandmates to release a solo album. But the road to Walls, out now, was a winding one. 
Before the Doncaster, England-born heartthrob could zero in on who exactly he was outside of the massive cultural behemoth that was One Direction, which officially went on hiatus in March 2016, he had to learn to let go: let go of expectations, let go of a life he'd grown accustomed to, let go of the very notion of success. 
On second thought, maybe, where that last one is concerned, the word "shift" is a bit more accurate. 
In April of last year, he shared a lengthy message with his fans on Twitter, revealing that he'd recently "put a lot of things into perspective and in what I should be doing is forgetting about perception and to a certain degree worry less about being defined on commercial success."
"I'm not here to compete with the likes of Drake and Ariana Grande," he added. "I'm here to make music I love and make my fans proud to say they're a fan."
Explaining the new state of mind to Rolling Stone earlier this week, He said, "My only experience is being in a band the size of One Direction. So naturally, as much as you try and stay humble and realistic, that's your experience. And that experience is based on something that isn't real life, really. So it took me a second to be at peace with that."
This desire to shift his perspective also coincided with a shift in the sort of music he began releasing. Initial singles "Just Hold On," made with Steve Aoki, and "Back to You," a collab with Bebe Rexha and English DJ Digital Farm Animals, found Tomlinson exploring the electro-pop world. "When I look back at those songs, I don't think they really represent me," he told the publication. "So it took me a second to work out that I just wanted to follow my heart. Because I have the luxury of having been in a band like One Direction. And luckily, I saw a lot of success with the band. But instead of focusing so much on numbers and chart position and radio, I thought, 'I'm just going to follow my heart.' And, hopefully, it'll be a more authentic record that way.
His first drop in 2019 after signing with the newly-relaunched Arista Records, saw him do just that. "Two of Us" was a plaintive and emotionally raw ballad dedicated to his mother Joahannah Deakin, who'd passed away from leukemia in December 2016 at just 43. 
"For obvious reasons, that is definitely one of my proudest moments to date. As a songwriter, I've never written a song that had as much weight and importance, from my own perspective," he explained. "It was funny because around that time, for obvious reasons, I felt really redundant creatively. I was really struggling. When I look back in hindsight, it's because I needed to get that song off my chest. Other concepts lacked significance, until I'd fit in that song."
Subsequent releases, beginning with the Oasis-esque Britpop track "Kill My Mind," have seen down a road exploring the sort of music he loves, setting himself apart from anything former bandmates Harry Styles, Zayn Malik, Liam Payne or Niall Horan are doing. "That was written deliberately as a statement of intent, really," he said of the track. "I don't want people to feel sorry for me, so I didn't want to keep writing emotional, heavy stuff. So I thought it was a great opportunity to just completely switch it all, and really go in on my inspirations."
As he told The Independent this month, when it comes to his music against that of his former bandmates, "I don't like to look at it that way."
He's loathe to look down on his time in One Direction, telling RS, "First, I absolutely f--king love the band. I'm super proud about where I've come from. At the end of the day, I'm from Doncaster, and the band gave me such a nice opportunity. But also, there's a big history of that, people coming out of bands and chatting s--t. I just think they just look so obvious. It's such a desperate attempt to try and get cool points. So I don't think it's authentic. I f--king love the boys, and I love everything we've done together. And I still miss my time with them. I think any of the boys would be lying if they said otherwise."
I think we're all making really f--king good music as well," he continued. "So, yeah, it's nice for me to turn up the radio and hear the boys with another banger."
Since 2016, Tomlinson's not only had to find out who he is as an artist, but also weather the ups and downs of everyday life. There have been highs, like welcoming son Freddie Reign with stylist Briana Jungwirth in January 2016 and reuniting with longtime girlfriend Eleanor Calder in early 2017 after two years spent apart. And, sadly, there have also been lows. Not only did he lose his mother in 2016, but he was forced to say goodbye to younger sister Félicité in early 2019 after she suffered an overdose. 
And as he told The Independent, suffering such grief in the public eye has been "really tough."
"There have been mixed emotions," he explained. "I've hated the fact that everyone's talking about it, but that's the way it is. I didn't like the idea of people feeling sorry for me. But I've also felt the support from fans and people reaching out on social media or whatever…and I do feel I've got this ability to see the glass as half full. Because what else am I going to f--king do?"
All the while, an album was being made and a sound was, slowly, being formed.  "A good two years [was spent] treading water and trying to work out exactly what my sound was, and what I was capable of," he told the publication.
Elaborating with Rolling Stone, he said, "I definitely could have made a quick record, a more trendy record. But I think it's a big thing for me as a writer that it's got to be believable coming out of my mouth. So lyrics are really important to me." (Tomlinson has writing credits on 37 of One Direction's songs, more than anyone else in the band.)
"When I took the leap of faith to go, 'All right, I'm going to do something on my own,' it took me a second to work out exactly what that was going to be," he told the magazine. "A lot of people, when they're first starting out, they develop in the background, trying different things. But obviously, I had to do that a little bit more publicly. That's been definitely been challenging at times. So I'm relieved to have an album that I'm really proud of."
While he won't rule out a return to 1D someday down the road—"Truthfully, none of us truly know [if we'll reform]," he told The Independent. "I just know what my gut says and my gut says we will get back together at some point. I think it was too magical for all of us to never do it again"—he's viewing the release of Walls as only the beginning.
"I feel like this is the start of my career, with so much to look forward to and all the plans in place," he said in a statement earlier this month. "Honestly, I've been through every emotion possible in the past few years and come out the other side stronger and more confident than I've ever been. I know I've made an album that my fans will like, one that sounds like me and has its own identity. There were times I wasn't sure if this was what I should be doing. Now I can't imagine doing anything else."
Walls is available everywhere now.