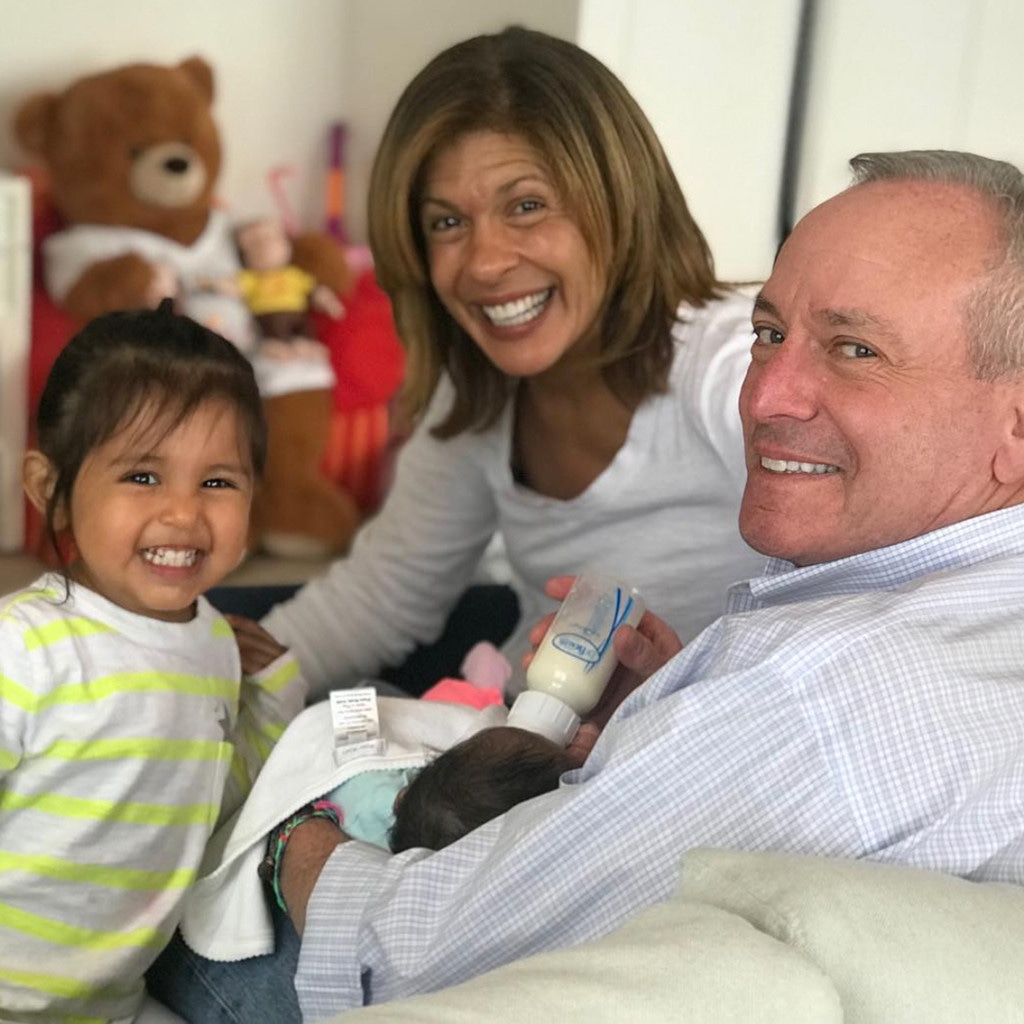 Instagram
The baby fever is real!
On Wednesday, Hoda Kotb revealed that the Kotb-Schiffman family might be expanding in the future during her visit to The Ellen DeGeneres Show. After sharing that she's not 100-percent sure if she and fiancé Joel Shiffman will adopt another baby, the TODAY host, who is mom to Haley Joy, 2, and Hope Catherine, 8 months, told host Ellen DeGeneres that she's been getting a lot of signs that have been pointing towards yes.  
"I was scribbling in my journal and I was asking myself that question," the newly-engaged star recalled. "And I wrote in there, 'I'm wondering if we should." And then I wrote, 'Do we have enough love?' and I wrote, 'Yes.' And said, 'Do we have enough time?' And I wrote, 'Yes.' And I said, 'Would our family be more enhanced?' I wrote, 'Yes.' So, I was thinking maybe the answer is yes.
While on the topic of her growing family, Hoda also opened up about the fears she had about becoming a mom in her 50s.
"When you're parents later in life, watching Haley and Hope together, all I really want is for them to have someone to hold their hand forever and that's it," the 55-year-old shared. "That's all I want. I was scared 'cause we're older…but then I realized, like, they'll have each other."
"It's so funny, I actually, for the first time, got a trainer," Hoda continued. "And he said, 'Well, what do you want to do?' And I said, 'I want to get on the floor and get up 100 times.' I said, 'I want to be able to pick up 35 pounds and throw 35 pounds in the air.'"
She added, "I think it's funny when, like, you want to do something, your energy kicks in."
Switching gears, Ellen congratulated Hoda on her recent engagement to her longtime love. As she was explaining the moment Joel got down on one knee and asked her to marry him, Hoda couldn't help but gush over the love she has for her hubby-to-be.
"I was so—I didn't know I could be shocked and I didn't know I could love him more," she told Ellen. "And I did in that moment. And I've felt different ever since… I can't believe, Ellen how different I feel since that moment. I thought, 'We're in love and love is love, so what?' But I did feel different the minute he proposed."
After explaining that she thinks the wedding will most likely be an intimate beach ceremony, Ellen surprised the news anchor with a bachelorette party present, and in true Ellen Show fashion, it was a poster of Blake Shelton.
Knowing Hoda was a Blake superfan, she had his face Photoshopped on the body of a shirtless model and strategically placed a dart board over his crotch.
"That is about perfect," Hoda said after giving Ellen a high-five for nailing the gift. "I'm literally taking it."