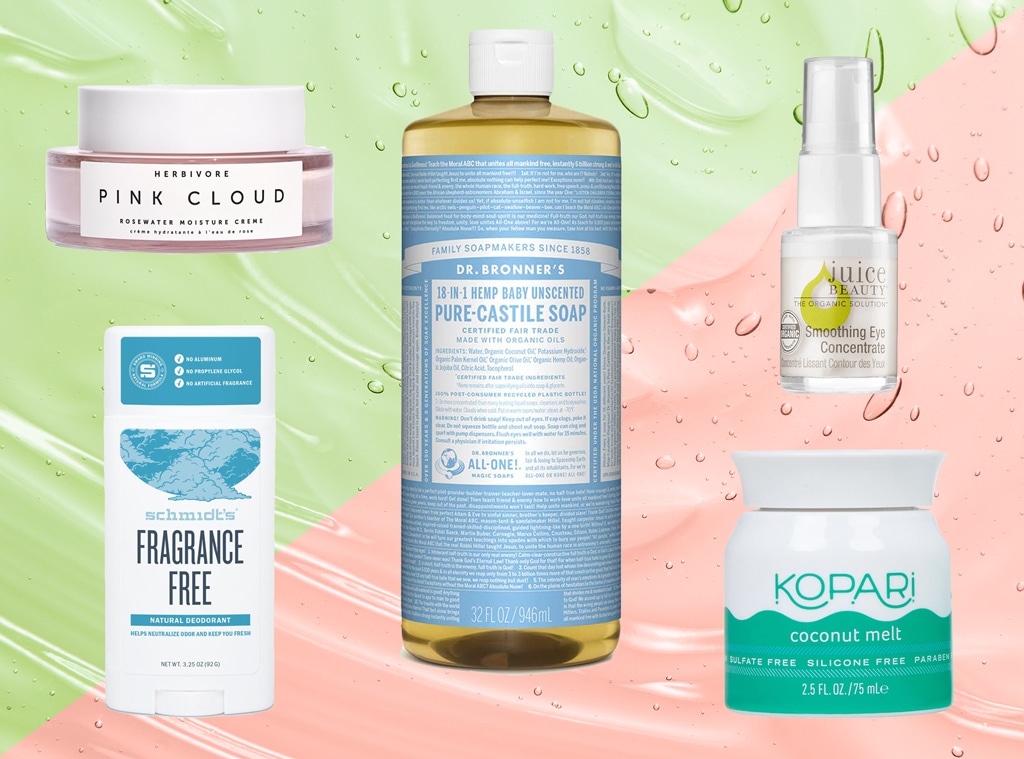 We love these products, and we hope you do too. E! has affiliate relationships, so we may get a small share of the revenue from your purchases. Items are sold by the retailer, not E!
When it comes to beauty, fragrance can be a tricky thing. For some, the scent of a new mascara, soap or body cream is heaven. For others? Dealing with beauty products that have fragrance is akin to locking themselves in a ventless room that was doused in Axe Body Spray.
We feel for you scent-sensitive folks. We went looking for some good options that span the beauty world and won't send you running for fresh air. There's face masks and body washes, multi-purpose soaps and facial bars, make-up and moisture cream, and everything in between.
So if you can't take the intensity of scent, shop our list below to find some options that won't bother your nose. We hope you find something you'll love to add to your routine!
Pink Cloud Rosewater Moisture Cream
It's true that this moisturizer counts rosewater as one of its ingredients, but don't run for the hills. The scent is super subtle and dissipates. Plus, it's packed with a ton of other skin-loving ingredients like aloe water and white tea extract, which soothe redness, and the cream hydrates your skin to leave it with a dewy finish.
The Honest Company Shampoo & Body Wash
Those of you with super sensitive skin, prepare to do a tap dance: this dual-use product was made for you. It's gentle, eschewing the skin-stripping chemicals that other soaps have, and includes ingredients like aloe, chamomile and calendula to soothe skin, while coconut oil, jojoba protein and quinoa extract soften and moisturize. And yes, it's completely fragrance free.
Dr. Bronner's Baby Unscented Pure-Castile Liquid Soap
Dr. Bronner proudly proclaims there's hundreds of uses for its castile soap, and that a 16oz bottle will last you forever. The key to this magic is dilution, depending on what you're going to use it for... and the possibilities really are endless, from hair and body soap to laundry soap to house cleaning and beyond. It comes in a variety of scents, but this one is fragrance free.
LaVanila The Healthy Body Butter
It can be hard to find a nice, thick, nourishing cream for winter that doesn't smell like a perfume factory. Welcome to the solution for this problem. Made from organic ingredients including 100% pure shea and cocoa butter, this body butter is totally fragrance free, non-greasy, fast-absorbing, and exactly what your parched skin is looking for.
Drunk Elephant Pekee Cleansing Bar
Drunk Elephant prides itself on making sure all their products are fragrance free, which is awesome. When it comes to facial cleansers, we love their Peekee bar the most. It feels more like a moisturizing bar than a soap, and it leaves your skin feeling baby soft... and, of course, scent free.
Smoothing Eye Concentrate
Moisturize and soothe the delicate skin around your eyes with organic ingredients such as grape and carrot juice, essential fatty acids, and vitamins B5, C and P. All that goodness combines to hydrate your skin and make it look healthy, all without aggravating your sense of smell.
Babo Botanicals Daily Sheer Non-Nano Zinc SPF 40 Fragrance Free Mineral Sunscreen
A mineral sunscreen that's fragrance free? Yup, it exists! And this one is even sheer, lightweight and hypoallergenic to boot. And you know how some sunscreen sucks the life out of your skin? This one nourishes it with organic ingredients such as aloe vera, avocado and jojoba oil. There's even antioxidants that prevent premature aging, officially making this sunscreen magic in a bottle.
Kopari Beauty Coconut Melt
There is just one ingredient inside this jar: coconut oil. That's it. No fragrance, nothing crazy or fancy... just good, old-fashioned, skin-loving 100% organic and unrefined coconut oil. And you can use it for everything from moisturizing your skin to removing make-up to warding off stretch marks. We're sold.
Schmidt's Natural Deodorant
If you've never met Schmidt's Deodorant, prepare yourself: it's amazing. Certified vegan and cruelty free, it's gentle yet super effective at neutralizing odor. The list of what it doesn't have is long: aluminum salts, propylene glycol, parabens, phthalates, and in the case of this flavor, fragrance. It's also non-greasy, non-sticky and easily absorbed. Trust us when we say that if you've ever hesitated over natural deodorants, this one will change your mind.
Mineral Fusion Jet Volumizing Mascara
While it's true that mascara isn't always a big deal when it comes to scent-sensitive people, for some, it can irritate the eyes when a formula is too fragrant. Mineral Fusion is known among the Clean Beauty Crowd for being one of the good ones. Their volumizing mascara is hypoallergenic and offers rich mineral color without the irritants most mascaras have. Score.
Deep Hydration Sheet Mask
Give yourself a spa day with this deeply hydrating sheet mask that smells like... well, nothing! Aloe juice, cucumber, hyaluronic acid and plant ceramides combine to replenish thirsty skin and lock in hydration, while anti-inflammatory properties like rosehip and chamomile calm everything down. This mask is supremely gentle for even the most sensitive of skin, so don't be afraid to slide one on and zen out.