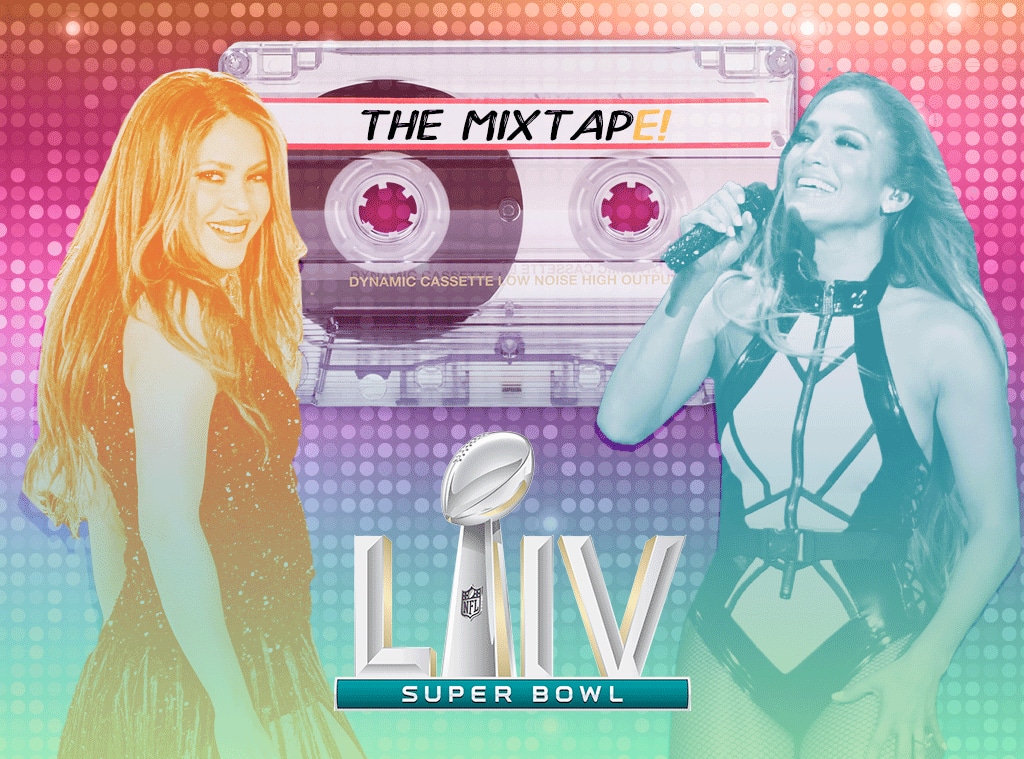 Getty Images/E! Illustration
It's almost Super Bowl Sunday.
And while, sure, there's an important face-off between the San Francisco 49ers and the Kansas City Chiefs due to take place when Super Bowl LIV gets underway at Hard Rock Stadium in Miami Gardens, Fla. on Sunday, Feb. 2, for music lovers and the sports-averse, the real show is what happens when the big game pauses and the biggest concert of the year begins.
We're talking, of course, about the Pepsi Super Bowl LIV Halftime Show, which will be co-headlined by powerhouse Latinx pop princesses Jennifer Lopez and Shakira.
"These two remarkable artists are setting a new precedent for what this show can become, and we're confident that this will be an incredible performance for the ages," Todd Kaplan, Pepsi's vice president of marketing, said in a statement when the headlining duo was announced back in September. 
No lie, we're pretty confident we're in for one helluva a show, too. With over two decades in the music industry each, there's no shortage of bangers and bops for the two to choose from as they put together the set list for their show. (And that's not even mentioning our hope for a new single that features them both in honor of the big moment.) 
Naturally, we here at The MixtapE! have some thoughts of our own on how that set list should shake out. Here are our picks for the ten tracks—five each, in the interest of fairness—that we can't imagine the show without, plus five bonus tracks thrown in just for fun. 
"Waiting for Tonight" (J.Lo): We can see Hard Rock Stadium swathed in green laser lights now, just imagining the moment when J.Lo inevitably goes into this sultry smash hit off her debut 1999 album On the 6. There's no way she doesn't do this one. 
"La Tortura" (Shakira): This reggaeton-influenced global smash hit off Shakira's 2005 album Fijación Oral, Vol. 1 broke boundaries in the U.S. when it was released. And for good reason—it's excellent. The question isn't whether she'll perform it, but if Alejandro Sanz will be joining her on stage when she does.
"I'm Real" (J.Lo): The minute a J.Lo halftime show became a reality, the only thing we could think about was the inevitable reunion with Ja Rule when this mid-tempo R&B banger, initially featured in its superior remixed form on a re-issue of second studio album J.Lo in 2001, gets underway.
"Hips Don't Lie" (Shakira): Is there a more iconic Shakira song than this worldbeat bop featuring Wyclef Jean? We don't think so. Included on the 2006 re-issue of Oral Fixation, Vol. 2, the song was her first (and still only) to hit No. 1 on the US Billboard Hot 100. No lie, your hips will be moving to this one come Sunday.
"Get Right" (J.Lo): Find us a song with a more iconic saxophone hook than this funky track off 2005's Rebirth. We'll wait.
"She Wolf" (Shakira): Imagine the next-level dancing we''ll be treated to if Shaki included this dizzying disco delight from her 2009 album of the same name. Just imagine. Ahooo!
"Dinero" (J.Lo): If Cardi from the pole doesn't join Jenny from the block for a performance of this excelente 2018 Latin trap track, then we'll have been robbed. Robbed, we tell you. (DJ Khaled can stay home, though. Sorry, not sorry.)
"Loca" (Shakira): Whether it's the Spanish version featuring Dominican rapper El Cata or its English counterpart with British MC Dizzee Rascal, this merengue monster needs to make its way to the set list, if only so we can hear Shaki tell the crowd to "Dance or die."
"Let's Get Loud" (J.Lo): It doesn't get much more Miami than this track off J.Lo's debut album On the 6, co-written by Gloria Estefan herself. It's as if the salsa song was written for this exact moment.
"Beautiful Liar" (Shakira): Maybe it's too much to ask that Beyoncé make yet another appearance during a Super Bowl halftime show, but this Arabic-inflected mid-tempo hit is such a moment, we hope it's included in the show in some way.
Bonus Tracks:
"Jenny From the Block" (J.Lo): Don't be fooled by the rocks that she's got, this song off her 2002 album This Is Me... Then still slaps. The lyrics might need a little updating though.
"Whenever, Wherever" (Shakira): Shaki's breakthrough single in the U.S., included on her 2001 English-language debut album Laundry Service, remains one of her very best. Small and humble breasts and all.
"On the Floor" (J.Lo): This Eurodance-house track brought J.Lo's career back to being red-hot in 2011 and began a fruitful series of collabs with Mr. Worldwide himself, Pitbull. And nearly a decade later, it still feel just as major as it did then.
"Chantaje" (Shakira): This 2016 reggaeton track featuring Colombian heartthrob Maluma absolutely drips with sex appeal.
"Te Guste" (J.Lo): This 2018 Latin trap track featuring Bad Bunny was criminally slept on when it was released. Maybe a surprise appearance from the Puerto Rican prince on Sunday could get this one the respect it deserves...
Super Bowl LIV kicks off at 6:30 p.m. ET/3:30 p.m. PT on Fox.
Watch:
Jennifer Lopez & Shakira Score the Super Bowl 54 Halftime Show