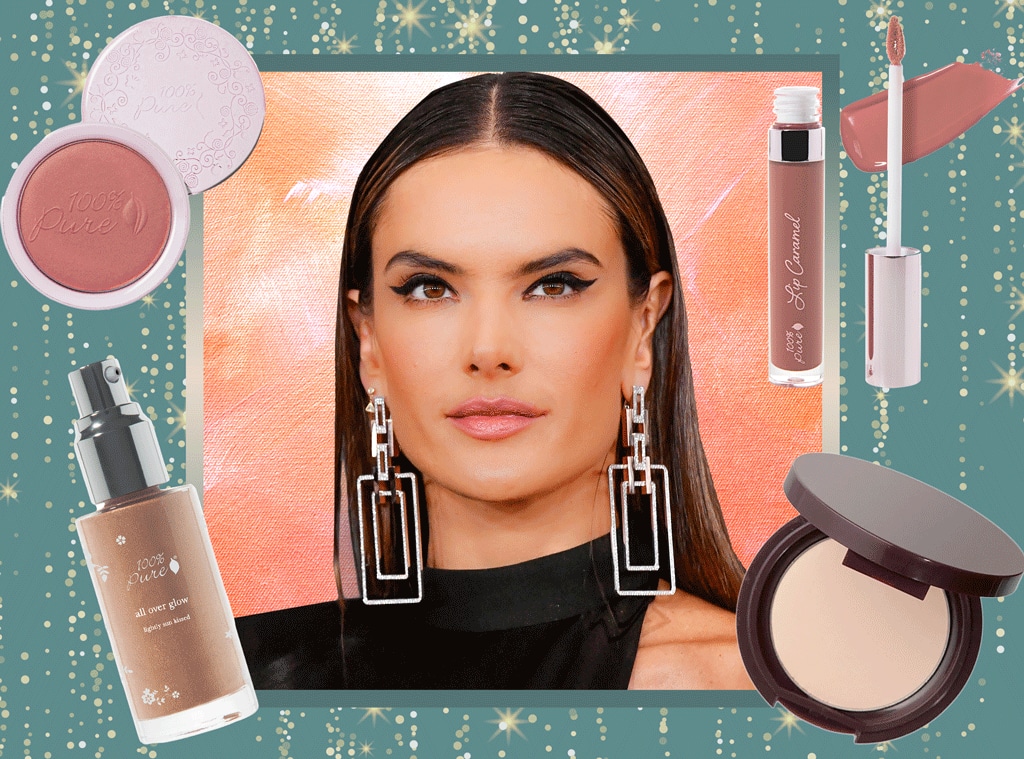 Getty Images; Melissa Herwitt/E! Illustration
We love these products, and we hope you do too. E! has affiliate relationships, so we may get a small share of the revenue from your purchases. Items are sold by the retailer, not E!.
It was hard to miss Brazilian supermodel Alessandra Ambrosio on the 2020 Grammys red carpet last night!
Decked out in Balmain and rocking a serious cat eye, her beauty look was crafted by make-up artist Beau Nelson, using 100% Pure's clean skincare and fruit pigmented cosmetics. "Alessandra and I have worked together a lot the last few years," Nelson tells E! News exclusively. "She's so naturally beautiful that she barely needs anything, but she can also handle a look."
And she knows what she likes. When it came time to create her Grammys look, Ambrosio and Nelson discussed the inspiration and direction she wanted to go in. "We almost always collaborate on the look," he shares. "We talk about dress options and I look at the direction of what she ends up choosing to wear. In this case it was a very cool look from Balmain, which was already such a statement that we felt paring back with one graphic statement would be ideal. Beautiful skin, a graphic black liquid liner and a nude lip."
The key to creating that beautiful skin? Sure, genetics plays a part of it, but Nelson also used some popular 100% Pure products to get Ambrosio prepped, like the Caffeine Mask, Bright Eyes Mask, Brightening Serum and Hydra Drench Cream.
Then, it came time to craft her make-up look. "Really wanting to focus on skin was key, so the right foundation and particularly the right bronzer was important," Nelson says. "The 100% Pure Cocoa Pigmented Bronzer is a perfect tone of tanned brown with a hint of shimmer so it goes on looking melted into the skin instead of sitting on top. The black liquid liner was perfect to creating the clean lines I needed."
Collaboration is key when crafting a red carpet moment that will wow the crowd, and Nelson definitely has that with Ambrosio. Says Nelson, "Working with Alessandra is always a pleasure. She's fun, beautiful and always has a great outfit thanks to her stylist Monica Rose that I get to be inspired by."
If you want to get Ambrosio's look, shop our picks below! And when you're recreating the make-up at home, Nelson wants you to remember something important: less is more. "Use foundation and concealer sparingly until you have the coverage you desire," he adds. "Pop a bit of blush over bronzer for a realistic sun kissed look. And when doing liquid liner practice, a magnifying mirror and a pointed tip with a bit of remover are your best friend." 
Mattifying Primer
After prepping Ambrosio's skin with 100% Pure skin care products, Nelson moved on to priming. "I used the Mattifying Primer on the T-zone to leave the glow on the cheekbones, but control oil and shine in the middle of the face," he explains. This one is silicone-free and infused with seaweed, which plumps skin and preps it for flawless application.
Fruit Pigmented Full Coverage Water Foundation
Next up? Foundation. Says Nelson, "I applied Fruit Pigmented Full Coverage Water Foundation in two shades (Olive 3.0 and Olive 4.0), one lighter through the center of the face to highlight and one that matched her skin tone to the rest of the face and diffused edges to give a seamless glowing look." With a satin, slightly dewy and completely flawless full-coverage finish, this foundation also plumps and hydrates the skin with ingredients such as aloe and green tea.
Fruit Pigmented Long Lasting Concealer
Then comes the time to apply concealer, a step that also required two different shades. "I applied Fruit Pigmented Long Lasting Concealer in Golden Peach to any areas of discoloration, and Peach Bisque to the under eye to brighten even more," says Nelson. Not only does the formula include nourishing shea butter, but it's also water, sweat, oil and cake-resistant. Score!
Bamboo Blur Powder
Of course, the last step to finishing off your face is a good setting powder. Says Nelson, "I set the makeup with Bamboo Blur Powder in Tan for a soft focus matte finish." The key ingredient is bamboo silica which aims to absorb excess oil, reduce shine, and refract light to create that soft focus matte finish that Nelson likes.
Cocoa Pigmented Bronzer
On to the eyes! You wouldn't necessarily think to use bronzer as an eye color, but that's exactly what Nelson did: "I used Cocoa Pigmented Bronzer in Cocoa Glow on the eyes to give a subtle shading and shape." The formula has luminescent gems and minerals to offer a bit of shimmer and glow to the skin while it warms your complexion. Nelson also used the bronzer on the forehead, under cheekbones, and a bit on the jawline and the nose to mimic a sunkissed look.
Long Last Liquid Eye Liner
"Then I followed that with Long Last Liquid Eye Liner in Black Tea to create the sharp deep black line we needed," Nelson adds, calling out the product that gave Ambrosio that dramatic eye look. It's smudge-proof and water-resistant for a long-lasting look that will take you from the red carpet to all the after parties.
Fruit Pigmented Blush
Moving back to the face for a moment, Nelson punctuated that sun-kissed bronze glow with a little blush. "I followed it with a hint of Fruit Pigmented Blush in Berry to give a fresh from the sun glow," he says. The blush is made from finely-pressed rice powder, and each color offers light coverage to give a healthy glow to the cheeks.
Fruit Pigmented Rose Gold Palette
If you do a red carpet look without highlighter, does it count? We don't think so! Nelson topped off the blush with a little extra glow, saying, "I added a touch of Primp Blush shade from the Fruit Pigmented Rose Gold Palette for a hint of shimmer." It's subtle, yet powerful... and comes with two highlighter shades and three complementary eyeshadow shades.
Lip Caramel
"I lined lips with a nude shade and then applied Lip Caramel in Butterchew, a midtone nudish pink," Nelson says of Ambrosio's lip look, which was glossy and intense without being overpowering. The base of the gloss offers great moisture for your lips thanks to ingredients pomegranate oil and cocoa butter.
All Over Glow
Last but certainly not least, That Glow. "For body, we coated limbs in a veil of All Over Glow for a beautiful reflective finish," Nelson shares. It's a super lightweight liquid bronzer that gives skin an illumination courtesy of bronze and gold mineral pigments. Plus, it offers skin-hydrating aloe, and super fruit oils known for their anti-aging benefits.