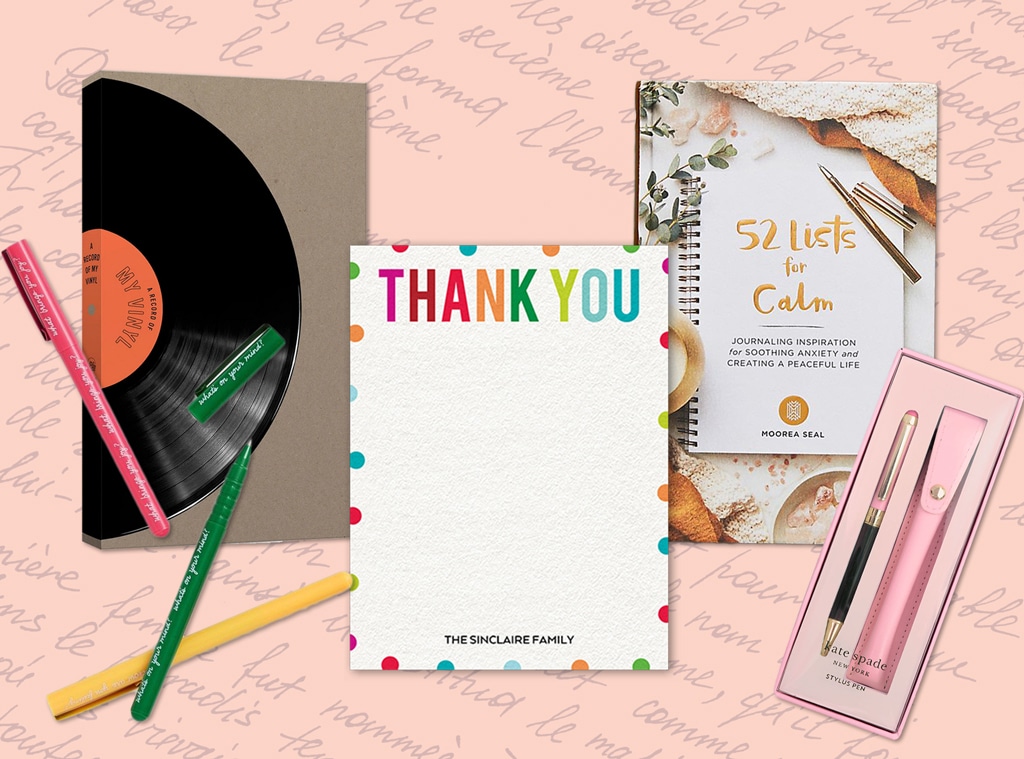 Melissa Herwitt/E! Illustration
We love these products, and we hope you do too. E! has affiliate relationships, so we may get a small share of the revenue from your purchases. Items are sold by the retailer, not E!.
Once upon a time, people used to write each other letters instead of e-mails. They scribbled out party invitations instead of posting invites on Facebook. They wrote in a journal instead of dictating their innermost thoughts to Siri and have her translate it to Notes. We get it—it's more convenient. But in honor of National Handwriting Day, let's go old school and embrace pen and paper with gusto!
We went on the hunt for some pens, journals, note cards and more to encourage you to scrawl down your thoughts instead of texting your friend so you don't forget. And even the most tech obsessed among us would approve of these analog treats. There's stationary with a personalized touch, one-thought-a-day journals, pens that meld your pop culture obsessions with your desire to take notes, and mini notebooks that are perfect for recording the ideas that float through your brain over the course of a day.
And don't worry if your handwriting has become so illegible that even a doctor can't read it. We can relate! But maybe more handwriting will help it get better? Practice makes perfect, of course, and these goodies are a great place to start.
Merry and Bright Wishes Thank You Card
When someone does something lovely for you, do you send them a text message to say thanks? We have a gentle suggestion: try a handwritten note instead. These cute thank you note cards from Shutterfly offer a multitude of options to express your appreciation in accordance with your personal style, so find a set that speaks to you, and start writing out your gratitude to those you love! We love these polka dot ones for a little extra fun and whimsy.
Kate Spade NY Stylus Pen with Pouch
It's true that your basic, garden-variety ballpoint will get the job done, but doesn't journaling, note writing or love-letter crafting feel all the more special with a dedicated pen? Try this one from Kate Spade, a stylin' stylus pen that comes with its own carrying pouch. Pink and black with gold accents, it'll make anything you hand write feel just a smidge classier. 
Personalized Thank You Cards
Saying "thank you" is nice, but sending the sentiment on a note card is a step up. And if that note card is personalized? That's a whole other level. Have your thank yous make a bigger impact with your own personalized set of cards from Minted. There's plenty of styles to choose from, but we love these simple scripted cards for a timeless look that never goes out of style, just like gratitude.
Wreck This Journal
Traditional journaling not your thing? Then this is the journal for you. Don't just grab your pen for this one, grab your markers, scissors and even your bare hands as you work through this all-color journal page by page, letting its prompts encourage your creativity. Scratch the paper with your favorite pen, poke holes in pages with pencils, smear color in an angry rage, or in celebration... just let your inner creative beast go wild!
Q&A A Day: A 5-Year Journal
Going back and reading reams of your old journals can take time, but if you had one that was just a snapshot of each day of your life for five years? That's a memory lane game changer. This journal does exactly that, with a question for you to answer each day that illuminates where you're at body, mind and soul. Once you've filled it five years down the road, turning back time will be easy... and an interesting window into where you were at when you wrote what you wrote.
Montblanc Great Characters Special Edition Walt Disney Fountain Pen
This pen is a handwriting Disney nerd's dream. Matte black with gold and platinum detailing, this fountain pen features hidden Mickeys all over the place, and Walt Disney's signature engraved on the cap's tip. But that's not all. The pen's shape was inspired by the famed Monorail, the color draws from the original poster for "Steamboat Willie," and there are coordinates engraved on the pen's cone that pinpoint Walt's uncle's garage where Walt and his brother Roy constructed a camera stand. It's true that you might be the only one who knows all this as you're scribbling notes or scrawling in your journal, but that's part of the fun of it, no?
52 Lists for Calm
Bring a little more zen into your life, and help calm any chaos, with this unique journal. It offers lists and tips to support you when you're stressed out and frazzled, with a tool kit that help you relieve anxiety, tension and burnout. And when you're ready for it, you can supplement this journal with its partner, 52 Lists for Happiness.
A Record of My Vinyl Book
Not all journals need to be about your deepest innermost thoughts and fears. In fact, they can be about your pop culture obsessions. Take this book, for example, which encourages all vinyl enthusiasts to not only catalog their collection, but also share memories associated with each record they own. There's even tips for cleaning and maintaining a record collection, and information on valuing your collection for resale. Think of this book as a catalog, journal and a guide all in one.
Celestial One Line A Day
Take the five-year one line per day journal concept into a different realm with this celestial-inspired journal, with it's watercolor cover sporting shimmery gold-foil stars. The glitz and gleam continues on the inside, with gilded page edges that give way to a chic space that offers just enough room for you to sum up what you're thinking and feeling that day in maybe a sentence or two. What a stunning reminder of how far you've gone over the course of half a decade!
Rough Draft Mini Notebook
If you're like us and you have ideas on the fly (or while you're laying in bed trying to get to sleep), it helps to have a little notebook to carry around to jot down your thoughts before they fly off into the ether. This notebook is perfect for such things, and yes, useful for so much more than writing down your Next Big Idea. Whether you use it for your world domination plans, to write down notes in meetings, or just doodle flowers when your brain needs a break, you'll be happy you have this.
Write On! Pen Set
Do you ever get stuck when you're wordsmithing? This pen set might help, with its questions about your health and wellbeing! Each pen features a different question printed down its barrel, like the pink one that wants to know, "What brings you joy?" Or the green one that asks, "What's on your mind?" Scribble your answer down with its black ink ballpoint, and rejoice in never experiencing writer's block again.