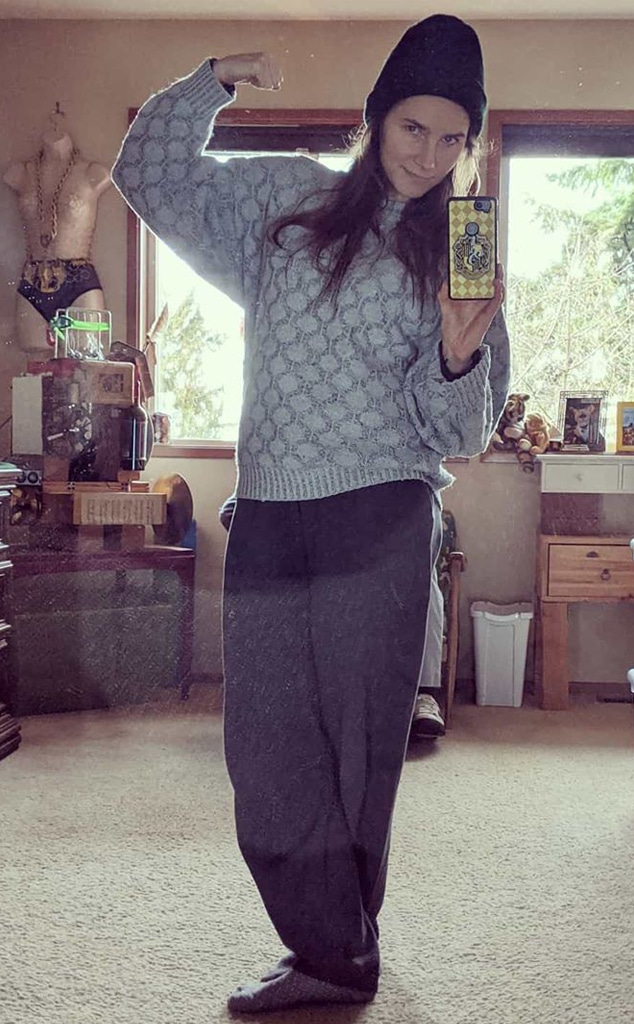 Instagram/Amanda Knox
Amanda Knox is taking something old, something new, something borrowed and something blue to heart.
Ahead of her upcoming vows to fiancé Christopher Robinson, the criminal justice activist—she famously was wrongfully convicted then exonerated in the murder case of her roommate Meredith Kercher—took to Instagram to share how she's really prepping for the big day. Dressed in a black beanie and what appear to be gray sweats, the ex convict posed for a selfie in her neatly organized room.
"40 days left until the wedding and 267 tasks left on the wedding To Do list," she wrote. "I've locked myself in the craftroom and I'm wearing my old prison uniform. Literally the very same sweatshirt and sweatpants I lived in in Casa Circondariale Capanne, Perugia." Because, at times like these, comfort is key?
Knox said "yes" to her longtime love back in November 2018 during an elaborate, alien-themed proposal. Getting down on one in their backyard, Robinson presented her with a meteor and a futuristic tablet. "I don't have a ring but I do have a big rock," he told her. "Will you stay with me until the last star in the last galaxy burns out and even after that? Amanda Marie Knox, will you marry me?"
And though they're wedding is set for next month, legally she's already a Mrs. Over the summer, E! News obtained their marriage license application and certificate, which noted that they pair said "I do" back in December 2018. 
"We filed paperwork to be legally married in December of last year to simplify our taxes and insurance," the pair said in a statement after the discovery. "But we have not yet celebrated our wedding with our loved ones. This is, frankly, no one's business but our own, and should be no more shocking than the fact that we've been living together for years." 
Watch:
Is Netflix's "Amanda Knox" Documentary Biased?
Rather than have a traditional gift registry, the couple created a wedding fund. But that does not mean they were accepting monetary donations, despite what reports may have mentioned.
"Thousands of people do this every year because traditional gift registries are outmoded—couples who already live together don't need toasters and dishware," their note read. "This practice is so common that popular websites like www.theknot.com and www.zola.com host wedding pages and cash registry funds. The RSVP pages are password protected and the registry pages are not. That is also normal. We shared our wedding story on social media, but we did not advertise our registry or ask strangers to donate. The tabloids sent our registry page out to the world, and then blamed us for their actions."