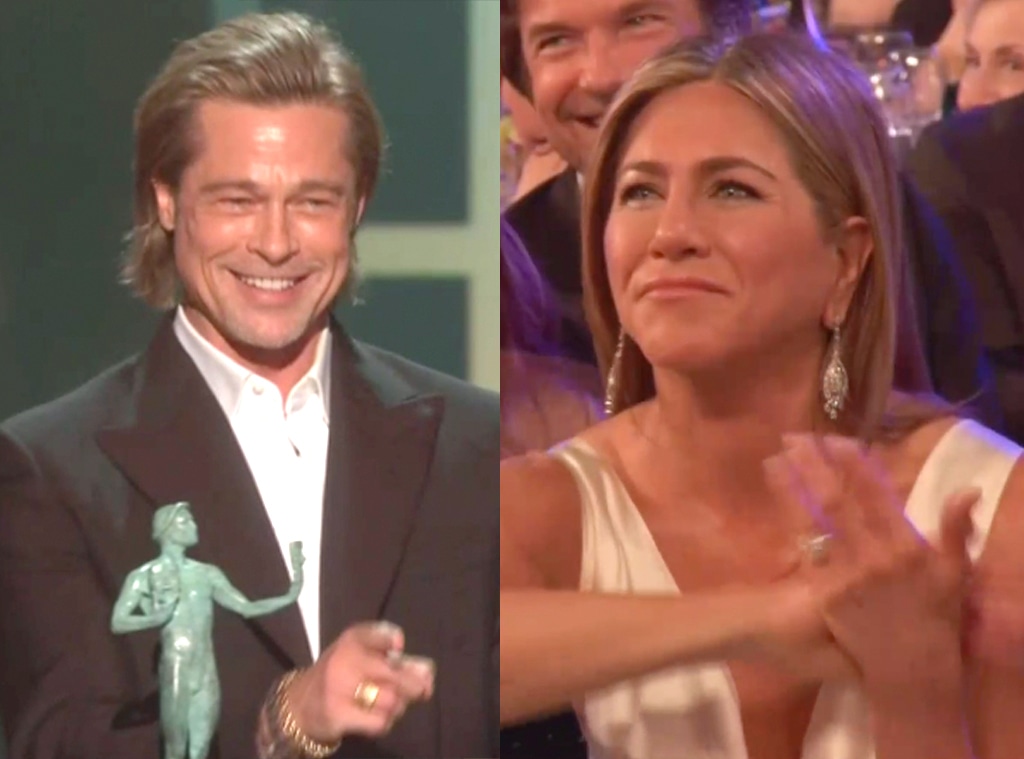 TNT
You gotta love a cameraman in the right place at exactly the right time.
That's just what happened while Brad Pitt was accepting the Actor for Outstanding Performance by a Male Actor in a Supporting Role in a Motion Picture for his work in Once Upon a Time in Hollywood at the 2020 Screen Actors Guild Awards on Sunday, Jan. 19.
During his charming speech, Pitt made reference to the similarities between the role of Cliff Booth and his own life. "Let's be honest. It was a difficult part," he told a rapt audience of his peers, hanging on his every word inside the Shrine Auditorium. "A guy who gets high, takes his shirt off and doesn't get on with his wife. It was a big stretch."
As he paused for laughter—both from the crowd and his own—the camera eventually found ex-wife Jennifer Aniston, looking gorgeous in white in the crowd. And watching her revel in the quip, clap at it even—well, it just about stole the damn show.
The moment comes just weeks after the couple, who were famously married from 2000-2005, reunited at the Golden Globes. After Aniston was caught reacting to her ex-husband's similarly self-effacing acceptance speech that evening, the pair even briefly shared an interaction during the CAA after-party at the Sunset Tower hotel.
"They said hello very quickly," the insider told E! News at the time. "Jen arrived after Brad. It was brief, but [they] were very cordial and friendly and seemed happy to be there. They approached each other once they saw each other inside and looked happy as they started to hug and say hello. Jen whispered something to Brad, but it wasn't in an affectionate way. They both didn't seem like they wanted to make a big deal about being together in the same room although it was a private party. They were trying to be low-key. Brad left shortly after and didn't stay at the party long."
Earlier that evening, Pitt told Entertainment Tonight that he'd "run into Jen" and that "she's a good friend."
It's all a part of the cordial relationship they've developed over the last few years.
"They've been in touch over the last few years and talk occasionally," a source told E! News in December 2019. "If they run into each other, they will congratulate each other and exchange pleasantries. They want the best for each other. There are no issues with being in the same place at the same time."
Watch:
26th Annual SAG Award Nominations Complete List