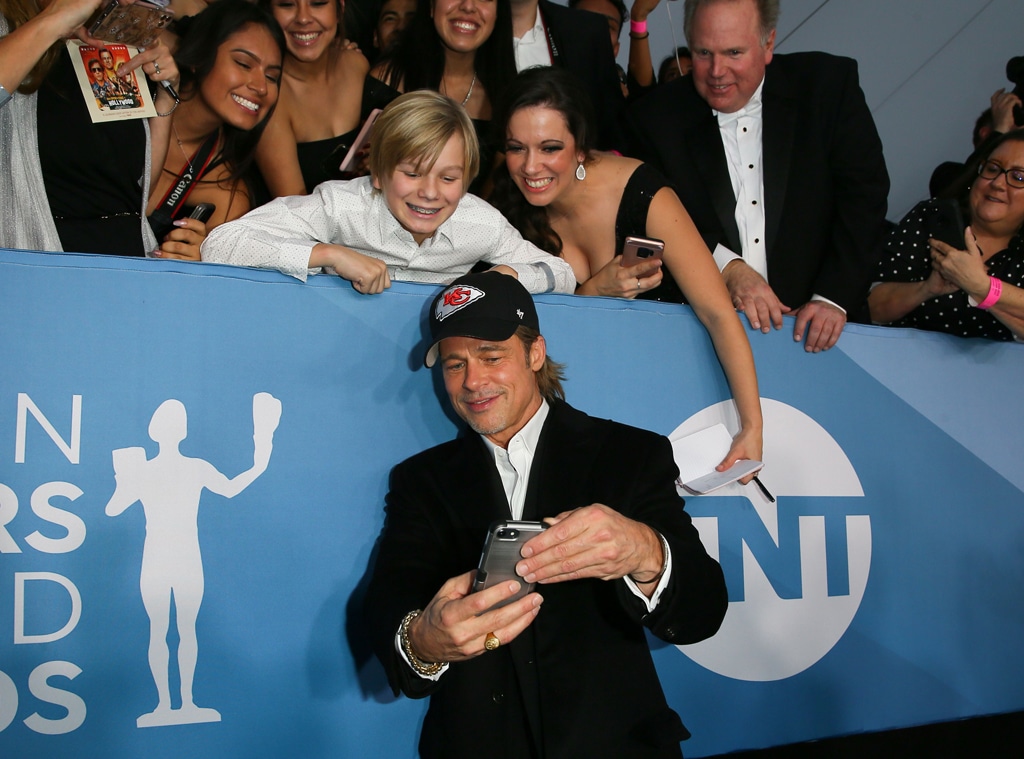 JEAN-BAPTISTE LACROIX/AFP via Getty Images
Couldn't snag a ticket to the 2020 SAG Awards? You're in luck. 
E! News is inside tonight's star-studded spectacle, which takes place at the Shrine Auditorium in Los Angeles and honors achievements in both film and television. What makes this particular awards show especially important is that the power lies in the hands of the actors. At the SAG Awards, winners are voted on by their famous peers. 
As the ceremony kicks off, we're bringing you exclusive details from the red carpet, backstage and beyond—all in real time. Keep scrolling for all the behind-the-scenes action the cameras can't quite catch.
RED CARPET!
Brad Pitt accepts a Kansas City Chiefs hat from a fan and wears it proudly as he walks the red carpet. The Chiefs and Brad are Super Bowl bound! 
Game of Thrones co-stars Nathalie Emmanuel and Gwendoline Christie reunite on the red carpet and catch up before meeting up with their fellow castmates inside. 
John Shearer/Getty Images for PEOPLE
Before heading inside, stars including Jennifer Lopez, Alex Rodriguez, Nicole Kidman, Adam Driver and Christian Bale pause to take photos with fans. 
Rachel Brosnahan and Sarah Hyland are spotted mixing and mingling before walking the step and repeat. 
Michelle Williams was joined by her new fiancé Thomas Kail as they walk the red carpet hand-in-hand while also waving to fans. 
BACKSTAGE!
Then there was this moment. Brad and Jennifer Aniston practically broke the internet thanks to this video of him watching her acceptance speech from backstage.