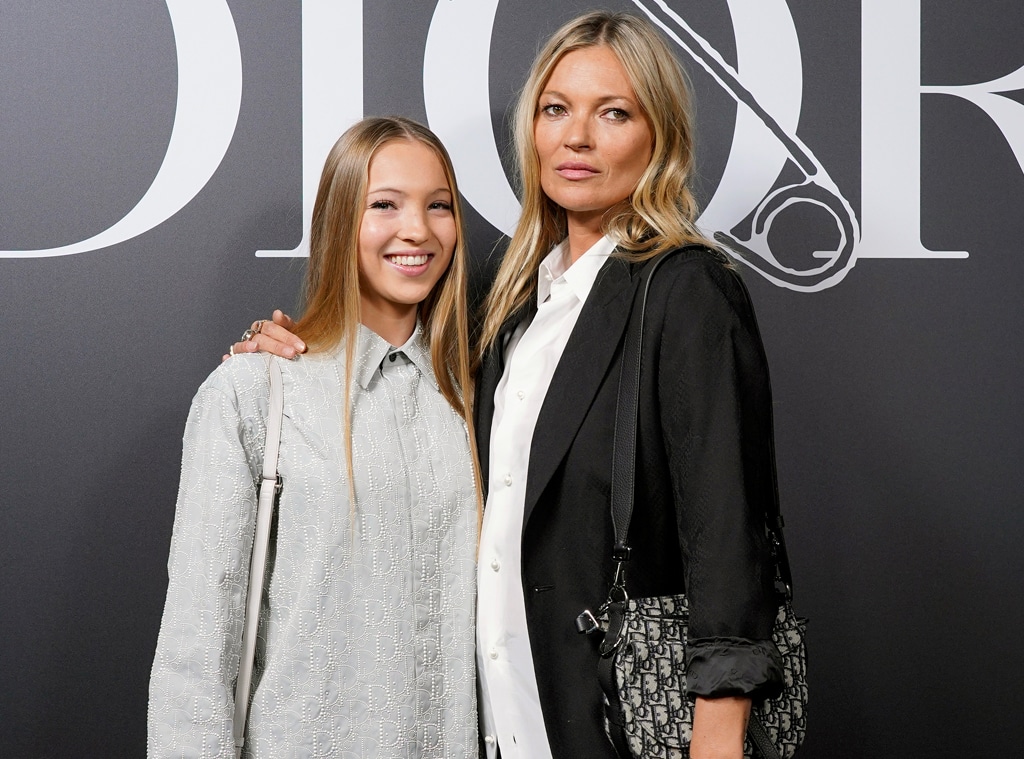 Francois Durand for Dior/Getty Images
Now this is a mother-daughter date we want to go on.
Kate Moss brought daughter Lila Moss as her plus-one to the Dior menswear fall/winter show at the Place du Concorde in Paris. Upon their arrival, the mother-daughter duo stopped for a photo in front of the Dior symbol while wearing their looks from the brand. Per usual, Kate wore a pair of striking boots with black pants, a white button-up and black loose-fitting blazer, which she accessorized with the ever-popular Dior bag. Similarly, Lila donned a menswear shirt with the Dior oblique pattern, a pair of dark jeans and Converse.
After posing for photos, the two mixed and mingled in the front row with Brooklyn, David and Victoria Beckham, as well as Cara Delevingne. From their seats, the group had the perfect view to admire Kim Jones' designs, which featured plenty of chains, paisley and gloves. 
Kim Jones' latest collection is a hit with the men and women who attended the show. On David Beckham's Instagram Story he hailed the creative director for creating an "amazing" show and shared a video of the final walk. 
Bertrand Rindoff Petroff/Getty Images
Stars like Cara Delevingne and Robert Pattinson have yet to share their thoughts about the line on social media, but who can blame them when they're busy rubbing shoulders with the biggest names in fashion? In photos of the event, the two actors were seen chatting with Noomi Rapace, Kate Moss and Kim Jones, the man of the hour. 
Bertrand Rindoff Petroff/Getty Images
These celebs and more will likely be seen around Paris as they attend shows for Jacquemus, Hermès and other fashion houses. Once Paris Fashion Week Men's comes to an end, many stars will fly back to the states to attend the numerous shows for New York Fashion Week Women's.
 If Dior's star-studded show is any indication, we're in for a treat with this year's runway shows.