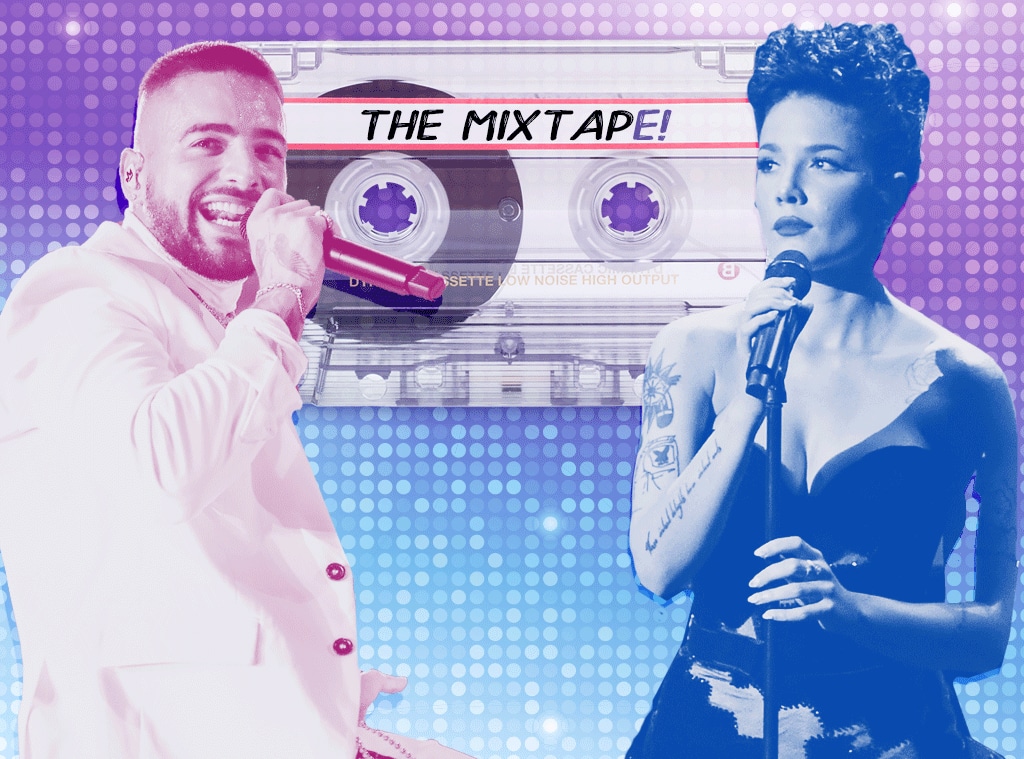 Getty Images/E! Illustration
New music Fridays are a thrilling, yet daunting prospect for any music lover. 
It's essentially a weekly holiday where fan-favorite artists and fresh faces alike drop their latest offerings for all the world to hear, flooding streaming services and digital retailers with an onslaught of aural goodies. But who has the time to sit there and listen to everything before updating their playlists? There's just too much good stuff! (And, if we're being honest, usually a few stinkers, too.)
As it turns out, we do. Welcome to The MixtapE!
By now, you've probably given Mac Miller's posthumous album Circles a spin or two, hoping to decode the lyrics from the late rapper, in between repeat viewings of the Jonas Brothers' excellent J Sisters-starring music video for their new single "What a Man Gotta Do." And maybe you've checked out Halsey's latest LP Manic, complete with its surprise appearance from John Mayer. Perhaps you've even listened to the latest controversial drop from Eminem. (Though, if you skipped over that last one entirely, we wouldn't really blame you.)
But that's just the tip of the iceberg.
As always, we've spent this New Music Friday listening to (nearly) everything out there in the search of the perfect new playlist. What follows are our picks for the best of this week's best. You can thank us later.
Halsey — "Still Learning": One of the major throughlines of Manic, Halsey's raw and remarkably personal third studio album, is the toll becoming one of the biggest pop stars in the world has taken on Ashley Frangipane, the woman behind the amalgamatic mononym. Nowhere is that more effective than on this standout, an evocative mid-tempo track that finds her admitting that even the lives of sudden superstars aren't all that charmed in the end. 
Steve Aoki & Maluma — "Maldad": What happens when a Colombian superstar and an American EDM legend join forces? As it turns out, an entrancing reggaeton-infused house track that will have you ready to sweat it out on the dance floor. Between Maluma's undeniable swag and that hypnotic flute melody that the song's built around, it all just works.
Mac Miller — "Blue World": What producer Jon Brion did to honor the memory of Mac with the finished Circles is remarkable. As such, picking a fave off the album, released nearly a year and a half after the rapper passed away, is no easy feat. Each song is a potent reminder of just what we lost that September day in 2018. That said, an early standout is this delightfully funky track. Wherever Mac is, hopefully he's vibing to it right along with us.
Tove Lo — "Bikini Porn": Does she ever sleep? That's the question we were asking ourselves when the Swedish pop star returned this week to drop two new tracks only four months after the release of her latest album, Sunshine Kitty. When they're as good as this track, a hedonistic little bop written alongside in-demand and Grammy-nominated producer (and Billie Eilish's brother/collaborator) Finneas, though, does it really matter? 
dvsn — "A Muse": Some truly next-level late-night R&B from the Canadian duo with the Drake co-sign. (They're signed to his OVO Sound label.) Singer Daniel Daley's vocals are like silk, floating above Nineteen85's sumptuous production with an intoxicating ease. 
Rina Sawayama — "Comme Des Garçons (Like The Boys)": Ahead of the release of debut album SAWAYAMA on April 17, the London-based pop star has dropped an absolute banger, a disco-kissed dance track that finds her celebrating gay men who've found the strength to live outside the confines of traditional masculinity. "When I was writing this song I wanted, on one hand, to lyrically explore the idea of people having to adopt negative male tropes to appear confident, whilst on the other sonically paying homage to the early 2000s dance tracks that made me feel confident," she wrote in a statement. "The idea that the socially acceptable version of confidence is in acting 'like the boys', otherwise as a woman you get called a bitch — but in the club, we reclaim the word 'bitch' as a sign of ultimate confidence ('yes bitch', 'work bitch'). I wanted to sit these two together and make a club fashion banger that makes you feeling like THAT bitch whoever you are." Mission accomplished.
Brianna Cash with Tory Lanez — "Numb": One of R&B's newest voices clearly knows a thing or two about making an excellent first impression. It's hard to believe this track, with its assured vocal performance and expert interpolation of The Pharcyde's iconic "Passin' Me By" beat, is her major-label debut. We truly can't wait to hear what comes next.
Ryan Beatty — "Casino": Another absolute stunner from the L.A.-based singer. If everything on his upcoming sophomore studio album Dreaming Of David reaches the heart-wrenching heights of this atmospheric acoustic heavyweight, we're in for something truly special.
Mura Masa feat. Georgia — "Live Like We're Dancing": A week after the release of her very excellent dance album Seeking Thrills, U.K.-based musician Georgia Barnes lends her estimable talents to this standout track from the producer Alex Crossan's new album R.Y.C. A throwback to the early-2000s club tracks that were coming out of places like the iconic Ministry of Sound, there's something so pure and euphoric about this one. 
NNAMDÏ — "Wasted": This track off Chicago multi-instrumentalist Nnamdi Ogbonnaya's upcoming album BRAT is an experience, a sensational synthesis of genres that come together in the service of something truly special. 
Bonus Tracks:
blackbear — "me & ur ghost": On the trap-pop prince's latest single, he battles the lingering specter of a lost love as he tries his damndest to move the f--k on.
Spencer Barnett — "Try": This standout cut from the indie pop singer's new EP I'm Fine finds him right in his sweet spot. We get shades of Tame Impala and Harry Styles from this one.
SAYGRACE — "Priorities": Australian singer-songwriter Grace Sewell continues to tease her forthcoming (and excellently titled) EP The Defining Moments of SayGrace: Girlhood, F--kboys & Situationships with this soulful hip-hop-influenced slapper.
Charlotte Lawrence — "Joke's On You": The second taste of the forthcoming all-female Birds of Prey soundtrack is this cinematic anthem about turning a toxic relationship on its head.
DRAMA — "Years": The lead single from their forthcoming debut album Dance Without Me, this excellent callback to '90s-era trip-hop is an excellent introduction to the duo comprised of singer Via Rosa and producer Na'el Shehade.
Happy listening!