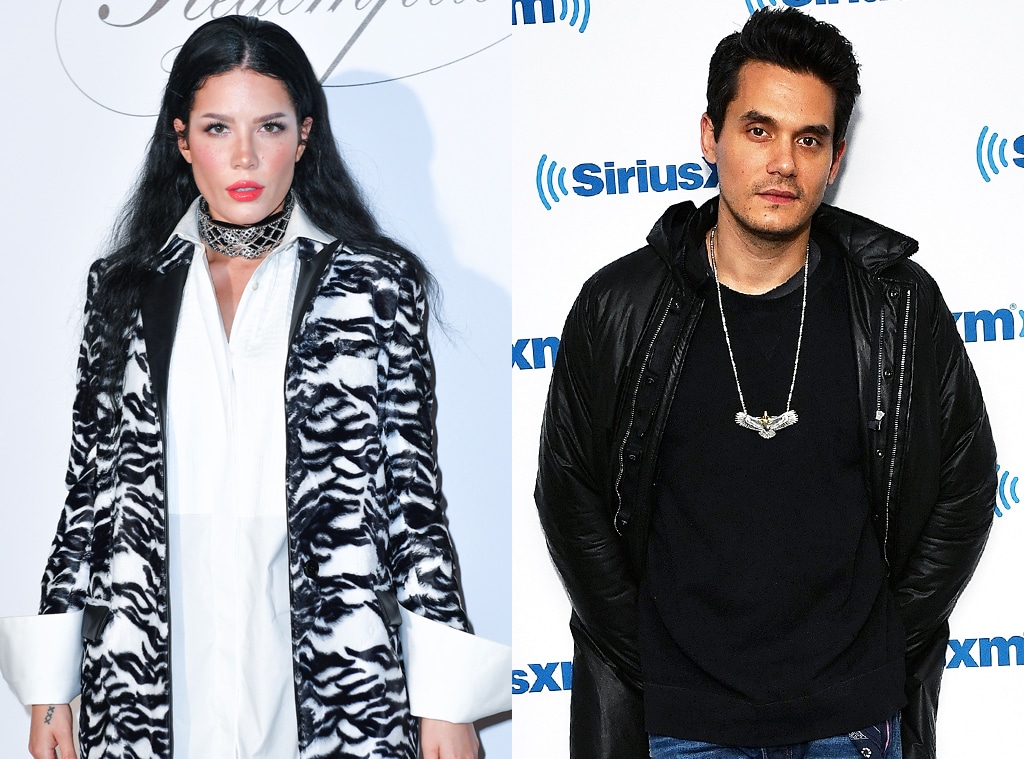 Getty Images
Halsey doesn't need anyone. She just needs John Mayer, and then some.
Halsey's new album Manic is finally out, and it's stacked with celebrity guests. Some are clearly labeled, like her collaborations with Alanis Morissette, SUGA from BTS and Dominic Fike, but the 25-year-old star revealed in a Q&A session with her fans on Twitter that her good pal Mayer makes a small cameo.
The feature comes at the end of the song "3am." In the last part of the track is the beep of a voicemail. After the beep, a voice is heard freaking out over Halsey's "Without Me" (which directly follows "3am" on the album).
As the voice is heard saying, "Your best song is a song that's currently on the radio. How many people can say that? That their best song is the one that's currently about to be a massive hit. It's already a hit. It's just gonna get more massive. How many people can say it? Not very many. Congratulations!"
One fan thought the man on the phone could have been the star's father, but nope! It's the "Gravity" singer.
As the "You Should Be Sad" crooner revealed, "It's @JohnMayer! Haha. He predicted the success of without me before I had faith in myself #manicthealbum."
And his gut instinct about "Without Me" was dead on. The song—which documented the superstar's feelings about her breakup with rapper G-Eazy—ended up being the singer's first No. 1 hit on the Billboard Top 100 chart.
Mayer's voicemail isn't the only hidden celebrity cameo on "3am." In another tweet, the "Graveyard" singer revealed that the drummer on the song is Chad Smith from the Red Hot Chili Peppers!
As for the inspiration behind the song (which is all about calling people incessantly at 3 a.m. after a night of partying), the musician shared on Twitter, "After a night out where I came home and was ringing everyone in my contacts cause I was dying to talk to literally ANYONE so I wouldn't have to sit with my own thoughts. I realized 'hmm this is...bad.' and wrote a song about it! haha."
Now, let's break down the other celebrity appearances on Manic. 
Watch:
What's Going On With John Mayer and Halsey?
Alanis Morissette: Halsey has been outspoken in the past about how much the "You Oughta Know" singer influenced her music. She repeated that sentiment during her Q&A last night, saying that having the artist on "Alanis' Interlude" was a dream come true.
"Still can't believe it's real," she tweeted. "She's my hero. Most important artist for me of my life."
SUGA: The "Nightmare" crooner created a dreamy collaboration with the BTS member on "SUGA's Interlude." The song was one of the tracks released before the album drop, so fans have already had plenty of time to fangirl over this one. SUGA and Halsey previously worked together on BTS' "Boy With Luv."
Dominic Fike: This 24-year-old singer/rapper appears on "Dominic's Interlude" on Manic. Unlike the other two interludes on the album, Halsey's voice isn't heard anywhere on this track.
Kate Winslet: At the end of the album's first song "Ashley" (Halsey's actual first name), a clip of Winslet from Eternal Sunshine of the Spotless Mind is heard saying, "Too many guys think that I'm concept art, I complete them or I'm going to make them alive. I'm just a f*@ked up girl who is looking for my own peace of mind. Don't assign me yours." The character's name is Clementine, which is the name of the song directly following "Ashley."