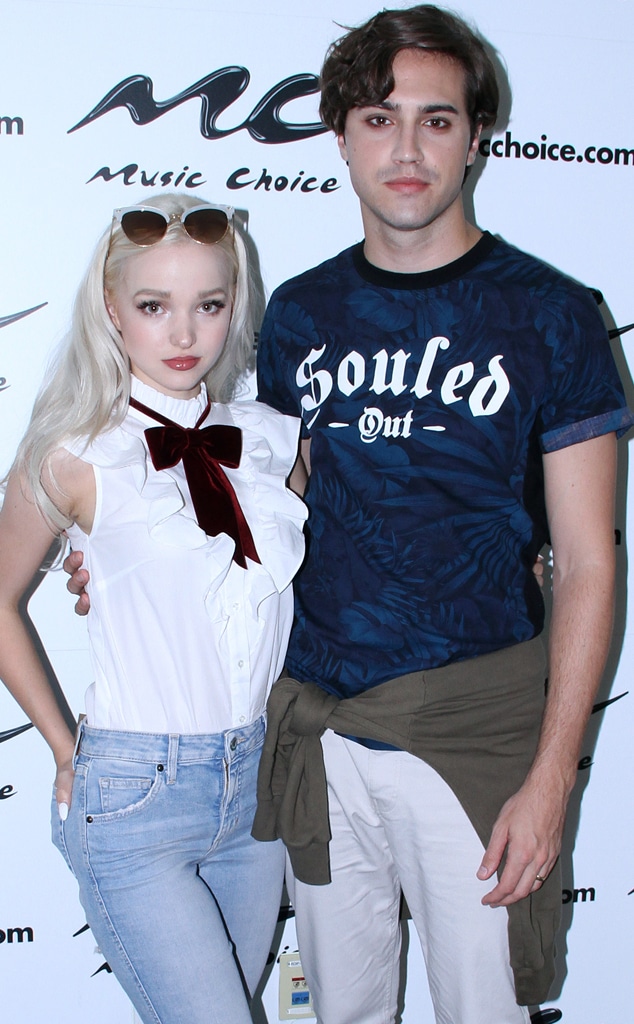 Donna Ward/Getty Images
Dove Cameron is being accused of cheating on her ex fiancé, Ryan McCartan.
It's been just over three years since the former Liv and Maddie co-stars called it quits on their relationship. Ryan first announced the couple's split on Twitter in Oct. 2016, telling fans, "Dove has decided this relationship isn't what she wants. We still love each other very much. Please be sensitive, as this is painful." Dove and Ryan had just announced their engagement six months prior to their split.
On Thursday, Ryan, 26, took to Instagram Story to participate in a Q&A, during which the actor was asked to share his "proudest" moment. In his response, Ryan accused his former fiancée of cheating on him. Amid the speculation, Dove, 24, has yet to respond to her ex's allegation. E! News has reached out to her rep for comment.
In his Instagram Story on Thursday, Ryan wrote of his "proudest" moment, "Within two weeks, my fiancée cheated on and left me, I almost died from food poisoning, and Donald Trump was elected president. I truly didn't think I would be able to make it through that part of my life."
"I'm proudest of the light that came from the darkness," Ryan continued in his response. "And my ability to survive and turn the anger and sadness I had into positive life changes and a new way forward."
Following their breakup, many fans began to speculate about the reason for Dove and Ryan's sudden split. Shortly after the split news emerged, a source told E! News, "None of [Dove's] close friends are very fond of him and their relationship as they felt he …was using her for exposure."
The duo's busy schedules also seemed to play a role in their breakup. In the weeks leading up to their split, E! News talked to Ryan about wedding plans and his relationship with Dove.
"She's so busy. I'm so busy. The last thing we want to do is turn it into another thing on the to-do list, you know what I mean?" the actor told E! News amid promotion for Fox's remake of the Rocky Horror Picture Show. "I mean, we're infants—we're children—so we have a lot of time to plan and get it done, and it'll happen when it's supposed to."
Watch:
Ryan McCartan Talks Engagement Split and "Rocky Horror"
At the premiere in mid-October, Ryan spoke to E! News' Carissa Culiner about his split from Dove.
"I'm good. I love her to death," Ryan shared. "There's a lot of love there. You know, she made a decision that—because I love her—I have to respect."
Dove has been dating her Descendants 2 and Descendants 3 co-star Thomas Doherty since 2017.