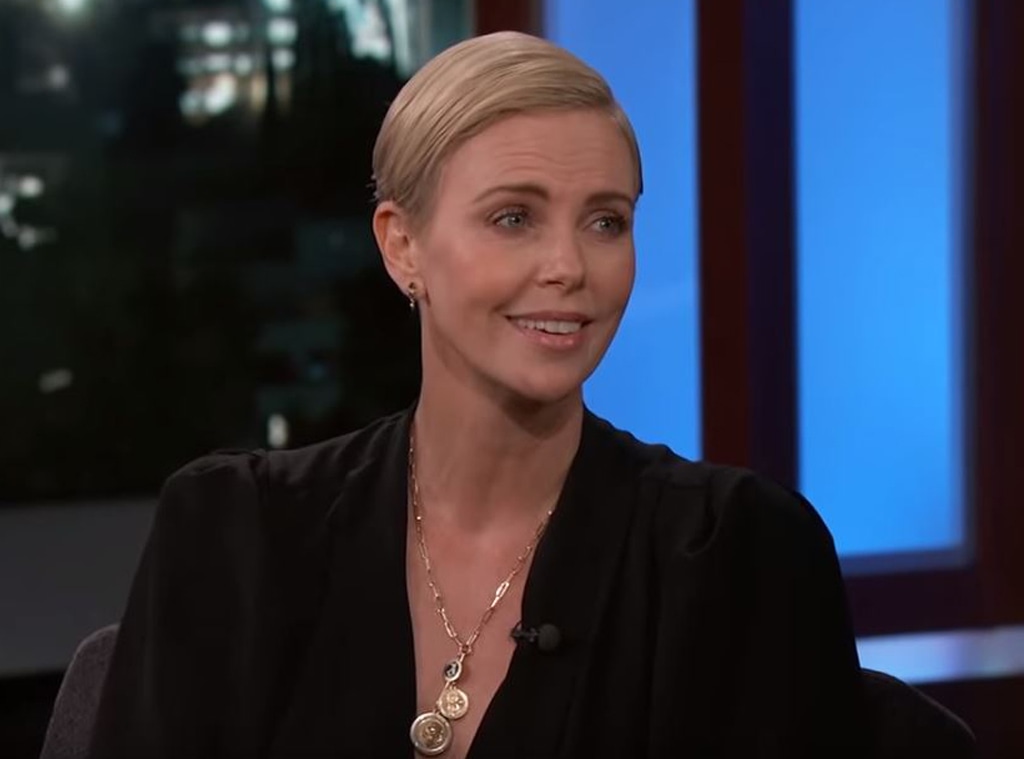 YouTube
Even celebrities have first date horror stories.
During an appearance on Wednesday's Jimmy Kimmel Live, Charlize Theron and host Jimmy Kimmel chatted about her love of The Bachelor, which devolved into Kimmel asking the Oscar winner if she's had her own cringe-worthy dates like those seen on the famed dating show. Unfortunately for Theron, the answer was yes.
As the Bombshell star revealed, "I went on a date in my 20s with this guy who was really, super handsome. I was really into it. And he picked me up for dinner, we went and had dinner. It was lovely. I was like, 'This is going really well.' And he drove me home, and you know, I kind of signaled that I was in for a kiss." That sounds like a pretty nice date, right? Just you wait.
"He pulled over by my house," she continued. "And we started kissing and it was really good. And then, he pulled away and whispered, 'Make out with my nose.'"
The memory is so bonkers, the actress started crying laughing. Once she composed herself, Theron assured this story is absolutely true.
"I swear on my life, I've never forgotten it," she said to Kimmel, "because I've yet to meet another person who likes to have somebody make out with their nose." Yeah, that sounds pretty niche.
Naturally, Kimmel (and all of us) needed to know how she responded to that request.
As she said, "He was, like, really into it. And I started giggling, 'cause it was good! So, I didn't want to mess it up, so I gave him a little peck on the nose and he was like, 'No, make out with it.'"
Then Kimmel absolutely nailed his response. "Wow," the host said. "The bachelorette gets a rose, you got a nose."
Earlier in the interview, the star (who got an Oscar nomination for Best Actress on Monday for her performance in Bombshell) revealed why it is she loves The Bachelor/The Bachelorette so much. (In December, she made her love for the show clear when she posted an Instagram of herself standing next to a poster of Peter Weber. He responded with a flirty AF Instagram of his own.)
Watch:
Charlize Theron Talks "Bombshell" & #MeToo at 2020 Golden Globes
"Well, I love the unpredictability," she started off.
As Kimmel teased, "What?! The unpredictability? My wife literally picks the winner the first episode every single year."
As the single mom of two responded, "Listen, even if I had that skill, which I don't, it kind of ruins the show, though. You almost have to give yourself a small lobotomy so that you don't pick it, and then you can enjoy it. 'Cause if you pick it, then it's kind of done, right?"
"But you don't know for sure if you're gonna be right," the host replied. "So, then you're like, 'Okay, maybe I'll be right. Maybe I won't be right.' That's the fun."
Proving her undying love for the ABC franchise, Theron then said, "Listen, right now, they're all winners in my book. They all have a shot."
They all have a shot, as long as they don't ask Weber to make out with their noses.