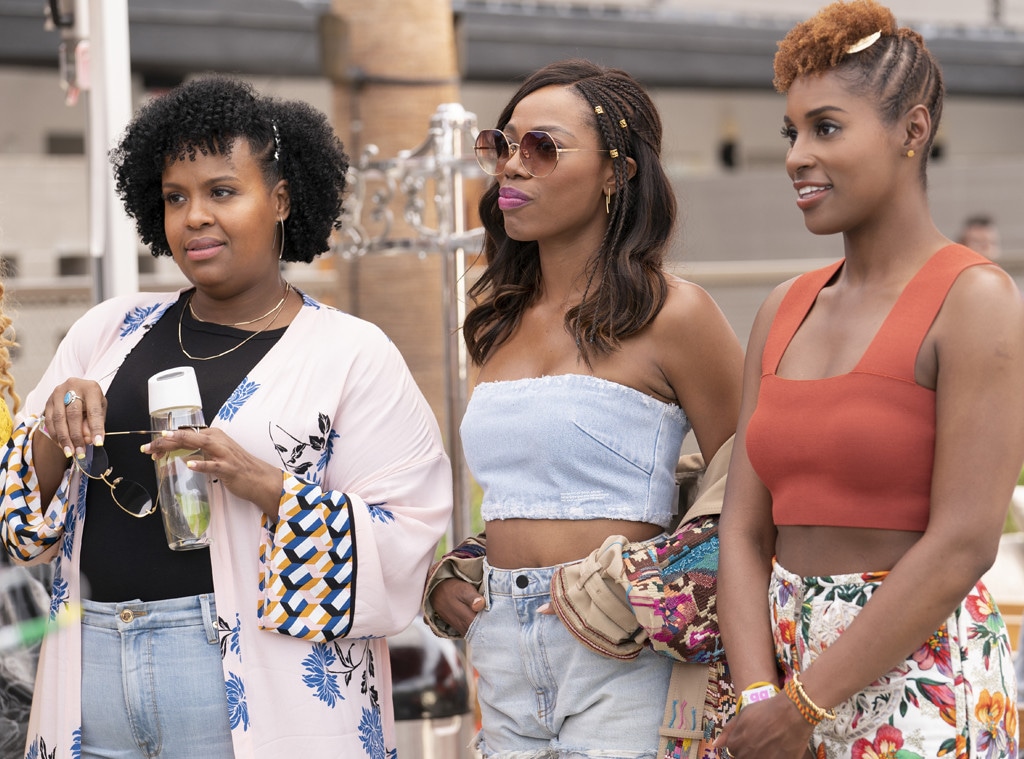 HBO
Season four of Insecure is officially on its way. 
The HBO comedy returns in April, but Issa Rae, Jay Ellis, Yvonne Orji, and EP Prentice Penny were on hand at the TV Critics Association press tour on Wednesday to talk about the new season, which Rae says finds all of the characters growing up a bit. 
"This season is about our characters leveling up, entering that next stage of their life," Rae said. 
As they're entering their thirties, everyone's learning to be a bit more intentional with their actions and in particular, their friendships and relationships. Penny explained that they're looking at the relationships in their lives and asking if they're "for reason or for season." 
For the men in particular, this season will explore that phenomenon where it seems like you can't have everything at once. If a relationship is going well, your job isn't, or vice versa. 
Per HBO, "season four follows the main characters in the aftermath of the decisions they made in the last season. Issa pursues a passion project she actually cares about, Molly navigates a real relationship for the first time, Lawrence figures out what leveling-up means for him, and we see the effect of Tiffany's new baby on the dynamic of the friend group. Along the way, we'll see these characters evaluating relationships, both new and old, in an effort to figure out who and what comes with them in this next phase of their lives." 
Watch:
Issa Rae Shares Advice For Young Ambitious Women at 2018 Emmys
Lawrence is still dating Issa's party planner Condola, and that's where season four starts. Rae couldn't say whether there was a romantic future still in store for Issa and Lawrence or not. 
Rae did say there will be more raps this season, and more events, particularly LA-centric events, a la the Coachella episode in season three. 
While the cast is getting constantly busier and the breaks between the seasons are long, it doesn't sound like there's an end in sight just yet. Rae said there had been discussions about where the show is going and she thinks there might be an idea, but nothing to share just yet. 
Insecure returns for a fourth season April 12 on HBO.