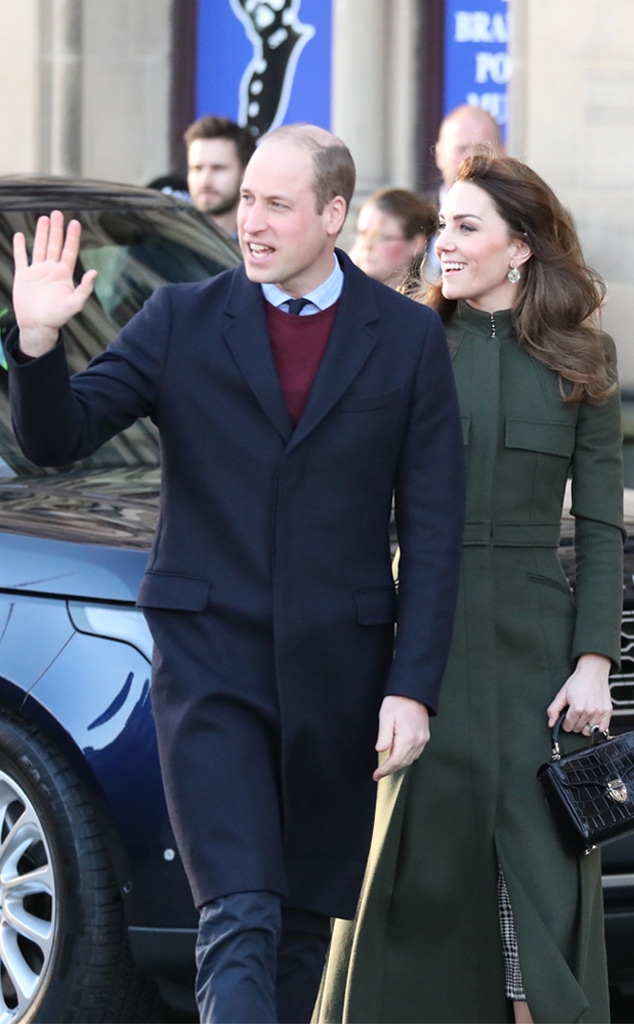 SplashNews.com
It's been a difficult few weeks for the royal family, but Prince William and Kate Middleton are keeping calm and carrying on.
During the couple's first joint appearance since Prince Harry and Meghan Markle's bombshell announcement that they'll no longer be senior royals, the Duke and Duchess of Cambridge visited Bradford Hall in West Yorkshire.
While meeting with local businesses helping young people enter the work force, the future King of England gave a telling comment about the importance of moving forward through adversity. And while he didn't mention his brother and sister-in-law by name and the topic of the day was not his own family, it was sage advice for anyone going through a tough time, himself included.
In a video shared on Twitter, William and Kate are seen sitting at a full table as William says, "You can see that communities are trying to come together, trying to help each other, get to know each other. And that is really crucial."
"If we can replicate that more in this country," the Cambridge royal continued, "then that can only be for good, bringing everyone together."
As he went on, "Which is slightly part of the reason why we want to get around the UK now and see as many places in the UK we may not have been to very much to try and understand some of the more complex challenges, some of the slightly more tucked away challenges that people find hard to talk about."
Giving an example, the father of three says, "If you want to talk about hair a long time, if you go out and talk to anyone else about it, they won't know whether to say the truth or not. You all are aware of the full picture."
Then he gives his most telling comment, saying that it's normal for people to go through challenges and that those challenges, when addressed properly, can be overcome in a healthy way.
"It's sometimes trying to get people to understand that's it's okay to have these challenges," William says. "We just need to deal with them and we need to move forward rather than just be stuck in paralysis and pretend they don't happen."
Indeed, the royal family are very much not pretending the Harry and Meghan drama isn't happening. Following an emergency family meeting in Sandringham focused on Harry and Meghan's new role in the family, Queen Elizabeth II broke her silence on the couple's decision to step away from their positions as full-time royals.
"My family and I are entirely supportive of Harry and Meghan's desire to create a new life as a young family," she said in a statement. "Although we would have preferred them to remain full-time working Members of the Royal Family, we respect and understand their wish to live a more independent life as a family while remaining a valued part of my family."
"Harry and Meghan have made clear that they do not want to be reliant on public funds in their new lives," the 93-year-old monarch continued. "It has therefore been agreed that there will be a period of transition in which the Sussexes will spend time in Canada and the UK."
Princes Harry and William were both present for the meeting, as well as Prince Charles. Meghan was (and still is) in Canada with baby Archie Harrison. The Duchess of Sussex was originally supposed to call into the meeting, but she and Harry ultimately decided it wasn't necessary, a palace official explained.
With all of the family drama taking the world by storm, William's comments about avoiding "paralysis" and addressing struggles head-on are all too timely. Hopefully, the meeting at Sandringham helped the royal family begin to work through their own new set of challenges.