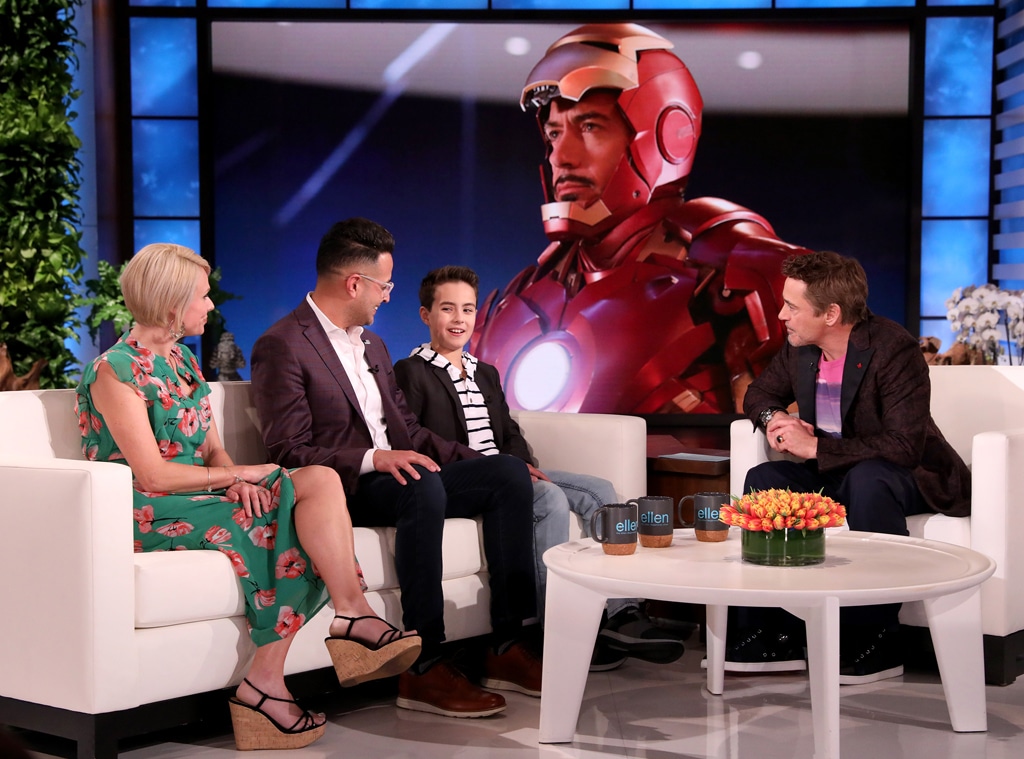 Michael Rozman/Warner Bros.
Tony Stark is still inspiring fans.
During his guest hosting stint on The Ellen DeGeneres Show on Tuesday, Robert Downey Jr. had the chance to meet one of his biggest fans: a 10-year-old boy with autism whose love of Iron Man helped him regain his ability to speak.
In the most heartwarming interview you'll see all week, the Doolittle star spoke with Vincent Arambula and his parents, Nicole and Andy, all about his experiences with the original Avenger. Vincent lost his ability to speak when he was just 12 months old and was diagnosed with autism at 4 years old. Then, after being gifted an Iron Man mask at the age of 6, the child eventually regained the ability to speak thanks to the confidence the superhero mask gave him.
To start, the 54-year-old asked the parents to explain the timeline of Vincent's diagnosis.
"Well, we had a lot of red flags that kind of cropped up, just behavioral," Nicole responded.
As Andy chimed in, "His imagination play. He would just line stuff up, he would just spin things for countless of hours."
As the mother continued, "After consulting with family members—I have a nephew on the spectrum, as well—and my sister-in-law actually pushed for us to have him tested for autism and got a confirmed diagnosis."
Robert then turned to Vincent and said, "Wow. Everybody here can relate to that sense of wanting to communicate and not being able to. What did that feel like? What was your experience with that?"
As the 10-year-old explained, "It was painful." His father then began to elaborate.
"It was really painful for him," Andy said. "Now that he has a voice, I go back and I ask him. 'Hey, tell me about what you were thinking that day,' or 'Tell me about this time.' And some of the things he talks about is not being able to make friends back then. Having the ability not to tell us what's going on in his life."
Everything changed when he got his Iron Man helmet. The child explained the helmet "helped me talk and imagination play."
Getting choked up, Andy shared, "So, it's almost like the mask provided a sense of, it grounded him and allowed him to feel confident. And within 24 hours, Robert, we saw a different child."
Watch:
Robert Downey Jr. Dedicates People's Choice Win to Stan Lee
Robert, clearly moved, then told Vincent that he understands how the mask helped.
"See, for me too, it's so wild in playing this character," he said. "There's something—I think for all of us—where when you're able to wear a mask, whether you're doing theater in school, or Halloween or whatever. I had a particular affinity. You and I both did with this same mask, for some reason. It gave us a voice. Why do you think it helped?"
"It helped me talk," Vincent responded. "It helped me hide my identity from the world."
Later in the interview, the Marvel star revealed what he'll miss most about being Tony Stark.
"People always say, 'What will you miss most about having played this part?'" he said. "And it honestly is being able to talk to moms and dads and young folks and see how, somehow or other, this thing had a positive impact on you. And it makes just all these last years of working on it worthwhile. I cannot thank you enough."
To show its admiration for the family and their story, Robert then presented the family a check for $20K, courtesy of Shutterfly.
Now, check out the rest of the interview to see what Iron Man-themed name the family chose for their dog.