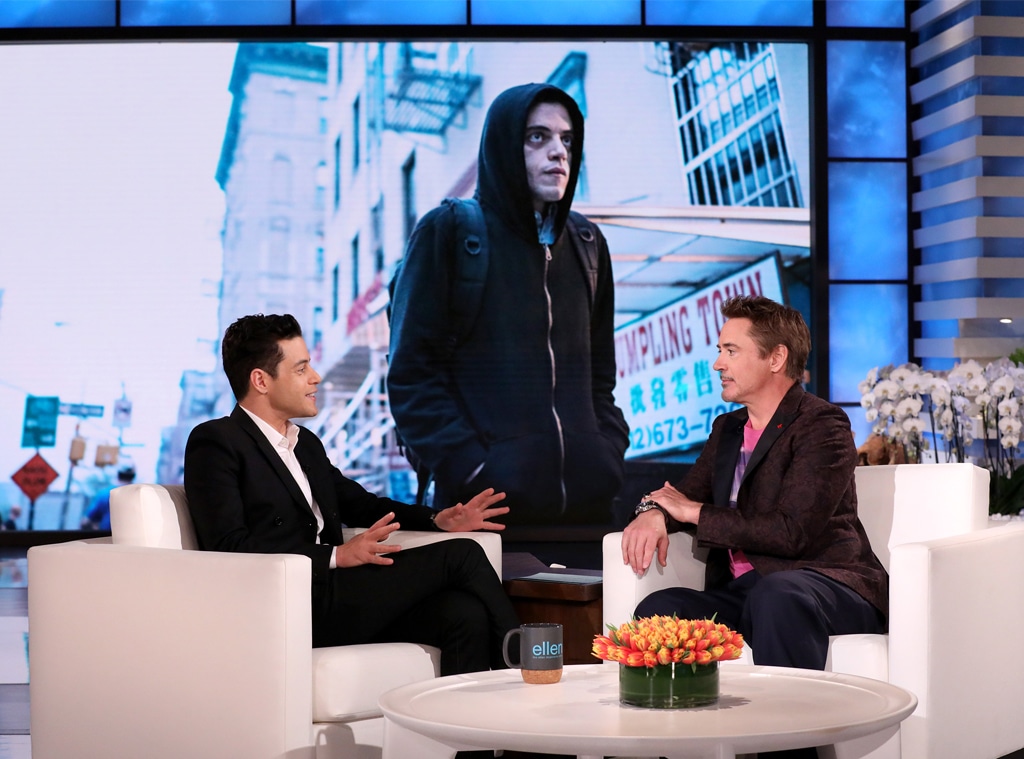 Michael Rozman/Warner Bros.
You can't fool Mr. Robot.
On Tuesday, Rami Malek stopped by The Ellen DeGeneres Show where he and guest host Robert Downey Jr., who both star in Dolittle together, recapped how they became such good friends. According to the Iron Man star, he wanted to be the Oscar winner's buddy after being blown away by his performance in Mr. Robot. Then, in true Robert fashion, he sent Rami an email hoping that they'd hit it off.
"This all started—and this is all surreal—but I was such a fan of Mr. Robot, I basically emailed you and I was serial texting you," the Marvel alum explained. "I was trying to FaceTime you. And you didn't let me weird you out. And now we're friends."
Rami, on the other hand, didn't remember the story the same way. "Well, I couldn't even believe it was you," he said. "For a second, I got the email from Robert, and I thought, 'Ok, somebody's playing tricks on me.' And they kept coming and they were so witty…that I thought it could be no one else but you."
Robert joked, "I hired writers."
Still on the topic of the award-winning show, Robert asked Rami how he felt about wrapping the series back in December—and, more importantly, if he took any mementos from the set.
"I took the hoodie," Rami said. "I've started collecting more of these things. I used to…try to just leave it behind, but now I'm like, 'I want some of the Freddie [Mercury] things. I want some of the Mr. Robot things. I took my hoodie home that's all tattered. I just put it in storage with my mom."
He continued, "And, like a good mom…she sewed up my hoodie and she repaired the whole thing. And I was like, 'No, mom…' Then she started to rip it back apart."  
Switching gears, the duo discussed their upcoming film Dolittle, which they recently reunited for at the Los Angeles premiere. For the latest re-imagining of the classic tale of the animal-talking doctor, Rami lends his voice to Chee-Chee, Doctor Dolittle's trusty gorilla sidekick.
"It was so lovely to see it up there on the big screen," the Bohemian Rhapsody star shared with Robert. "Because you'll be doing the voices, you never can quite anticipate what it's gonna be like and it is a truly moving, extraordinary experience. It's an adventure, you deliver a phenomenal performance. The whole cast does."
Watch:
Rami Malek's Message for Fans After "Mr. Robot" Series Finale
Rami added, "But, I have to say, sitting there with kids, they were glued to that screen. And, I have to say by the end of it, the entire cinema was very teary-eyed it got pretty emotional."
Robert chimed in, "We got 'em!"
Dolittle hits theaters January 17.