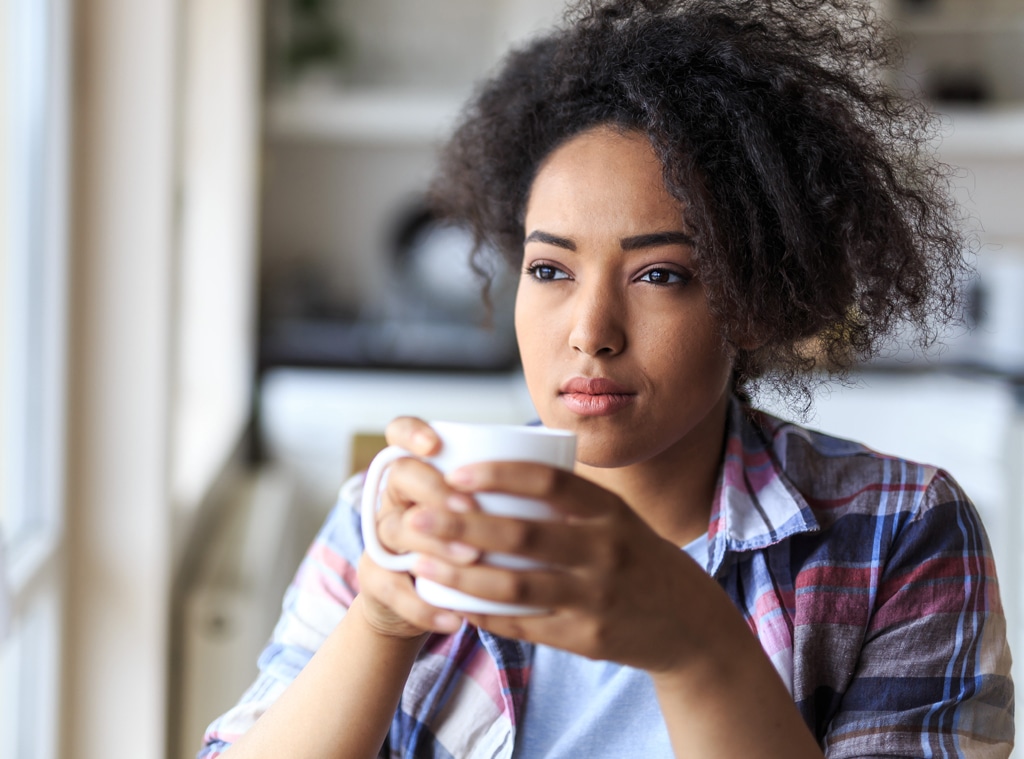 Getty
We independently selected these products because we love them, and we hope you do too. E! has affiliate relationships, so we may get a commission if you purchase something through our links. Items are sold by the retailer, not E!.
There's a lot that's awesome about winter, but if you're one of the estimated 10 million Americans who suffer from seasonal affective disorder, you may approach winter with a feeling of dread.
Seasonal affective disorder is more than just the usual lethargy that can kick in when the days are shorter and the nights are longer. For some, it means lower energy and an increased need to sleep, but for others, it can mean a deeper shift in moods and a disinterest in life in general. Lots of people recommend light therapy to help, but there's a few other things that can support you depending on how deep your SAD goes. Many suggest aromatherapy by way of an essential oil diffuser, while others resort to a good salt bath to ease the tension. A good weighted blanket is always a must, no matter what time of year it is. And mindfulness journaling can help (but don't worry... they're not all deeply earnest and crunchy granola, if that's not your thing).
We hunted out a handful of things that can help you beat back the winter doldrums. Spring is coming sooner than you think... but in the meantime, these goodies will help you get there.
Carex Day-Light Classic Plus Bright Light Therapy Lamp
When the sun is hiding and the snow is high, you may not be getting outside as much, which means you'll be lacking in vitamin D. This lamp doesn't replace the sun, of course, but it's the next best thing. Offering the recommended dose of 10,000 LUX, this glare-free LED light offers a large surface and an adjustable stand so you can direct light downward, as recommended by experts. Plus, it's large enough that you don't have to sit right in front of it for it to work. True, it's not the most stylish lamp you're ever going to use, but it's a solid therapeutic option when you need help boosting your energy during dark winter months.
Philips Wake-Up Light Alarm Clock
If you don't need the full-on SAD-light option but you still want a little extra seasonal support, this alarm clock will do the trick. When you set your awake time, the clock slowly illuminates to mimic the sunrise, and optional wake-up sounds if you want them. Need help falling asleep? The clock also dims as if it's a setting sun, and those soundscapes are there to help you drift off for the night. 
The Mindfulness Journal
Running away from the blues doesn't help, but shifting your brain in a different direction sometimes can. That's what this journal does, using clever prompts and exercises to help you focus on the now and work through whatever is coming up for you, whether you want to follow its guidelines or go rogue and write stream-of-consciousness on its blank note pages.
Zen as F*ck: A Journal for Practicing the Mindful Art of Not Giving a Sh*t
Listen, we get it. When you're in a funk, sometimes the last thing you want to do is get all touchy feely about it while you chant at the moon with crystals in your hands. In that case, this might be a better journaling option for you. Zen as F*ck builds on the same principle as most mindfulness journals, with prompts and exercises to get you out of your own way. But it does so with tongue firmly planted in cheek, a healthy dose of sass, and just the right amount of encouragement. 
Urpower Essential Oil Diffuser
This oil diffuser is a multi-tasking wonder. Make the room smell amazing with your choice of mood-lifting scents? Check. Add a little visual interest and mental stimulation with your choice of seven colors of LED lights? Check. Act as a cool air humidifier so your skin stops feeling like sandpaper thanks to the winter chill? Check. It also has a nightlight and programmable on/off cycles so you can control how much scent is released, and an auto shut-off when the water reservoir runs dry.
Dr Teal's Pure Epsom Salt Balance & Calm (2Pack)
A good soak in the tub isn't just good for a moment of zen. Add in some Epsom salts, and it can help your muscles melt while easing the grip of depression, even just a tiny bit. This formula also includes matcha green tea, which helps with relaxation and focus, while citrus and chamomile essential oils can help calm a chattering mind. A bonus: it also helps to nourish dry winter skin, and is thought to detoxify you on some level... though you may want to take that with a grain of salt.
Barefoot Dreams Namaste Two-Piece Lounge Set
Jammies are great, but sometimes you need something that's just a little more... shall we say, presentable to the world while still maintaining your commitment to relaxation and self-care. This set from Barefoot Dreams should do the trick. Made of a soft, stretchy, silky modal blend, the split neck and fitted cuffs add a whiff of fashion, so you'll feel a little more put together while you're binge-watching on your couch. And who knows? Maybe you'll want to step out to get some coffee. Do it in these, and nobody will know you're in your PJs.
The Napper
To tell you that a Bearaby weighted blanket is nothing short of amazing wouldn't be enough to describe how life-changing this thing is. It's hand-knit and made from countless layers of organic cotton woven together in a chunky knit, and looks luxe enough to chill on your sofa like a show piece when you're not using it. But when you're using it? Ohhhh, you've never experienced such bliss. It's like the feeling of being cocooned, cradled, supported and nurtured all at once. Do not miss out on this magic.
Medium 12-Month Annual Planner
When you're dealing with the winter SADs, one of the last things you feel like doing is going out and being social... which is exactly why you should do it. And that's why you should get this planner: so you can fill it with things to do. That's not to say you shouldn't process through your feelings as needed, of course. But with all the stickers and coloring pages and nifty little sections to fill in events and happenings, maybe it'll inspire you to step out a little bit more than you wanted to before.
—Originally published Jan. 14, 2020, at 4:00 a.m. PT