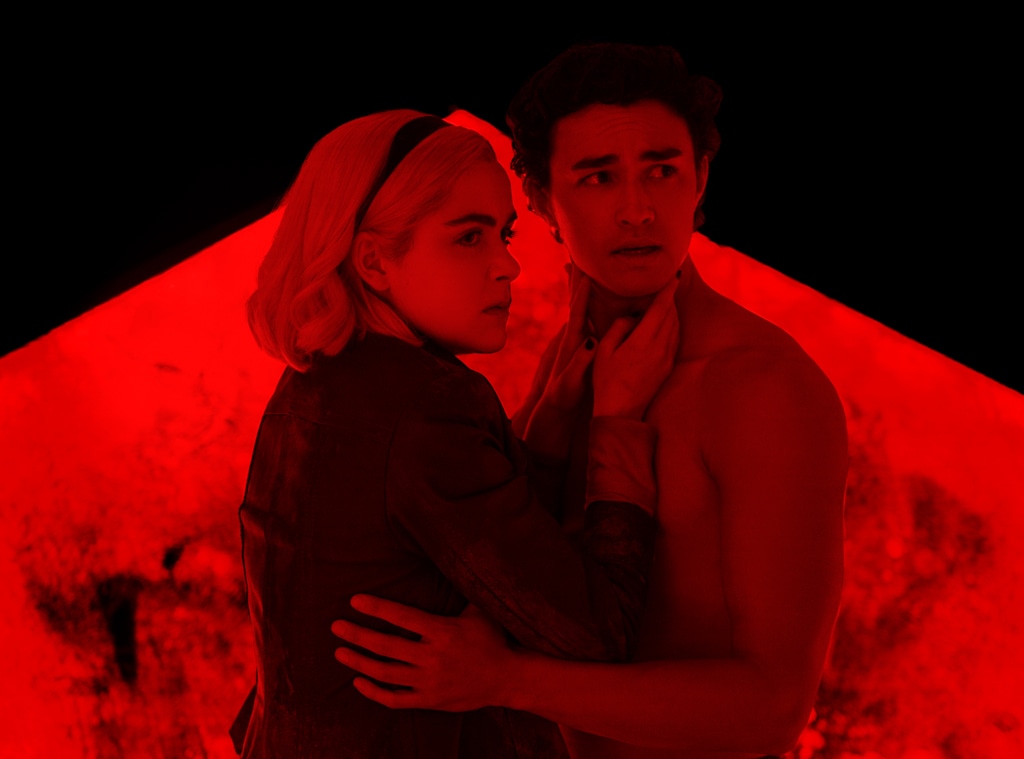 Netflix
Sabrina Spellman worked her magic to give viewers everything they want in a brand-new music video for the new episodes of Chilling Adventures of Sabrina. Yes, you read that right, a music video.
The video, "Straight to Hell," which you can see below, features Sabrina star Kiernan Shipka in the ultimate witchy couture, Gavin Leatherwood chained up, Ross Lynch in a crop top and all sorts of devilsh imagery, as well as the first look at new footage from the upcoming batch of episodes. "Straight to Hell" comes as the Netflix series prepares to drop Part 3 on Friday, Jan. 24.
In the new season, Sabrina is still reeling from defeating her father, Lucifer, while the Dark Lord remains trapped in the human prison of her boyfriend, Nicholas Scratch (Leatherwood). Needless to say, Sabrina's feeling some serious guilt that her boo made the ultimate sacrifice for her.
Now, Nicholas is being tortured in Hell by Madam Satan (Michelle Gomez), so Sabrina, along with her mortal friends, including Harvey (Lynch), takes it upon herself to get Nicholas back.
But with the Dark Lord unseated, there's a power vacuum. Sabrina must assume and defend the title of Queen once Prince of Hell Caliban tries to take it. As if that wasn't enough, a mysterious carnival rolls into Greendale and with it comes a threat to the Spellman family and the coven. Can they defeat a tribe of pagans attempting to resurrect an ancient evil? Hey, it's Chilling Adventures of Sabrina, anything can happen.
Watch:
"Sabrina" Cast Plays 'Witchcraft Do's & Don'ts' Game
See the music video performed by "Sabrina Spellman & Lovercraft" above.
Chilling Adventures of Sabrina also stars Miranda Otto, Lucy Davis, Chance Perdomo, Jaz Sinclair, Lachlan Watson, Richard Coyle, Tati Gabrielle, Adeline Rudolph and Abigail Cowen. The new episodes drop Friday, Jan. 24 on Netflix.