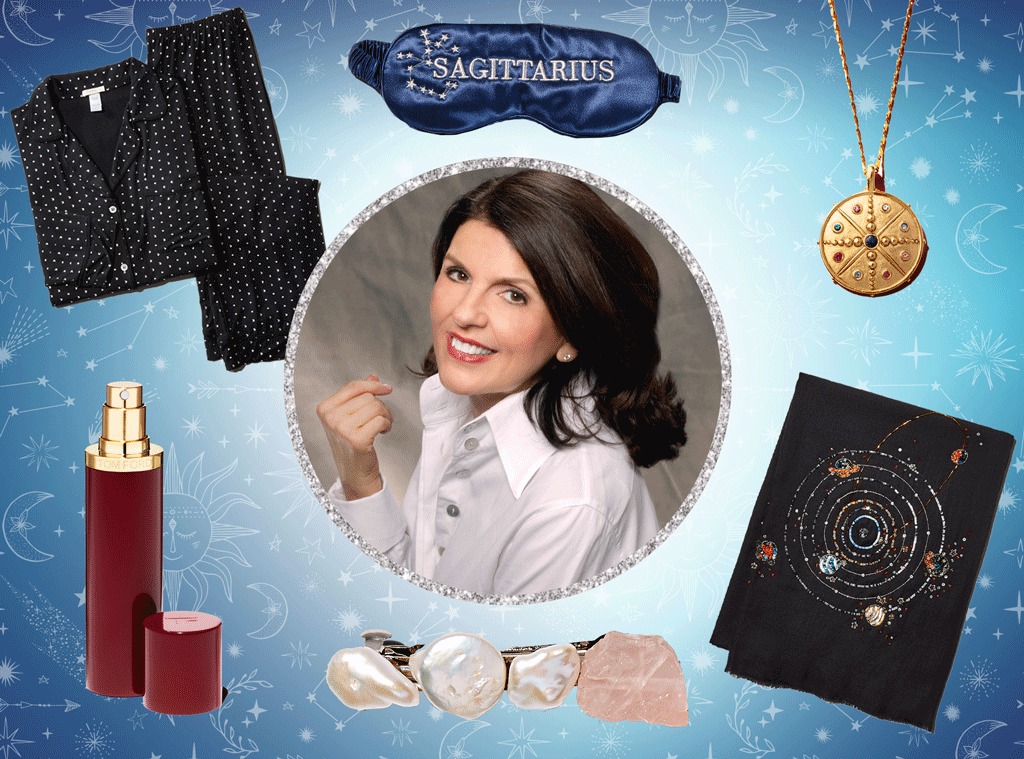 We love these products, and we hope you do too. E! has affiliate relationships, so we may get a small share of the revenue from your purchases. Items are sold by the retailer, not E!.
Thank your lucky stars—Bloomingdale's has launched a pop-up shop with famed astrologer Susan Miller of AstrologyZone.com!
The Carousel @Bloomingdale's: Astrology Zone features Susan's favorite finds inspired by the four zodiac elements: Air (Gemini, Libra, Aquarius), Earth (Taurus, Virgo, Capricorn), Fire (Aries, Leo, Sagittarius) and Water (Cancer, Scorpio, Pisces). Miller is definitely the authority you want shopping for your zodiac sign. Her website recently celebrated its 24th year, and now garners 200 million page views to 11 million unique readers who obsess over her astrological readings.
"I am thrilled that Bloomingdale's came to me with the idea of having a pop-up shop devoted to astrology, called Astrology Zone, the name of my website," says Miller. "Everyone loves astrology's ability to predict future trends. We wanted the shop to go a step further by showing shoppers how to find the perfect item for themselves, or as a gift for others, by knowing their sign or element (fire, air, earth, or water). I love this idea, for it will heighten the fun of shopping."
Indeed it does, thanks to a selection of one-of-a-kind fashion, home and beauty items hand selected by Miller to reflect each sign's corresponding element. Among the shoppable goodies? There's disco-inspired finds from Rezek Studio, SVNR jewelry made from natural materials, Skeem candles to cleanse one's room, and Miller's 2020 year-ahead calendar, of course.
With over 120 brands to choose from, we asked Miller to share her favorite picks—you can shop them below! But don't wait—The Carousel @Bloomingdale's: Astrology Zone pop-up shop is only available online and at select stores until March 1st!
Janavi India Galaxy Woven Wool & Silk Stole
"The Celestial Scarf by the extraordinary accessory company Janavi, a company synonymous with breathtaking quality. I matched this scarf with the element air, and Gemini especially, for no sign is as talented at switching up an outfit more skillfully than a Gemini. Yet you don't have to be a Gemini to love this scarf. I love it. New York City winters are frigid—this scarf would have me looking chic bundled with my new black winter wool coat and boots. To own a Janavi scarf is to own a piece of pure imported luxury."
Sparko Sweets Galaxy Lollipops Spiral Designs Gift Box
"You don't have to be a little kid to love Galaxy Lollipops by Sparko Sweets. This is an idea that when you see their entire set of solar system planetary lollipops, you will wonder to yourself, 'Why didn't I think of that?' These lollipops are pure genius. Each lollipop is handcrafted in the US in such flavors as watermelon, white peach. cherry and more. Sparko Sweets included our entire solar system, including the Sun (our galaxy's star), plus Earth, Mercury, Mars, Venus, Jupiter, Saturn, Uranus, Neptune and Pluto. (The moon is not a planet but the earth's satellite.) I matched these with air signs, but anyone would squeal with delight to have even one! Can I buy the set to teach my little nephew about planets? Why not?"
Phat Buddha Jane Glitter Leggings & Sports Bra
"It's always a boost to buy new workout clothes for fitness classes at the start of the year to help stick to resolutions. This line by Phat Buddha is made with new techo-fabric so that one size fits all. If you don't believe this, I didn't either—until I tried their things on, which look great, by the way. Now I understand why they're a cult fave. Love the little shimmering stars in the fabric. Perfect for earth signs, and especially wellness-oriented Virgo, and the rest of us who are vowing to get back to the gym in 2020."
Slip Zodiac Embroidered Silk Eye Mask
"It's common knowledge that fire sign Sagittarius is the international travel sign, and usually has an enormous amount of frequent flier miles racked up that can allow them to take off at the drop of a duffle bag. To Sag, traveling is akin to getting a blast of oxygen. They know how to sleep on planes (unlike me, who is always up, even on long trips to China or the Maldives). Your fire-sign friend, particularly a Sag, would love this Eye Mask by Slip made of patented Slipsilk ™, which is softer and kinder to the complexion and hair than masks made of cotton. With one mask for each of the 12 signs, I'm thinking maybe I should try one. Can a live wire like me learn to sleep on flights? It's worth a try. I figure I'd be more perky when I reach my destination."
Moonergy Bath Bomb Kit
"Do you feel like your life is a train that you're always running to catch? The terror of the clock is part of everyone's life, but there is a cure. Moonergy produces the most gorgeous Bath Bombs with softening oils and hypnotic scents to soothe you in ways a quick shower could never do. You can create your own ritual for Moonergy, as they have certain bombs that are matched to various phases of the moon. I felt romantic water signs, especially Cancer (ruled by the moon), would be excited to get the whole set, but gee, who wouldn't love a relaxing soak with these transformative bombs at the end of a long day?"
Double Trouble Gang Dream Girl Fleece Sweatshirt
"When I was very little, I was a shy child, but nevertheless my family often used to say, 'Here comes double trouble' when I would enter a room. They did it in such a funny, loving way that I had to giggle. Guess what? There's a quality company called Double Trouble Gang that specializes in custom embroidered individualized T-shirts, sweaters and hoodies with little slogans you make up and order. I love this aqua top, and I'm thinking of what precisely I could ask Double Trouble Gang to embroider in small script for a gift to a water-sign friend, particularly Pisces, for her birthday."
Tom Ford Jasmin Rouge Eau de Parfum
"Jasmine is a wonderful, flexible, yet indulgent perfume ingredient that can yield various affects, depending on the designer's intent. In Tom Ford's hands, Jasmine Rouge Private Label Eau de Perfum is a masterful blend of bergamot, mandarine, cardamom, cinnamon, ginger, neroli, ylang-ylang, vanilla, amber, wood and more. (I don't want to give away the plot here!) It will make any fire sign like luxury-minded Leo hauntingly irresistible, but any woman would long to be wrapped in this perfume's loveliness."
Eberjey Gisele PJ Set
"Eberjey makes the sexiest yet chic apparel on the planet, including swimwear, lingerie, sleepwear and more. When you see how these products fit, all I can say is turn on the air conditioner, for they can steam up any room and make anyone look super hot. I love these silky soft pajamas. Water sign Pisces rules sleep, so they're perfect for that sign, but gee, who wouldn't want cozy PJs to feel cuddled under their comforter when cold winds howl outdoors at night?"
SVNR Tucker Pointe Barrette
"Lately I've become a fan of barrettes, used in a sophisticated way, to pull my shiny shoulder-length hair to one side for a more dressed-up look for certain occasions. When I was introduced to SVNR by a friend at Bloomingdale's, I freaked out because they were so beautiful. This company uses natural stones in all their barrettes and jewelry, and their stones are always of the highest quality and carefully chosen. SVNR gets a lot of press, and I can see why. I assigned these stone barrettes to earth signs like Capricorn, but any working girl would love a gift of this functional and yet stunning barrette. These are not your mother's barrettes, nor your little girl's either!"
Sequin Multicolor Crystal Compass Talisman Necklace
"The jewelry company Sequin makes stunning artisan-crafted costume jewelry. I've been wearing their pendants with a t-shirt and jeans, and they also look cool with dresses, sweaters and skirts. I adore their new Multi-Clear Compass Talisman Necklace, which is 22K gold-plated integrated with Swarovski crystals. I have one, and this week a young woman sitting next to me at one of Bloomingdale's restaurants asked me where did I get such a pretty necklace? That's a good sign, I thought, when complete strangers ask you where you got what you're wearing. I was flattered. When I designed the products for my shop, I classified this pendant for air signs, but it's really for every sign, as it's not tied to just one. That's why this necklace is so magical."