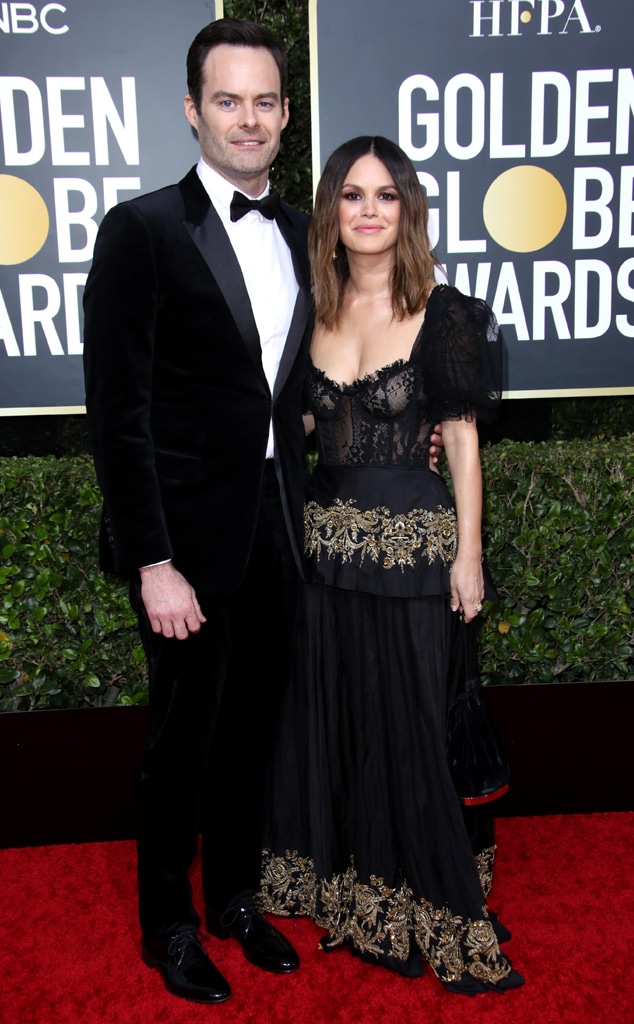 Shutterstock
Mmmm, whatcha say? That Bill Hader and Rachel Bilson are dating? Oh, the internet loves to see it.
Hader and Bilson confirmed their relationship by attending the 2020 Golden Globes together on Sunday. The pair smiled big while posing for photos on the red carpet, with the Barry star dressed in a black suit and The O.C. alum sporting a black and gold dress with a lace bodice.
But there's one thing we all must remember about what connects Hollywood's newest couple: The Lonely Island's 2007 digital short "The Shooting AKA Dear Sister."
It's one of the most memorable sketches from Andy Samberg's time on Saturday Night Live. Starring Hader, Samberg, host Shia LaBeouf and Kristen Wiig, the three-minute video parodies of one of The O.C.'s equally memorable moments: the season two finale when Marissa Cooper (played by Mischa Barton) fatally shoots Ryan's brother, Trey (played by Ben McKenzie and Logan Marshall-Green, respectively).
The moment made an instant classic out of Imogean Heap's "Hide and Seek," and the same song was employed in the SNL sketch, further cementing its place in TV and internet history.
At the start of the video, Samberg walks into a room where Hader is writing a letter to his sister. Before Hader can put down his pen, however, Samberg shoots him and Heap's endlessly catchy "Mmmm whatcha say?" chorus starts to play, just like in The O.C.'s "Dearly Beloved."
A domino effect of shootings then take place, with Hader shooting Samberg, Samberg shooting LaBeouf and all three of the men shooting Wiig numerous times. Fred Armisen and Jason Sudeikis eventually appear as cops who then shoot each other. Every time a gunshot goes off, the song's chorus starts over, making for a chaotic and hilarious end to the sketch.
The short was instantly iconic, making it damn near impossible not to think of it and The O.C. whenever "Hide and Seek" is played.
Millennials won't soon forget the sketch, nor will they refrain to bring it up now that Hader and Bilson are dating.
Reacting to the news of their relationship, one fan tweeted the Lonely Island video and said, "Anyone else instantly thinking of this knowing Bill Hader & Rachel Bilson are dating?" Chimed in another, "everyone acts so surprised by rachel bilson and bill hader dating as if it wasnt foreshadowed years ago."
Suffice it to say this was a match made in internet heaven.
Watch:
Would Rachel Bilson Do a Revival of "The O.C.?"