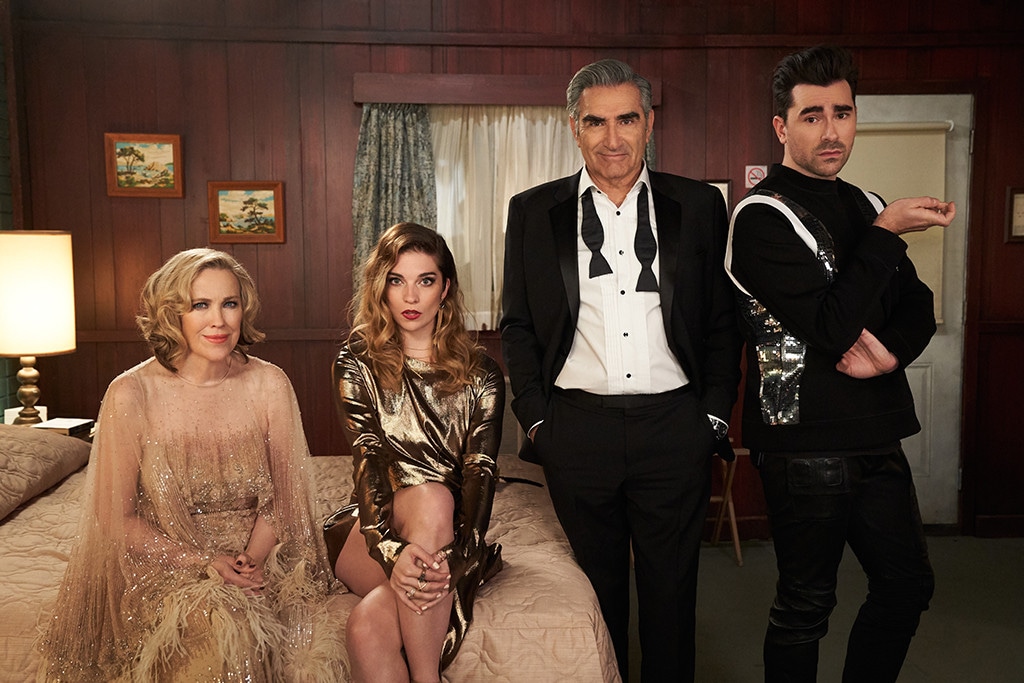 Pop
The old saying is, "It's so hard to say goodbye," and knowing how and when to bid farewell in the world of television is an even harder feat. Some shows last beyond their expiration date. Some shows end before they really get going. And then there are shows like Schitt's Creek. The Pop TV comedy reached new heights in season five in terms of viewers and accolades, and now it's all coming to an end with the sixth and final season premiering Tuesday, Jan. 7. But don't worry, series star and co-creator Dan Levy has planned for this for years.
Levy said he was thinking about the ending for the Rose family long before announcing the sixth season would be the show's last. And if he did his job right, it's an ending that will leave fans satisfied while doing right by the characters they've come to love.
"I mean, I give every season, and particularly every season finale, an intense amount of scrutiny and time and consideration. And this being the series finale, I think it was something I've been thinking about for years," Levy said, noting he had an idea of what to do with the formerly wealthy family forced to relocate to the small town of Schitt's Creek back in season three.
With an ending for Johnny (Eugene Levy, who co-created the series with his son), Moira (Catherine O'Hara), David (Levy) and Alexis (Annie Murphy) already gestating for three seasons, Levy then had to lay the foundation and get his characters to that point.
"So, for me, it was about building to that conclusion and making sure that all the pieces fit, and that we weren't sort of stuck in that tricky scenario where you're trying to tie everything up in four episodes," Levy said in December after the show received two SAG Award nominations. "I feel like we've laid the groundwork for something quite special and fulfilling for the fans. I mean, I think the last season of the show really is a love letter to them and their support, while at the same time respecting the characters."
Satisfying TV finales, especially during a time where it seems nothing is truly gone from the world of television thanks to revivals and an endless streaming life, have become a tricky thing to accomplish. Do you end a show with concrete finality, putting everything to bed? Do you leave the door open in hopes of a nostalgia-fueled revival? What happens to the Rose family of Schitt's Creek is being kept under wraps, but whatever the ending is, and how it'll be received by viewers, is something Levy has put a lot of thought into.
"I think that's the tricky dynamic, how do you give the fans what they want, and also give the characters what they want and need? And sometimes those are two different things. I always find that my favorite series finales that I will rewatch over and over again are the ones that really sort of satisfy the fanbase—the fans of the show, the people who have taken time out of their lives, hours and hours and hours to sit with these people—giving them what they want, while at the same time offering them something they didn't know they wanted. And that is what was sort of my mandate going into this last season," Levy said.
The final season picks up with the Roses at different crossroads. David and Patrick (Noah Reid) have a booming business (and wedding to plan), Johnny and Stevie (Emily Hampshire) have a thriving motel on their hands, Moira bounces back from a career setback and Alexis' public relations work picks up steam. That's just the professional side of things. Personally, and emotionally, the Rose family has grown exponentially. That's one of Levy's favorite changes over the six seasons (three years in the show's time) in the lives of David, Alexis, Johnny and Moira.
"I mean, I'll always be tickled by the fact that intimacy continues to sort of surprise and delight these people as if they've never experienced it before. And getting to play with that on a slightly more substantial level in this last season has been really fun. And it's a testament, again, to the strength of the cast who's been able to walk that tightrope of comedy and sentimentality with such ease and grace and skill," Levy said. "Getting to watch them in this last season really handle all of that with the kind of finesse that they've done has been amazing to just watch. And yeah, I mean, I think there's a lot to tie up and you know, you have to sort of pick your battles in terms of [Laughs.] what you want to deal with and what you want to just leave to the audience's imagination. And I think—I hope—that we've chosen the right paths for these people. And we've earned the kind of emotionality that we're playing with in this last season."
Watch:
Dan & Eugene Levy's Theory on Finally Getting Emmys Love
The end of Schitt's Creek looms for viewers, and a chapter in Levy's life comes to a close, but that hasn't stopped the creator from thinking about the future of the Roses. Yes, even though he spent years writing to this ending because of the affection he has for the people he works with and the product they produce, he can't help but think of working with them again.
"Walking away from the show or choosing to sort of end the show, when we did was really out of respect for the show, and not any other sort of thing than that. I could work with these people for the rest of my life," Levy said. Once the dust has settled, he added, Levy would be open to revisiting the characters he's spent all this time with, given he comes up with an idea "that feels appropriate for these people to reconnect."
"I would love that…I don't ever like to operate within black and white. I think, for now, these stories have led to have a really lovely conclusion. But I hope that down the line, there'll be a reason to pick up those stories again, and whether that's [Laughs.] like a movie or another Christmas special or whatever," Levy said. "I would love to work with these actors again."
Schitt's Creek season six premieres Tuesday, Jan. 7 at 9 p.m. on Pop TV.