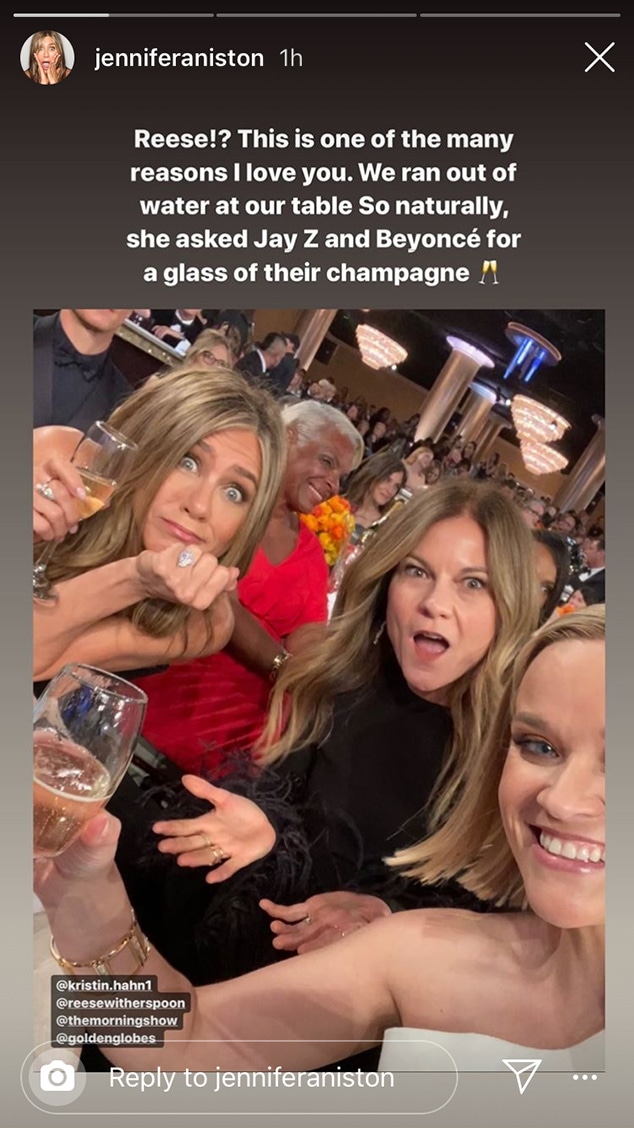 Instagram
They say it's better to give than receive. But what if you're receiving from Beyoncé and Jay-Z?!
During Sunday night's 2020 Golden Globes, Jennifer Aniston and Reese Witherspoon were able to enjoy the show from the same table.
After all, they are the stars of the critically acclaimed The Morning Show.
But in between enjoying the show's 100% plant-based menu, the Hollywood stars found themselves wanting something to drink. Don't worry, ladies! An A-list Hollywood couple can help with that.
"Reese!? This is one of the many reasons I love you," Jennifer shared on her Instagram Stories. "We ran out of water at our table so naturally, she asked Jay-Z and Beyoncé for a glass of their champagne."
Reese also confirmed the fun moment when she shared a glass of the tasty beverage.
"When Jay-Z gave us his #AceofSpade champagne, we were like…." she shared. Insert heart eye emojis right about now.
Less than 24 hours after the star-studded show, Reese was able to look back at some of her favorite moments of the night.
From her Walk the Line reunion with Joaquin Phoenix to her epic selfies with Kerry Washington, the actress appeared to have a blast. And it certainly didn't hurt that her husband Jim Toth was along for the ride.
"Some of my favorite moments from last night! So proud of both @themorningshow and the @biglittlelies teams..." she shared online. "You all were magic makers in support of bigger conversations and will continue to make waves for women in film and production for years to come! #goldenglobes."
Watch:
2020 Golden Globe Couple's Night Out: Beyonce, Jay-Z & More
As for Jennifer, she also had a fantastic night as she worked a stunning Dior black dress and makeup from Angela Levin.
"Last night," she wrote online with a photo shoot before walking the red carpet. "My little women. Supported me all night. (Had enough room for them and then some under that gown!) Thank you @Dior for this stunning piece of art."
Until next show, ladies!