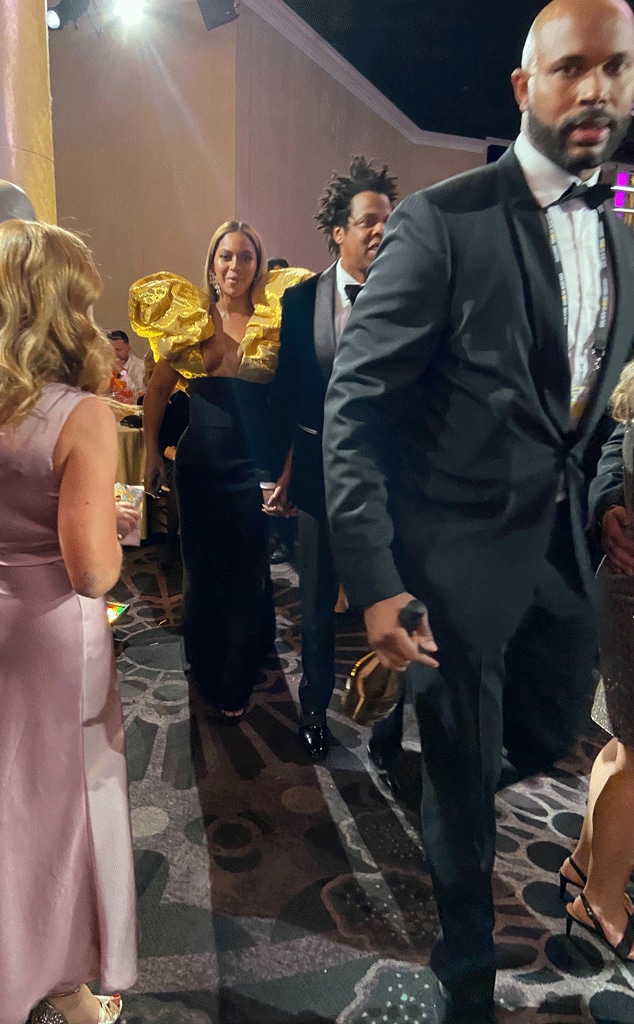 E!
Pop, fizz, clink!
Awards season has officially commenced. On Sunday, Hollywood's biggest and brightest stars pulled out all of the stops at the 2020 Golden Globe Awards at the Beverly Hilton in Los Angeles. From fierce and fabulous fashion to Ricky Gervais' cheeky opening monologue, this awards show is already proving to be unforgettable.
However, there was one moment at the star-studded show that ruled the entire night: Beyoncé and Jay Z brought their own champagne. 
Cue the lyrics: "Have you ever seen the crowd goin' apes--t?"
No, seriously! The celebrity power couple rolled up to the 77th annual ceremony in complete style. It appeared their bodyguard was holding a bottle of Armand de Brignac champagne, as the Homecoming star and her husband made their way back to their seats.
According to an eyewitness, the 50-year-old music producer and business man was seen pouring champagne for people at his table, which included Portia de Rossi. "Jay just handed Portia a glass and she smiled and took a photo," the insider shared.
Along with the fact that Bey and Jay brought their own champagne, it's safe to say they shut down the show with merely their presence.
The dynamic duo looked effortlessly elegant when they arrived to the ceremony, which had already begun when they made their way to their table. Being fashionably late never looked so good!
The "Spirit" singer dazzled in a body-hugging dress that certainly made a statement with its billowing gold metallic sleeves and plunging neckline.
According to an eyewitness, everyone was flocking to the Carters... and understandably so. Aside from making an entrance at the star-studded event, Beyoncé is also a Golden Globe nominee in category Best Original Song in a Motion Picture for "Spirit," which she co-wrote with Timothy McKenzie and Ilya Salmanzadeh for Disney's The Lion King.
Watch:
2020 Golden Globes: By the Numbers
However, the award went to Elton John and Bernie Taupin for the song, "I'm Gonna Love Me Again" for the movie, Rocketman.
Of course, from Bey's jaw-dropping lewk to her and Jay's bodyguard holding champagne for them, it's clear she's going home a winner with those two things alone.
For all the latest updates on fashion, winners and more, E! News has you covered. Read all about it, here.