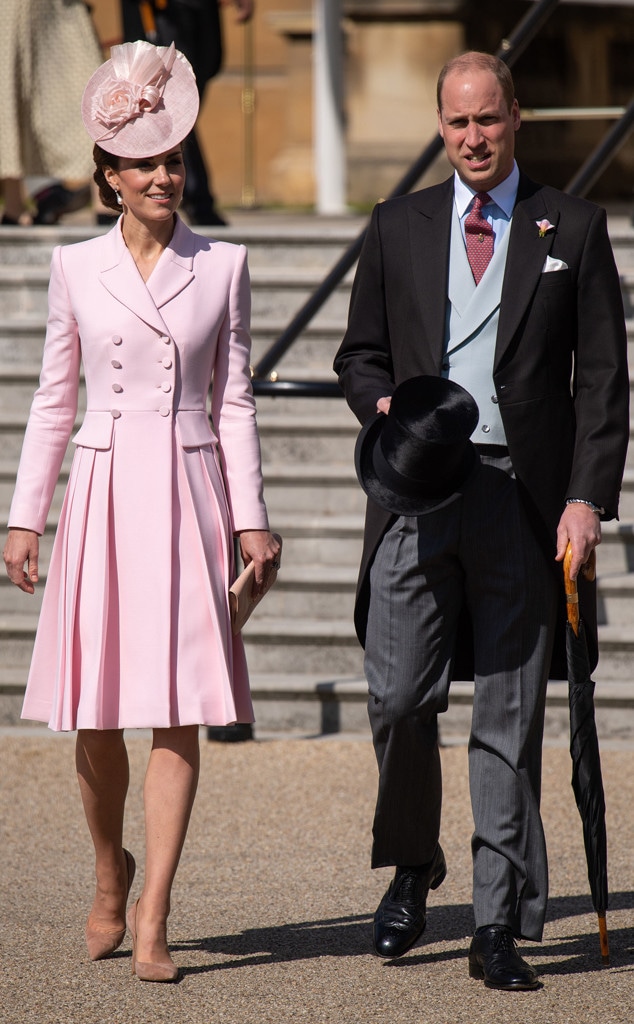 Shutterstock
Kate Middleton and Prince William, plus stars such as Naomi Watts and Hugh Jackman are expressing their support for the people of Australia as deadly wildfires continue to ravage the southeastern part of the country during its scorching summer.
This week, local authorities have urged more than 100,000 people in the area to evacuate, while a state of emergency has been declared. More than eight people have been killed, more than two dozen have been reported missing and more than 1,300 houses have been destroyed as a result of the recent fires.
In a post on their Kensington Royal Twitter page, the Duke and Duchess of Cambridge wrote, "Our followers in Australia can find out the latest information on the fires by following the accounts on this list. As the devastating fires continue our thoughts remain with those impacted and those working heroically to fight them."
Kate and William had visited Australia on a royal tour in 2014 and brought along their son Prince George, who is now 6. The duke had previously traveled to the country for an official visit twice, starting in 1983 with father Prince Charles and late mother Princess Diana when he was nine months old.
Watts, a British actress who moved to Australia as a teenager, posted on her Instagram a video depicting the sounds of the wildlife in the Australian coastal town of Byron Bay.
"This was my last eve in Byron, NSW, Australia," she wrote. "To get a sense of how beautiful the wildlife regularly sounds... Please turn up the volume. The fires have been truly horrendous. It's so upsetting and worrying. So much wildlife already lost. And still much of the summer ahead. My heart goes out to those who've lost loved ones and homes. Big gratitude to the brave firemen who literally haven't stopped during the holidays!!"
"Heartbroken for all the animals, plants and land," she continued. "[Praying emoji] for rain [rain emoji] #tbt [red heart emoji] [Australian flag emoji]."
Australian star Bindi Irwin, daughter of late "Crocodile Hunter" Steve Irwin, posted a photo of her late dad and grandmother, writing, "With so many devastating fires within Australia, my heart breaks for the people and wildlife who have lost so much. I wanted to let you know that we are SAFE. There are no fires near us @AustraliaZoo or our conservation properties. Our Wildlife Hospital is busier than ever though, having officially treated over 90,000 patients. My parents dedicated our Australia Zoo Wildlife Hospital to my beautiful grandmother. We will continue to honor her by being Wildlife Warriors and saving as many lives as we can."
Australian X-Men star Hugh Jackman  tweeted, "We want to express our deep gratitude to the people in Australia who are fighting these devastating bushfires Our hearts are with everyone impacted especially those who have lost homes businesses and loved ones This is an immense tragedy for our home country #AustraliaBushfires."
Aussies Nicole Kidman and husband Keith Urban expressed their support for the people of Australia during their joint satellite appearance on CNN's New Year's Eve broadcast with hosts Anderson Cooper and Bravo's Andy Cohen. The couple had recently spent Christmas in the country with their daughters.
Watch:
Keith Urban & Nicole Kidman Preach Importance of Music Fans
Australian actor Jai Courtney, star of Divergent, Insurgent and the Suicide Squad films, posted a photo of a bushfire, writing, "AUSTRALIA IS BURNING. And it's getting worse. People have died. More are missing. Thousands of homes have been lost. Tens of thousands of people are displaced. 15million acres of land have been burned (23,000sq miles) killing and destroying the habitats of thousands of species of wildlife and wiping out a total area way bigger than New York City. For perspective - That's 7 times larger than the Amazon fires and 3 times larger than the 2018 blazes in California."
"If you want to help, PLEASE do," he said. "Give anything. Links in my bio to @redcrossau bushfire appeal but it's SO easy to get online and decide how you want to help. Thank you to brave souls battling this apocalyptic mayhem. Awe, respect, nothin but love. @nswrfs @cfavic @qldfire @dfes_wa @wireswildliferescue @wwf_australia @portmacquariekoalahospital @salvosau @redcrossau #fires #bushfires #australianfires #australia" 
If you would like to show your support, please choose from a charity of your choice or some of these official charities that can help: Red Cross, Firefighters, Wires.