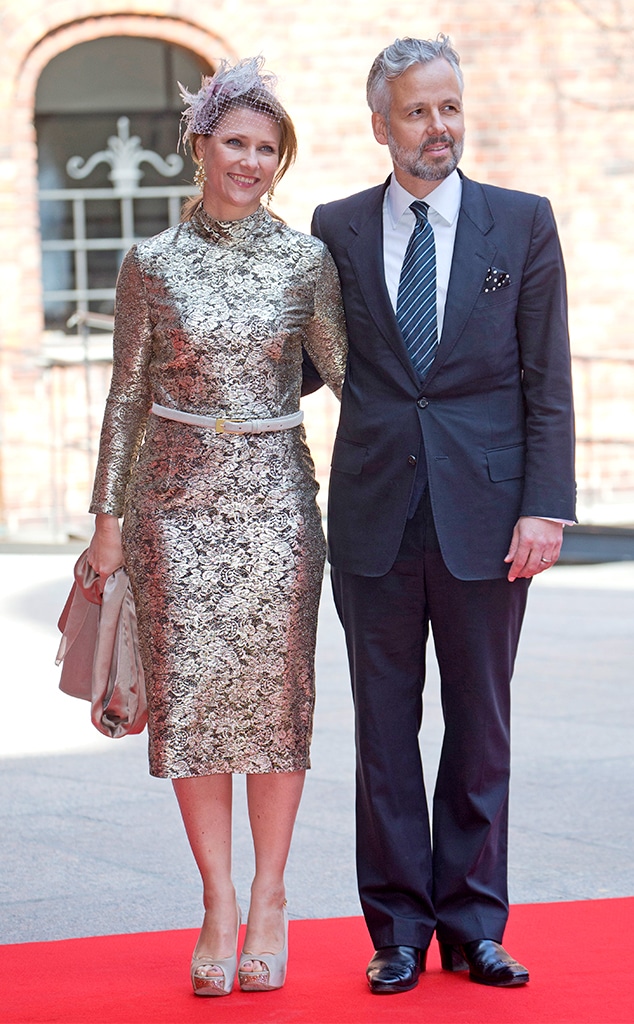 Julian Parker/UK Press via Getty Images
Princess Martha Louise is grieving the tragic loss of her former husband, Ari Behn. 
The Norwegian royal addressed Behn's death for the first time via Instagram on Friday, sharing a moving note just hours after a funeral was held for him at the Oslo Cathedral. 
"Dear Ari," Princess Martha wrote, "We were supposed to be together at Christmas and celebrating. We had all been looking forward to it. And we are so infinitely sad and sorry for the loss of just you, because you were the girls' warm, funny, wise and good dad that they so dearly miss."
The couple's daughters Maud, 16, Leah, 14, and Emma, 11, were all present at today's memorial service, which was also attended by several other members of the Swedish royal family. According to People, Maud placed a portrait of her father she had painted and intended to give to him for Christmas on his coffin. 
Princess Martha's post continued, "We miss the funny comments, your fine viewpoints, the poetic tone, the overflowing compliments, the great love you had for them. Today you would have been so proud of them. But now there is a void where you were, because no one can ever replace you for our beautiful girls. And it is so painful to think that you would leave the earth. We are in deep sorrow and pain all together."
Behn who made his career as an author and playwright, died by suicide on Christmas Day. In 2017, he accused actor Kevin Spacey of groping him a decade earlier. 
Princess Martha remarked upon Behn's emotional state at the time of his death, writing, "An invisible illness took you more and more, because that's when the mental health fails. For a long time, we gradually saw you disappear, but we held on to the belief that this would go well. Your family fought for you. They have been there for you day and night."
"You are and will continue to be deeply missed, Ari. And I feel sad that you never really understood how loved you were. I hope that we who are left can be good at praising each other and saying the nice words to each other. For we have this life to share just how happy we are for each other and what wonderful qualities we see in each other. We keep you in love, Ari, and move on with your words: Every day is a party and you are a piece of jewelry," she concluded. 
If you or someone you know needs help, call 988 to reach the Suicide and Crisis Lifeline. You can also call the network, previously known as the National Suicide Prevention Lifeline, at 800-273-8255, text HOME to 741741 or visit SpeakingOfSuicide.com/resources for additional resources.