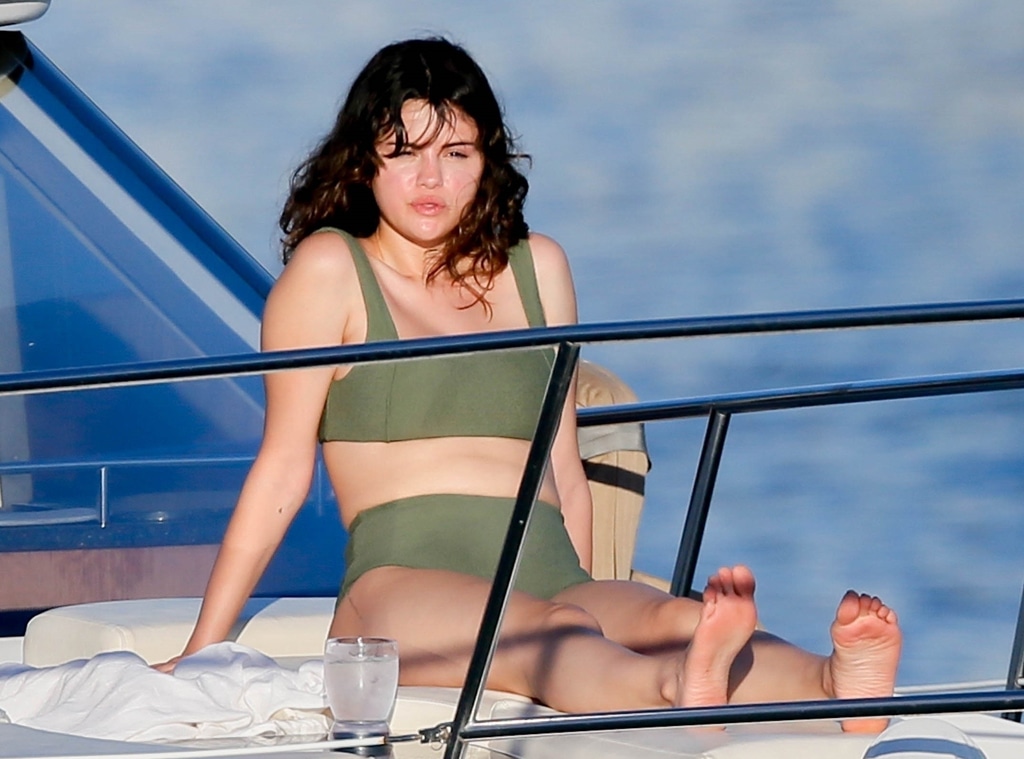 BACKGRID
Selena Gomez is soaking up the sun in Hawaii.
The "Look at Her Now" singer is kicking of 2020 with a "relaxing" vacation alongside her close pals. On New Year's Eve, Gomez donned a green bikini as she enjoyed time on a yacht with her BFFs.
"Selena is spending a week on the Hawaiian island of Oahu to ring in 2020," an eyewitness tells E! News. "She is staying in a house with her group of close girlfriends and they all are enjoying a relaxing vacation with beach time and hanging out together."
"On New Year's Eve they spent the day on a yacht sailing around. Selena was suntanning on the top deck and drinking water," the insider continues. "Some of her friends had champagne cocktails, but she stuck to water."
Later in the day, the group was spotted sitting around chatting and munching on snacks.
"Selena seemed completely relaxed and happy. She had no makeup on and was very casual and comfortable with everyone," the insider shares. "It was a mellow day and just a chance to be out on the water enjoying the perfect weather."
"In the evening they took walks on the beach and enjoyed the sunsets in Kailua. All the girls wrapped their arms around each other and posed for photos," the eyewitness continues. "They had a lot of fun and then went back into the house to watch movies and chill out."
"There was no big party or anything wild," the insider adds. "They just love their girl time and all being together at the beach and in a beautiful place."
Gomez's pals Courtney Lopez and Sam Lopez, who are among the vacation attendees, took to Instagram to share photos from the trip. In one photo, the couple can be seen sharing an embrace in the idyllic location.
Raquelle Stevens, Gomez's BFF, is also on the vacation with the "Lose You to Love Me" singer, and took to Instagram to share behind-the-scenes photos as well. In one picture, Raquelle can be seen on the yacht with Courtney.
"Friends for a decade ❤️," she captioned the snap.
This trip to Hawaii comes just days before the release of Gomez's new album, Rare. The 27-year-old Disney alum spent the holidays signing copies of her new album, 4,000 of them! So, it looks like she's taking a much needed break before getting back to work!
Rare drops on Jan. 10.