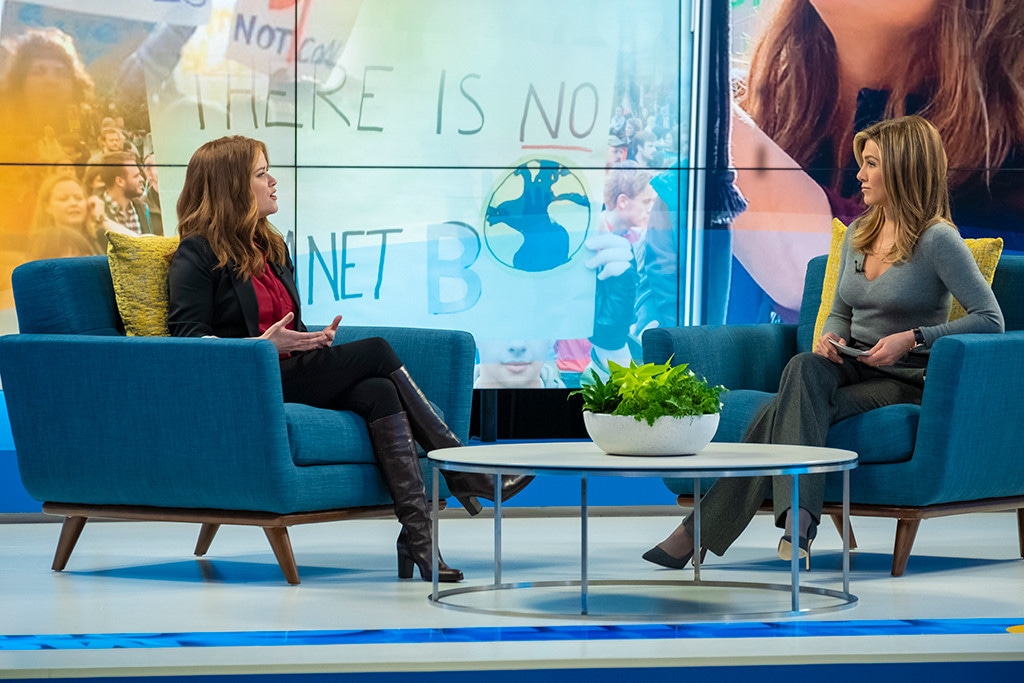 Apple
Once upon a time known as Nov. 2017, we opened a story with this line: "Jennifer Aniston is preparing to make her return to TV."
In Oct. 2018, we wrote a story with this headline: "Steve Carell Returning to TV in Reese Witherspoon and Jennifer Aniston's New Apple Series."
The Morning Show didn't just have an exciting cast. It was a moment, the return to the medium of two of TV's comedy greats from great, beloved TV comedies that, even though they were long off the air, were still top of mind for a whole new generation.
Thanks to streaming, The Office and Friends are still two of the most popular shows around, especially for teens who weren't even alive when Friends first aired. Put Jennifer Aniston and Steve Carell alongside Reese Witherspoon, one of TV's biggest stars after Big Little Lies (and who also played Aniston's sister on Friends), and you've got an infallible trio, irresistible to all generations. Put them in a show about the presumably soapy and dramatic and occasionally (hopefully) ridiculous world of morning television and it feels like there's no way you could lose.
In late 2017, multiple companies fought it out in a bidding war for the show about morning shows starring and executive produced by Aniston and Witherspoon, and it was Apple who won, with barely a video service to speak of. They immediately ordered two seasons of 10 episodes each, and The Morning Show became the flagship show for a brand new streaming service, and one of the most anticipated shows of the past few years, before any scripts existed. The idea was that the show would be loosely inspired by Brian Stelter's 2013 book, Top of the Morning, which chronicled hirings, firings, and rivalries in the world of morning TV.
It was not a smooth development process. Jay Carson started out as showrunner, but he departed the show "over creative differences" according to Variety. He's credited as creator but only credited as a co-writer on the first two episodes, replaced by Kerry Ehrin, who completely redid the show from scratch, without even reading Carson's version. 
The original description of the show was a drama "exploring the world of morning shows and the larger New York media scene they're a part of." The wave of sexual misconduct allegations that came out in 2017 began just before the show was announced in early November, and Matt Lauer—the most obvious inspiration for Carell's character—was fired from the Today show for misconduct at the end of November. It then made sense that after Carson was fired in the spring of 2018, Ehrin pitched her version as a show set in the #MeToo era, focusing on a nationally watched and loved morning show recovering after its lead anchor is fired over sexual misconduct allegations. But that meant she had to rewrite the entire thing from scratch. Ehrin told Vulture she turned the job down twice because she knew what she was getting into.
"It was launching Apple's streaming service and two huge stars and a new studio. There was a lot riding on it," she said.
She ended up writing the new pilot in April 2018 "very quickly in [her] bedroom in three weeks," with "no time" to do any research on morning TV beyond reading Stelter's book.
Carell's casting was announced a few months later, though at the time Mitch Kessler was just described as "a morning show anchor who is struggling to maintain relevance in the changing media landscape." We didn't yet know we were about to watch Michael Scott play one of those guys Hollywood had just spent the past two years slowly trying to rid itself of, a guy who would also make deeply inappropriate jokes but we would hate him for it while simultaneously being impressed that we could.
When The Morning Show finally did debut, it was not quite what we had imagined at all, and reviews were pretty mixed, with a current critic score of 61 percent on Rotten Tomatoes. The first few episodes in particular were dark and strange, with a whole lot of Mitch Kessler yelling about how innocent he is, while everyone else just yelled in general.
The pilot opened with the network learning of accusations against Mitch and promptly firing him, leaving his co-host Alex Levy (Aniston) to deal with the calamity and the mess of trying to find a new co-host. When she realized the network had been hoping to replace her, she took things into her own hands and announced that the new anchor was none other than Bradley Jackson, a foul-mouthed, opinionated, vaguely conservative but mostly just loud field reporter/viral star played by Witherspoon in a brown wig. It took two full episodes for that to happen, and it was maybe the show's best moment up until the finale, teaming the two women up instead of pitting them against each other like the execs wanted to do. That team-up turned sour as Bradley joined forces with some colleagues to go up against the network, and as she struggled to maintain control of the world crumbling around her, Alex had breakdown after breakdown, giving Jennifer Aniston a whole lot of emotional shouting to do on top of all the rest of the yelling.
But Mitch also wasn't out of the picture, despite the fact that it felt like he should have been. He stuck around, once again yelling about how he's an innocent casualty of the #MeToo movement, breaking things, throwing fits, and trying his best to convince us all that he was innocent. All his relationships were consensual, he said. Sure, he had affairs, but that was the only thing he did wrong, he said. It took eight episodes for us to get the a real look at what a monster he's been.  
"Lonely at the Top" took us back in time two years to Mitch's 50th birthday, when he was still a much-loved morning TV staple who made well-received inappropriate jokes right up until the show went live. While the network was looking to replace the aging Alex, Mitch got a gigantic birthday party, with a band, dancers, and Martin Short popping out of a giant cake to perform an original song about how great Mitch Kessler is.
And then we learned a truth it took us way too long to learn. Mitch assumed/decided the sex he had with talent booker Hannah (a fantastic Gugu Mbatha-Raw) in a hotel room (while they were covering the Las Vegas shooting) was consensual, but it wasn't, and it had deeply traumatized her. She immediately went to tell Fred, the head of the network, and was immediately promoted to keep her quiet. 
In present day, Mitch, on a desperate redemption tour, convinced her to tell her story to a reporter as evidence against Fred. Of course his version of the story was that she slept with him and then used it as leverage to get a promotion, but the true story she told to Bradley was very different. After an emotional end to the interview, she overdosed in her apartment and died, which is honestly a turn we did not expect this to take.
Her death led Alex to finally join the fight against Fred, leading to the cherry on top of a sundae made of breakdowns as she revealed everything on live TV, with Fred banging on the door to the studio while Mitch sat alone in his house with a black eye, courtesy of Chip (Mark Duplass). That moment of reckoning was supposed to come from an interview with him, but this was way more effective, and this was the best, most cathartic moment of the whole series, since as of yet in real life, no one has had the guts to do what Bradley and Alex did on live TV.
What sucks is that it took Hannah's death to get here, and that her death was just yet another dark thing that made this show hard to watch. "Dark" and "hard to watch" were not descriptors we were imagining when we first started waiting for this show back in 2017, when that described what was happening in the real news. We didn't anticipate that we would get the most joy out of watching Jennifer Aniston freak the f—k out, or of watching Jennifer Aniston and Billy Crudup perform Sweeney Todd together. We didn't anticipate hating a character played by Steve Carell, and we didn't expect him to be quite so good at being quite so villainous. We did not expect to be quite so taken by Billy Crudup, either. This is certainly not the conversation we imagined having about this show when we finally got to see it.
However dark things got onscreen, the show's future looks bright. Aniston won a SAG for her stellar performance and she's also nominated for a Best Actress Emmy. Carell, Crudup, Mark Duplass and Short all got Emmy noms and the show received eight nominations in total. Ehrin also has big plans for season two.
Watch:
How "Morning Show" Roles Impacted Jen Aniston & Reese Witherspoon
"It's like a huge building fell on everybody and it's about escaping from the wreckage," she told THR.
For Alex and Bradley, there's going to be "a lot of fallout and a lot of upheaval" after dropping that building, and Mitch, if Carell's schedule permits him to be in season two, now has to reckon with realizing he actually is a monster.
"It's not about a comeback," Ehrin told THR of Mitch's season two story, thankfully. "It's about something else."  
We're so ready to find out how this plays out in season two, but it's strange to look back on the show we were waiting for and the show we ended up getting. Aniston may have given us a career-best performance and Carell revealed a whole new Emmy-nominated side, but it almost feels like that other show, the more fun one we celebrated with Friends and Office GIFs, must still be on its way.
The Morning Show is available to stream on Apple TV+. 
A version of this article was previously published on Jan. 3, 2020.