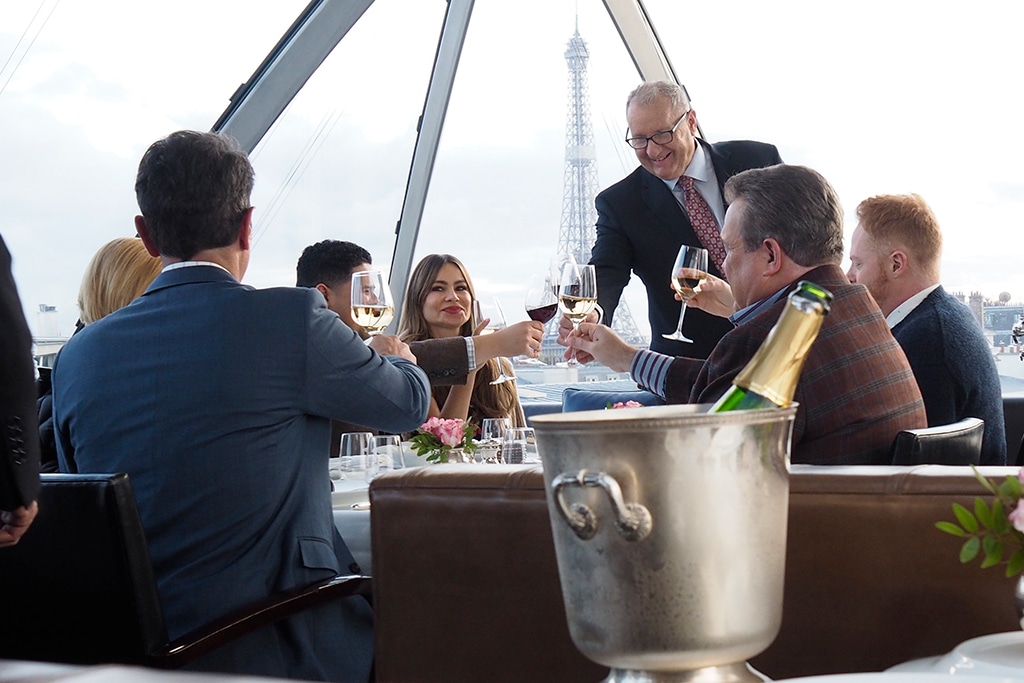 ABC
Modern Family is sending the Pritchett-Dunphy-Tucker clan on one last family trip. In the final season, currently airing on ABC, the family is heading to Paris, France. Saving the best for last?
In the episode, appropriately titled "Paris," the family heads to Paris so Jay (Ed O'Neill) can accept a lifetime achievement award for his career in the closet industry. But, because this is a sitcom, there's a twist. Earl Chambers, Jay's old nemesis, finds a way to haunt Jay's trip overseas. Meanwhile, Claire (Julie Bowen) has a secret rendezvous, Cam (Eric Stonestreet) embarks on fulfilling his lifelong dream of performing as Fizbo on the Parisian streets.
Guest stars include Arnaud Binard as Guy, Jean-Francois Pages as Bernard Busse and Jean-Pierre Pivolot as Fizbeau.
Over the years, Modern Family has traveled to Hawaii, Australia, Wyoming and Disneyland to Las Vegas, Lake Tahoe and New York.
Modern Family also stars Ty Burrell, Sofia Vergara, Jesse Tyler Ferguson, Sarah Hyland, Nolan Gould, Ariel Winter, Rico Rodriguez, Aubrey Anderson-Emmons, Jeremy Maguire and Reid Ewing.
It's Modern Family's last trip and over the season, the cast has been feeling the emotions that come with wrapping up more than a decade of time together.
Watch:
"Modern Family" Star Jeremy Maguire Offers His Take on Series End
"The first 'first last' was the table read and it was actually…fairly emotional, but I still feel like we won't really start feeling it until we get closer to the end," Burrell told press at the 2019 Television Critics Association summer press tour. "I think right now we're all just feeling so grateful for the time that we've had, for the 11 years that we've all been on such a special ride that it's not feeling like the end yet, when I think the end is going to be hard—be genuinely hard."
The Paris episode of Modern Family airs Wednesday, Feb. 12 at 9 p.m. on ABC.