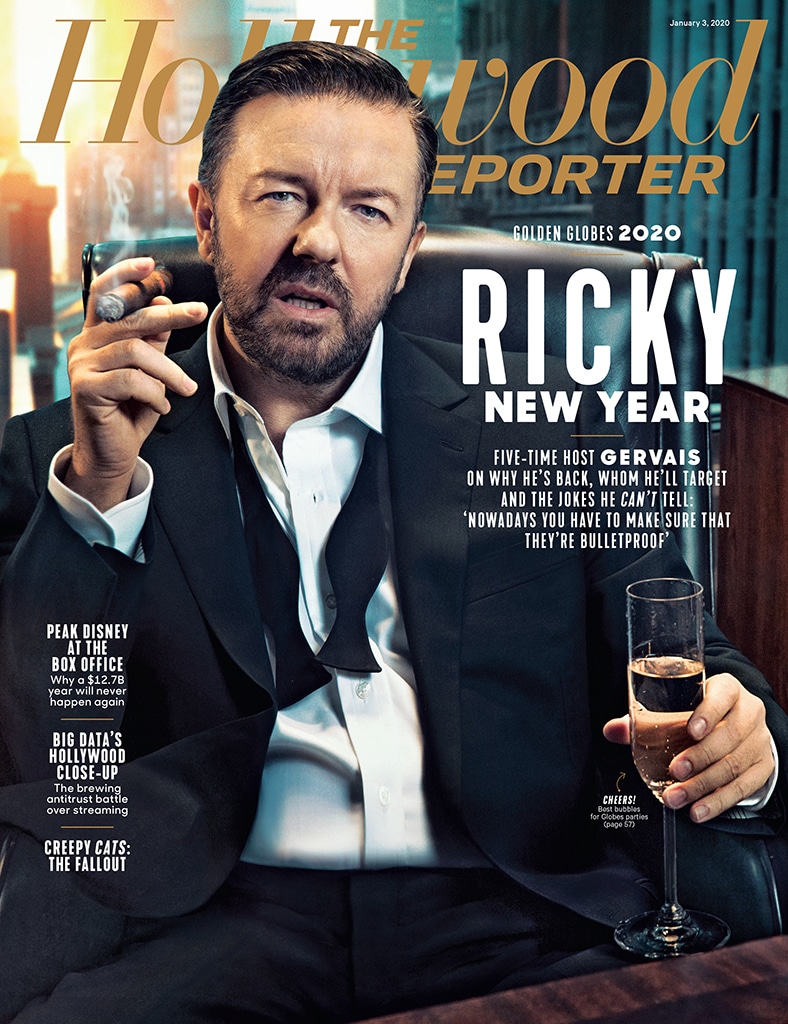 Austin Hargrave / The Hollywood Reporter
Brace yourselves, for Ricky Gervais is about to unleash his comedy upon you at the 2020 Golden Globes, and yes, you might get offended.
The British funnyman and co-creator of The Office is hosting Sunday's ceremony, marking his fifth time in a decade and first since 2016. And he is already stirring controversy.
In December, Harry Potter creator J.K. Rowling's expressed support on Twitter of researcher Maya Forstater, who lost her job for tweeting that people cannot alter their biological sex. Parody account @JarvisDupont, which mocks PC culture and white privilege, joked that Rowling is a "TERF" (trans-exclusionary radical feminist), to which Gervais responded, "Those awful biological women can never understand what it must be like for you becoming a lovely lady so late in life. They take their girly privileges for granted. Winning at female sports and having their own toilets. Well, enough is enough." The LGBTQ+ community and their supporters were not amused.
"Jarvis Dupont is a spoof Twitter account, and the joke is that he's so woke that he's actually gone full circle and does terrible things. And his latest [bit] is, 'I'm trans now.' And he gets all that wrong. And I responded by playing along with him, saying, 'Oh, you're so much better than biological women because they've had a lifetime to get used to it,'" Gervais told The Hollywood Reporter in a cover interview released on Thursday.
"Now, people saw my tweet and they thought he's a real trans person, but I'm taking the piss out of Jarvis Dupont, who is actually a woman in real life. And this is the problem," he continued. "You can say, 'Listen, I was joking. It's a joke.' But that's not always enough for people. They go, 'Well, why were you joking?' Also, add to that the nature of Twitter — it's so curt, there's no nuance, it's there forever out of context."
While hosting the 2016 Golden Globes, Gervais talked in his monologue about Caitlyn Jenner's transition to becoming a woman and her involvement in a fatal car crash the previous year, joking, "She didn't do a lot for women drivers."
"I was very careful that the joke was about her being a bad driver," he told The Hollywood Reporter. "The joke was about stereotypes."
Gervais told the outlet that he make it a "personal rule" not to laugh at something that a person "can't help."
"Deep down, I want people to know I'm not a racist or a homophobe or a sexist," he said.
"People like the idea of freedom of speech until they hear something they don't like," he later said. "So there's still a pressure, but that doesn't mean I'm going to water it down or back down and not say what I want. It's just another form of what we've been through many, many times — it used to be called P.C. I think those things start off with very good intention and then they're mugged. It's a good thing to not be racist and sexist and homophobic. But it's not a good thing to not be allowed to make jokes about those things, because you can tell a joke about race without being racist."
Watch:
Would Ricky Gervais Host the Oscars?
While hosting the 2011 Golden Globes, Gervais took aim at Tim Allen and his lack of awards. He told The Hollywood Reporter that he regretted the joke.
"Because I think he took it wrong," he said. "The joke was him and Tom Hanks. So I came out and said, 'Our next two presenters, the first has won five Oscars, combined box office of five billion dollars. And the other, Tim Allen.' Right? It's a fine joke. I'm teasing Tim Allen. But anyone standing next to Tom Hanks, unless it's Dustin Hoffman or Robert Redford or Robert De Niro, that could be me. But it happened to be Tim Allen. And I have nothing against Tim Allen. He's a good actor. He's probably a nice bloke. So even though there's no malice and I can justify it comedically and everyone laughed, I didn't want Tim Allen to think, 'Oh, that was written for me. Why me?' Well, because you were standing next to Tom Hanks."
When asked who is in his firing line this year, Gervais said, "Well, I don't think this time [any] individuals are. I think I'll go after the general community. I'd go after cinema and I'd go after television and I'd go after actors and I'll go after pretension and hypocrisy. You know what I mean? I'd go after those big, nebulous things where they can all feel I'm not picking on any one person. I'm never going to point to someone and say, 'You had a bad year, mate,' you know?"
The 2020 Golden Globes will air live from the Beverly Hilton on NBC on Sunday, January 5 at 5 p.m. PT / 8 p.m. PT.
Check out a full list of Golden Globe Award nominations.