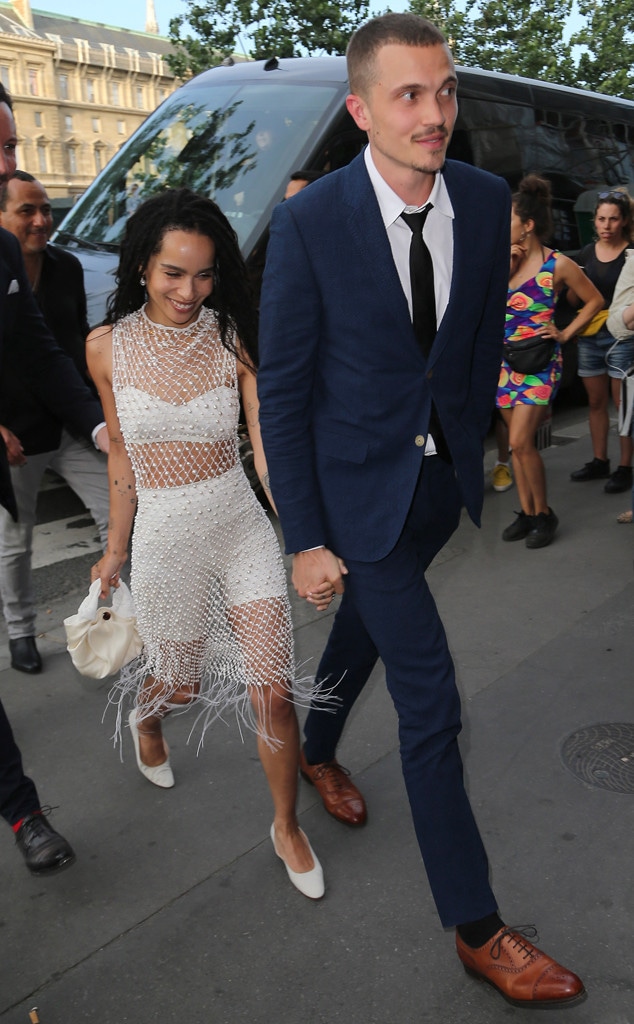 KCS Presse / MEGA
'Tis the season for end of the year and end of the decade recaps. 
No matter what timeline you're scrolling through today, you're bound to run into reflection posts and snippets of the decade and the year that has passed us by—and our favorite celebs are in on the fun, too.
Zoë Kravitz took to Instagram on New Year's Eve to share a batch of never before seen pictures from her special day. 
As fans may recall, the Big Little Lies star tied the knot with Love and Nocturnal Animals actor Karl Glusman in a romantic wedding ceremony earlier this year in June. She and her beau got married at her father's house in Paris after three years of dating. 
And today, she's giving fans and followers an inside look into her special day. In the black and white pictures that she posted from her wedding day on Instagram, the beautiful bride can be seen living out her real-life fairy tale. 
In one of the pictures included in her posts, her father Lenny Kravitz is pictured looking at his daughter lovingly as she walks down a flight of stairs and she's surrounded by her mother Lisa Bonet and her husband Jason Momoa. In another picture, the two newlyweds are seen happily cutting a slice of their wedding cake. 
The Big Little Lies star also shared a second set of pictures where her co-stars Reese Witherspoon, Shailene Woodley, Laura Dern, Nicole Dern and Nicole Kidman were pictured in a group photo surrounding the actress on her special day. 
Also in attendance: couple Cara Delevingne and Ashley Benson, Chris Pine, Denzel Washington, Alicia Keys (who was also pictured with her on Instagram) and many more. 
After celebrating their wedding in France earlier this year, the two lovebirds headed to the south of France to continue celebrating. The two were spotted in Positano and according to an eyewitness, the couple met with some friends for dinner at an A-list restaurant by the water. 
"It was a lovely summer night. The red wine was flowing and they were toasting and enjoying the evening," the eyewitness told E! News at the time. "They had a lot of laughs and listened to stories from the waiter."
The eyewitness also added that the newly married actress was "showing her friend photos from the wedding on her phone" and that she "had on her wedding ring and was glowing with happiness. She and Karl chatted back and forth and smiled across the table at each other." 
Watch:
Zoe Kravitz Says "BLL" Season 2 Will Explore Bonnie's Past
Cheers to the two lovebirds! 
To see more from the couple's wedding celebrations, scroll through our gallery below!