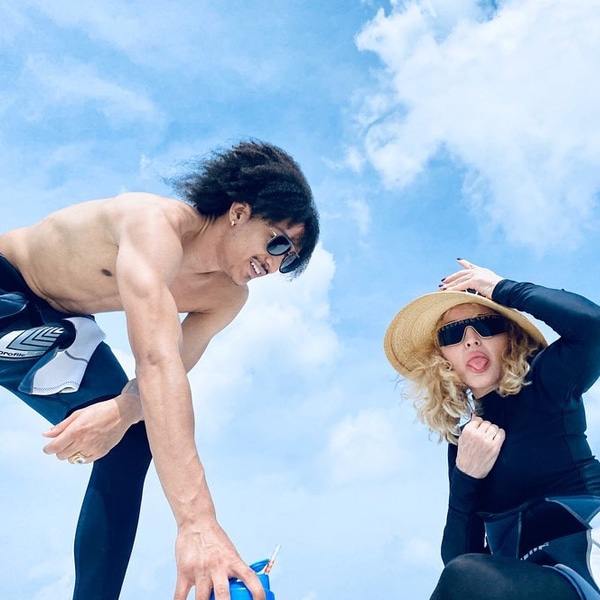 Instagram
Madonna sure loves a holiday!
As the music icon gets ready to say goodbye to 2019, pop culture fans are buzzing over her latest Instagram photos with a familiar face.
On Tuesday morning, Madonna shared two pictures with her rumored boyfriend Ahlamalik Williams while sailing on a private boat.
"Saying Good-bye to 2019! We Continue to Swim with Sharks! And Take the Road Less Traveled by!!" she captioned the shots. "#fun #healing #davidbanda @ahla_malik."
While one of the shots includes her son David Banda, 14, fans couldn't help but wonder if Ahlamalik—a 25-year-old backup dancer—was enjoying the trip as a friend or something more.
Earlier this month, Ahlamalik was spotted putting his hands around Madonna's waist on a hotel balcony in Miami.
He's also been able to be part of the singer's Madame X Tour as seen on social media. At this time, however, these two aren't confirming anything.
While the singer's most recent tour has made thousands of music lovers extra happy, Madonna had to drop some serious news on Instagram less than a week ago. As it turns out, the "4 Minutes" singer had to cancel the last North American show of her tour because of an injury.
"I was in tears from the pain of my injuries, which has been indescribable for the past few days. With every song I sang, I said a prayer that I would make it to the next and get thru the show. My prayers were answered and I made it. I consider myself a warrior," she wrote on Instagram. "I never quit, I never give in, I never give up!! However this time I have to listen to my body and accept that my pain is a warning."
Watch:
Madonna Talks GLAAD Honor and New Music
Madonna continued, "I spent the last two days with doctors: Scans, ultra sounds, X-rays, poking and probing and more tears. They have made it very clear to me that if l'm to continue my tour— I must rest for as long as possible so that I don't inflict further and Irreversible damage to my body."
Get well soon Madonna! We hope to see you back on the road in 2020.