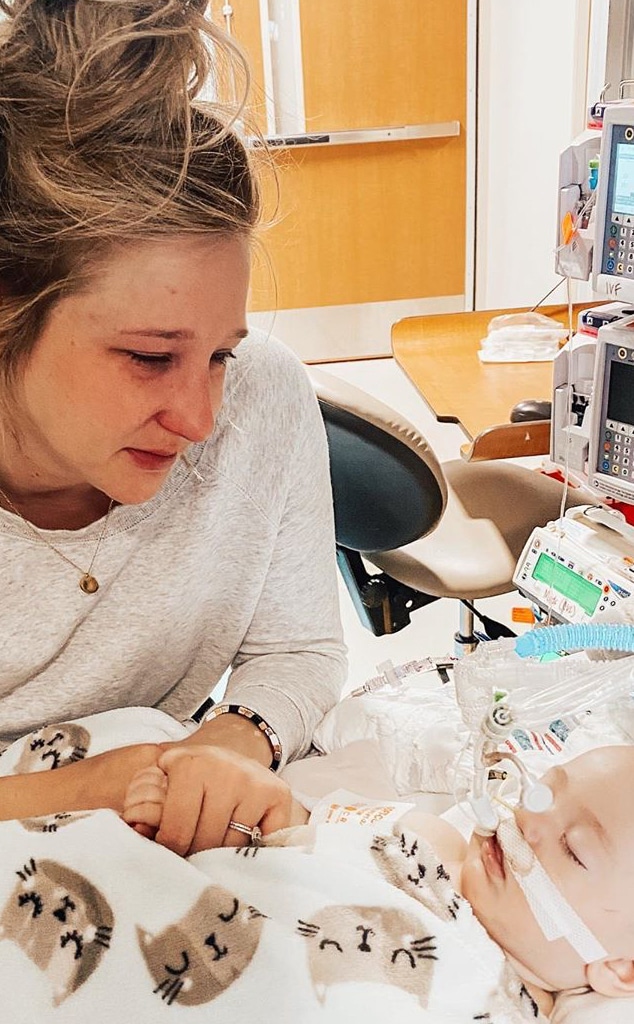 Instagram
The YouTube community is mourning the death of Brittani Boren Leach's 3-month-old son Crew. 
After the social media star informed her followers of her baby boy's passing, several YouTubers took to social media to express their condolences.
"I'm so so sorry for your loss," Casey Holmes wrote in the comments section of one of Brittani's posts. "This story has broken my heart, and I can't imagine this pain. Praying hard for you and your family." 
"I'm very sorry for your loss," MsGoldgirl's Marnie Goldberg added. "May the memories of Crew's short sweet life be a blessing to you in the moments to come."
Aaryn Williams also wrote, "I just love you so much Brittani, and I am so so proud of you."
Several bloggers sent messages of support, as well.
"Praying for unimaginative peace and understanding for you guys," commented Liz Marie Galvan. "I pray you have comfort beyond words and that you are only surrounded by a community who truly cares and wants to help. Hugs!!!"
"Your words are beautiful," Mint Arrow's Corrine Stokoe added. "I will keep praying for you that you guys will feel lifted and carried, comforted and shielded from anything that could add to your pain and strengthened by the prayers of all the people Crew's story has touched."
In addition, Granger Smith's wife Amber Smith, whose son River Kelly Smith passed away earlier this year at the age of 3, also wrote she was "sending all of our love."
Watch:
In Memoriam: Fallen Stars of 2020
Last week, Brittani informed her followers Crew laid down for a nap on Christmas Day and was found not breathing when she went to check on him.
"We are living a nightmare, and I'm dying inside," she wrote on Instagram at the time. "Please pray for my baby. This can't be real." 
She later posted pictures of her little one at the hospital.
"The doctors have concluded that the damage to Crew's brain is catastrophic & irreparable," her husband, Jeff Leach, wrote in part of a Facebook post on Saturday. "We are devastated. We have made the difficult decision to donate Crew's organs in the hopes that he can help another child and family in need. Crew fought bravely, so we could spend this time together. We're so blessed to have been here with him." 
On Sunday, Brittani wrote that "our sweet Crew went to be with Jesus today."
"Right now Crew is dancing and playing in Heaven with Jeff's brother, great grandparents, a little brother I never met, and some very special little boys," she wrote in part of her post. "And one day we hope we to meet the three or four little lives that he has saved. But right now there's a big hole in my heart and my arms feel empty. Please continue to pray for our strength in coming hours, days, weeks and years."