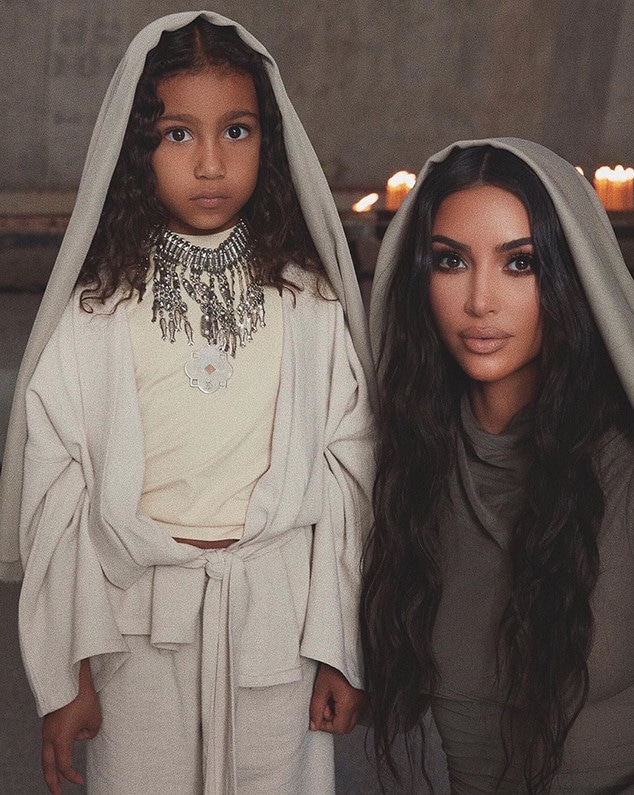 Jackie Nickerson
This is where Kim Kardashian draws the line. 
In case you haven't been keeping up, the Kardashian-Jenner clan loves to go big or go home for the holidays—especially when it comes to showering their loved ones with thoughtful and extravagant gifts. 
On Friday, Dec. 27, the Keeping Up With the Kardashians star revealed that she and her husband Kanye West gifted their 6-year-old, North West, two items from the late Michael Jackson's closet: a jewel-adorned black velvet jacket and his "Smooth Criminal" hat. Both pieces were purchased through Julien's Auction House.
The late singer's jacket, which he wore to Elizabeth Taylor's 65th birthday celebration and the 50th Annual Cannes Film Festival, was sold for $65,625. The winning bid for his "Smooth Criminal" fedora was $56,250.
However, a recent article published by Refinery 29 on Dec. 30 claimed that Kim and Kanye gave North much more than that. The publication wrote that the two allegedly also gifted their daughter the shirt President John F. Kennedy was wearing when he was assassinated in November of 1963. (Refinery 29 has since edited the article to exclude this information.) 
And as soon as Kim got wind of the allegations on social media, she was quick to shut them down. 
Kim seemingly noticed the claims after a Twitter user pointed it out. "I AM SCREAMING someone tweeted as a joke that Kim Kardashian gifted North JFK's bloody shirt and Refinery 29 wrote about it as if it were true????," the Twitter user wrote. 
The KUWTK star and mother-of-four then retweeted that tweet and wrote, "WOW this is obviously fake! @Refinery29 I did not get JFK's shirt. That is a sick joke that someone tweeted as a fake ig story that I never posted."
Fans and followers of the beauty mogul were quick to point out that this was another example of irresponsible fact-checking and people spreading incorrect information on social media. 
The image in question of the alleged shirt that the former U.S. President wore when he was assassinated in Nov. 1963 was photoshopped to look as if Kim had posted it to her Instagram Story and the caption that went along with it read, "Along with the Michael Jackson's jacket and hat, North also got the shirt John F. Kennedy wore when he was assassinated." 
Of the gift, the publication had also written in the since-edited article, "The visual of the shirt posted on her stories is jarring—and raises questions about why anyone would give a child something so violent." 
Watch:
Kim Kardashian Confides in M.J. About Lupus Scare