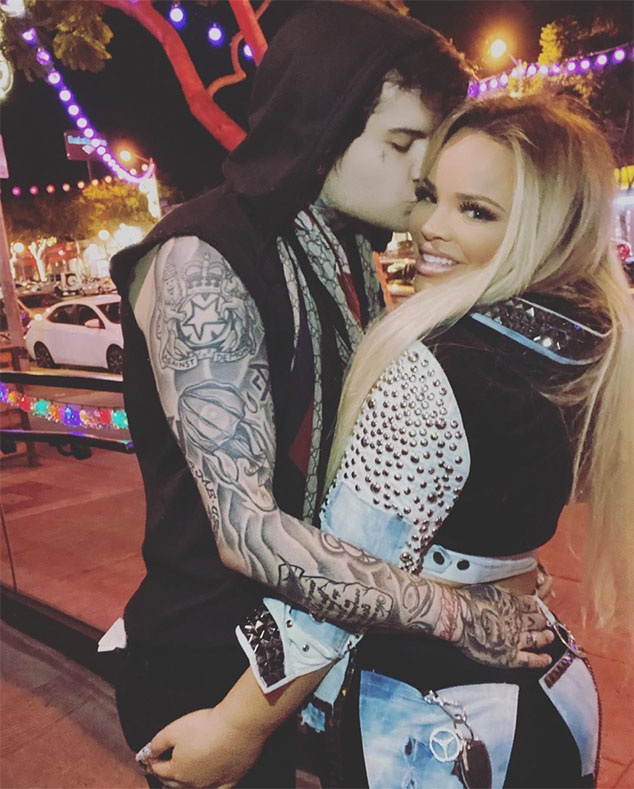 Instagram
Trisha Paytas and Jon Hill are locking lips—and the Internet doesn't know what to say. 
The YouTuber, who revealed to viewers in November that she had "married" a cardboard cutout of Brad Pitt, is now linked to a new man: Jon Hill. Paytas took fans by surprise when she posted footage to her Instagram Story on Sunday night of her and fellow YouTuber Jacyln Hill's ex-husband making out. 
"Can't wait to get pregnant tonight @jonhill822 I F$&KING LOVE UUUUUUUUU," she captioned a photo of them together, Hill kissing her cheek with his hands on her back. 
"My mind is blown at this very moment,"  one commenter said. "Jaclyn has left the chat...," another quipped. 
Meanwhile, Jaclyn didn't acknowledge the footage when she tweeted, "My friend just gave me her corn dip recipe & I'm so excited to make it for New Year's Eve!! It's so simple but soooooo amazing!!"
"The internet is going nuts over jon hill and trisha paytas making out on instagram, meanwhile jaclyn hill is minding her business tweeting about a corn dip recipe. god bless this woman," a tweet read. 
Back in May 2018, Jaclyn announced her and Jon's decision to divorce after nearly nine years of marriage.
"Although this has been one of the hardest decisions of our lives, I know it's what is best for both of us," the YouTube makeup influencer, who has amassed almost 6 million subscribers, said in a statement on Instagram. "I will always have love for him, and I am so grateful for all the good times we shared together. My heart is broken by this, but I still believe in love and believe everyone has a chance for a happy ending."
Watch:
Trisha Paytas' Groom Revealed!
Meanwhile, Paytas had viewers buzzing last month when she announced she was engaged and getting married on Nov. 1. "They're well known, but they're just a private person, so even though they're a public person, they're private," she teased of her future partner. 
However, the announcement was soon revealed to be a sham after Paytas posted a video of her wedding ceremony, which turned out to be between her and a cardboard cutout. 
"I never thought I would find someone who wouldn't leave me and wouldn't talk back to me and judge me for being crazy. This is real and this means a lot," she told the cardboard cutout of the Once Upon a Time in Hollywood star. "From the moment I got you in the mail, I knew this was going to last forever."