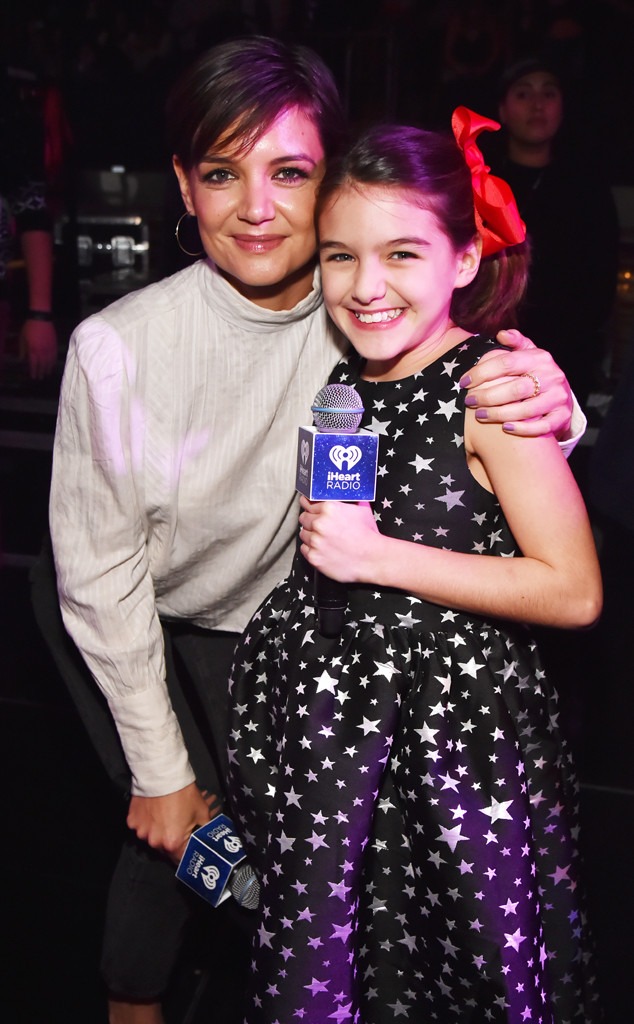 Kevin Mazur/Getty Images
We're seeing double!
On Thursday, Katie Holmes and her daughter Suri Cruise had a twinning moment on Instagram. The Dawson's Creek alum shared the mother-daughter picture to her Stories, where she and the 13-year-old can be seen posing for an adorable black and white selfie. 
From the looks of it, the duo escaped the New York City hustle and bustle to celebrate the holidays with a winter wonderland getaway. Documenting their travels in her Stories, she shared a video of snowy trees and a windy road. To add a nostalgic and adventurous effect to the short video, she had "Send Me On My Way" by Rusted Roots play over it.
Keeping things merry and bright, the newly-single star spread holiday cheer with some festive Instagram posts. Donning a Santa hat in one picture and showing off her decorated Christmas tree in another, Katie wished her followers a Merry Christmas and proved there was no shortage of holiday spirit this season.
"I was happy to become a mom in my 20s," she told the outlet for their December cover. "It's been nice that our ages fit...how do I put this? Every age that my child has been and my age at that time has been a good match. We kind of grew up together."
Speaking with Shape in November, she expressed her love for motherhood again, saying, "I feel very blessed to have such a special daughter. Being her mom is absolutely the greatest gift and privilege."
In fact, she also revealed that Suri is her favorite buddy to break a sweat with these days. "Sometimes I work out with my daughter," Katie said. "It just depends on the day. We have our routines and occasionally they overlap. But I don't force her to work out with me because I know that's lame."
The Jack and Jill star also dished about how she takes care of her body outside of the gym. "I'm a big believer in self-care," Katie explained. "It's better for everybody if you're taking care of yourself. Those moments are really worth it. I like to get massages."
Watch:
Does Katie Holmes Give Beauty Tips to Suri?
"I also have a favorite daily ritual," she continued. "I take 20 minutes in the morning to write down a list of the things I'm grateful for and listen to calming music. It's kind of a meditation and I give myself that time to just enjoy. It sets a good tone for my day."
She has also instilled a sense of mindfulness in Suri. While chatting with E! News at the 2017 Fragrance Foundation Awards, Katie shared the wellness tips she's passed down to her mini-me. "I try to focus, at home, on healthy eating and being creative and artistic and not so much on beauty so much," she told E! News at the 2017 Fragrance Foundation Awards. "Beauty comes from within."