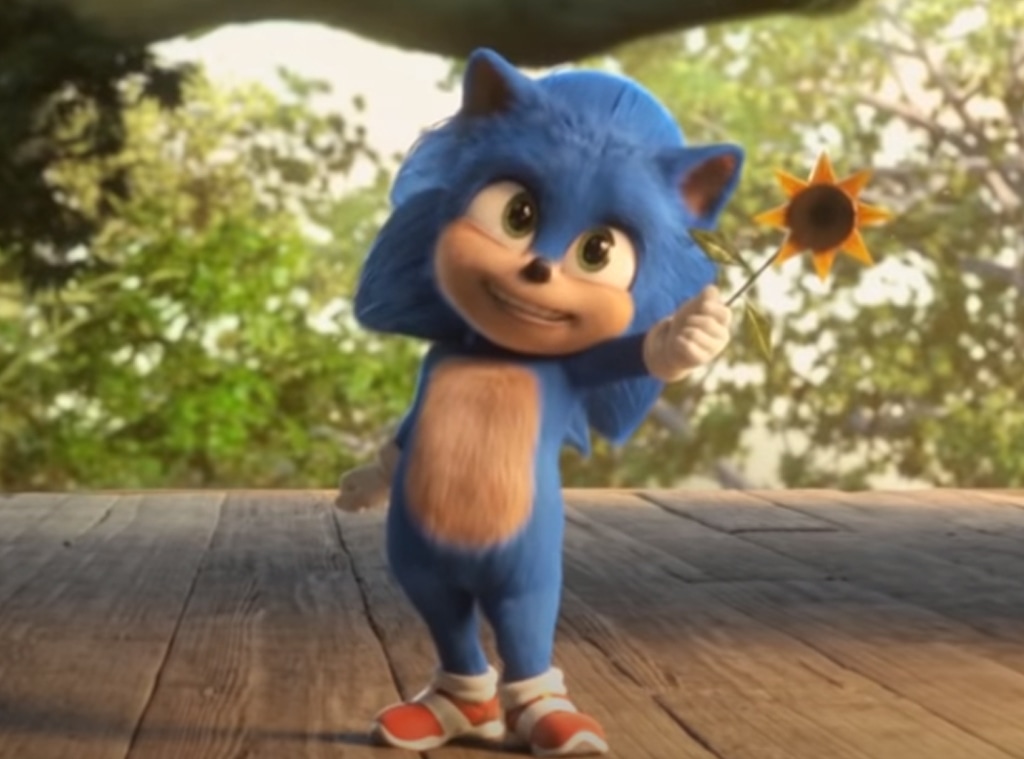 YouTube
Sorry, Baby Yoda: the Internet has its new obsession.
Baby Sonic made his adorable debut in the Japanese trailer for the upcoming origin film Sonic the Hedgehog. Giving fans a first look at the beloved video game character's in his younger days, Paramount Japan's latest trailer, which is voiced entirely in Japanese, shows Sonic racing across hills as he puts his super speed on display.
At first, the speedy hedgehog is just a little ball of blue light, but as the trailer progresses, his younger self is revealed and instantly won the Internet over with his cuteness. Twitter users were quick to sing their praises for the little action hero. One user wrote, "Saw #BabySonic today and my little heart melted." Another tweeted, "Looks like Baby Yoda has some competition."
Seeing the love Baby Sonic was receiving, Ben Schwartz, who voices Sonic in the film, chimed in on Instagram to jokingly relish in The Mandalorian breakout star's dethroning. "I see your baby Yoda and raise you a BABY SONIC!!!" the Parks and Recreation alum wrote. "WE ARE WELL ON OUR WAY TO SOME SORT OF BABY AVENGERS!"
Baby Sonic's unveiling comes weeks after Paramount and Sega revealed their newly-redesigned animation for the '90s video game character. After receiving backlash from angry fans following the release of its original trailer in April, animators revised Sonic's facial features, making his proportions match his look in the video game by enlarging his eyes and rounding out his face.
Acknowledging the upset, director Jeff Fowler issued a tweet reassuring moviegoers that a redesign was underway. "Thank you for the support," he wrote. "And the criticism. The message is loud and clear... you aren't happy with the design & you want changes. It's going to happen. Everyone at Paramount & Sega are fully committed to making this character the BEST he can be... #sonicmovie #gottafixfast" 
In this live-action retelling of the classic video game, Sonic meets James Marsden's character Tom Wachowski and the two team up to take on villain Dr. Robotnik (played by Jim Carrey), who wants to use the fast-racing hedgehog's powers to take over the world.
Back in April, Jim spoke to E! News about his role in the upcoming film and expressed his love for playing the cartoon-like mustache-sporting villain.
Watch:
Jim Carrey Enjoys Playing the Villain in "Sonic the Hedgehog"
"Bad is always more interesting than good in a way," he told E! News on the 2019 CinemaCon red carpet. "If you play at it, they know that's not actually you…It gave me a chance to go back and do some of the wild stuff that I'm kind of, you know, known for coming out of the gate with."
He added, "I love doing movies, also, that's gonna appeal to kids but also have something there for the adults who have to sit through it…I think there's plenty."
Catch Sonic the Hedgehog when it hits theaters February 14, 2020.