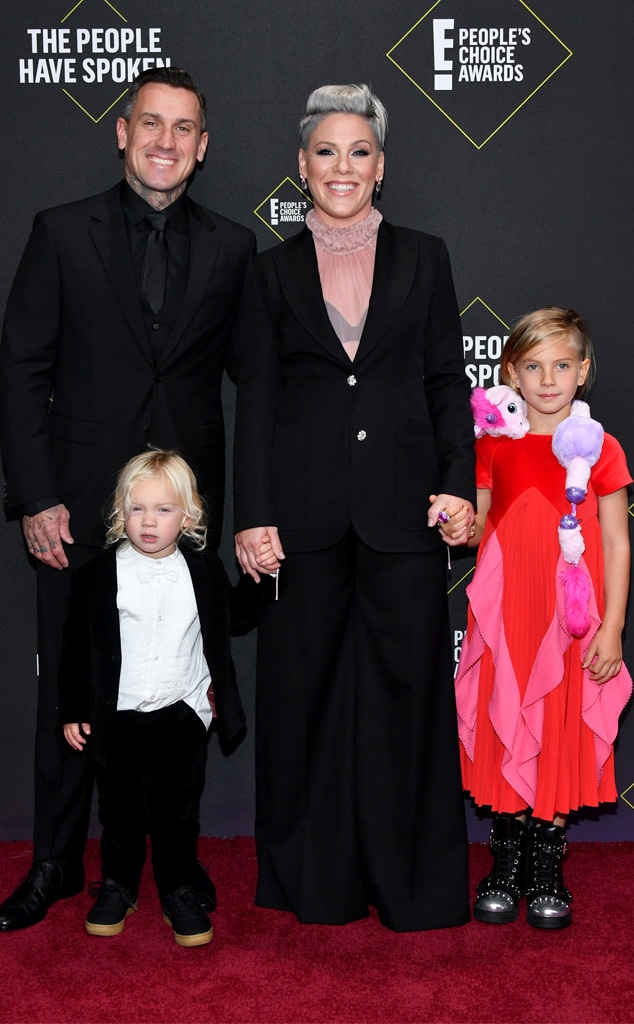 Amy Sussman/E! Entertainment/NBCU Photo Bank
Let's get the party started!
Pink celebrated her son Jameson Hart's 3rd birthday on Thursday with tons of love, singing and basketball. Taking to Instagram to give her baby boy a b-day shout-out, the "What About Us" singer, who is also mom to daughter Willow Hart, 8, shared a sweet picture of her three-year-old today and one from when he was just a little nug.
"You and willow have been bickering all morning, and I wouldn't have it any other way," Pink wrote. "You bring so much light to the world, my boy. Thank you. Happy birthday." Husband Carey Hart chimed in, commenting, "You cooked a good one, baby!"
Keeping the birthday fun going, the "Just Give Me A Reason" singer posted a video from Jameson's celebrations. Holding a delicious chocolate cake, she and her family sang "Happy Birthday" to the little guy. To make the moment even more adorable, Jameson told his mom his wish before blowing out his candles: "I wish I could be a basketball player." She captioned the post, "Well apparently he likes basketball happy bday looney tune."
Carey gave the birthday boy some love on his Instagram with a heartfelt message and even more precious photographs. "Happy 3rd b day to my lil Meatball!!!" the professional motocross racer wrote. "You are such an amazing kid, and I love you so much. You are a constant crack up, and enjoy every moment with you. Enjoy your day lil man."
Since welcoming Jameson to the Hart family in 2016, Pink loves treating her fans to snapshots of the adorable toddler. Speaking with Ellen DeGeneres about her decision to share her kids on social media in the wake of the backlash she's received, the "Take Me Home" singer explained, "I like to share my family. It's my proudest moment in my whole life. I'm prouder of my kids than anything I've ever done."
Watch:
Pink Inspires While Accepting E! People's Champion Award
"Yeah, I believe in affection," she told the outlet. "I believe in needs being met and faith being implemented, and I believe in letting your kids know they can count on you, and that you'll be there…I always tell Willow, 'I'm going to teach you the rules so that you'll know how and when to break them.'"
Ensuring that her children feel empowered and comfortable embracing their individuality is something Pink has been very vocal about in the past. In fact, it was the theme of her Video Vanguard Award acceptance speech at the 2017 VMAs.
Addressing her daughter, who was proudly watching her mama from the audience, the Grammy winner said, "Baby, girl, we don't change, we take the gravel and the shell and we make a pearl. We help other people to change so that they can see more kinds of beauty. And to all of the artists here, I am so inspired by all of you. Thank you for being your true selves. And for, for lighting the way for us."