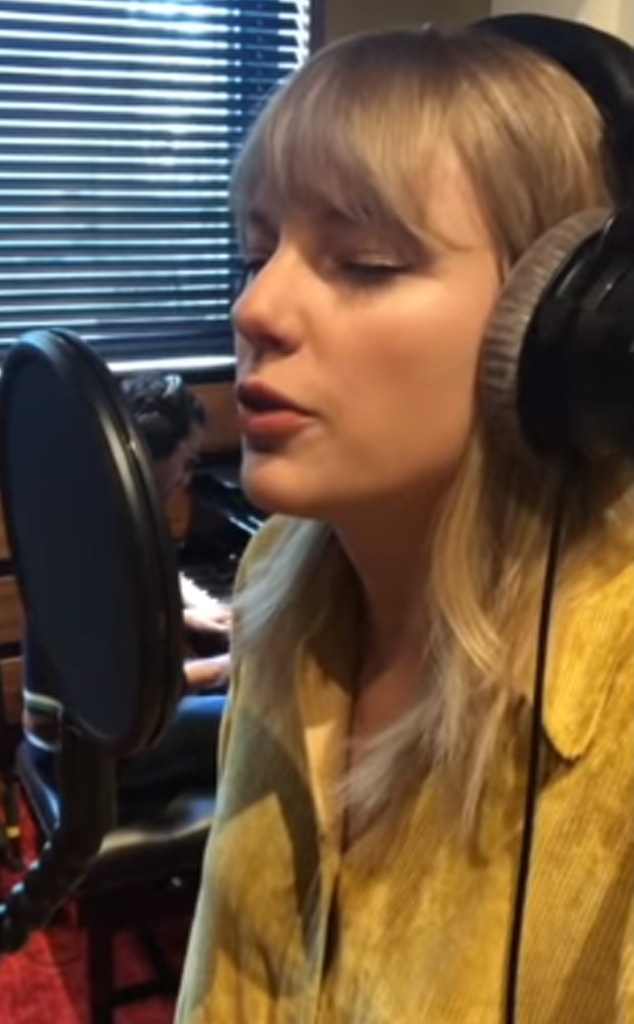 YouTube
The best way to spread Christmas cheer is blasting Taylor Swift's "Christmas Tree Farm" loud for all to hear, right? 
On Monday, the Cats star treated fans to a behind the scenes vlog-styled video of the creation of her new holiday track. Breaking down the inspiration for the song's catchy melody, Swift explained that she wanted "Christmas Tree Farm" to be a joyful escape for listeners. 
"So, the idea I have for the song is 'Christmas Tree Farm' because I grew up on one, you know what I mean?" she said into the camera. "These are chords I don't usually use—it's about how, like, you're in the city and you're stressed out and your life is feeling really, like, low, but in your heart it's Christmas tree farm."
Documenting the 24-hour songwriting and recording process she embarked on with producer Jimmy Naples, Swift took viewers along as she workshopped different lyrics and chords for the fan-favorite song.
"My Christmas nights are taken up by static," she sang as Naples played a new chord they created. "Stress and holiday shopping traffic—YES!"
After figuring out the hook, the duo then jammed out to the chorus. Naples graciously sang the background vocals as Swift belted, "Under the mistletoe (To you) / Watching the fire glow / Tellin' you, 'I love you.' / Just bein' in your arms / Takes me back to that little farm / Where every wish comes true." 
With the music ready, it was time to record the track. Donning her headphones and standing in front of her mic, Swift said, "Yeah, it's good to document these things. 24-hour song turnaround." 
Once her part was set, the "Lover" singer shared a snippet from the choir's recording session. "Alright, so now we've got amazing singers," she said into the camera as the soulful choir sang their verse.
Watch:
Taylor Swift's 30th Birthday Party With Joe Alwyn & Her Squad
Finally, it was time to release the song. Before putting "Christmas Tree Farm" out there, Swift gave a closing remark to the camera: "Hi, we're done with the song. It's done now. We're gonna put it out. We hope you like our Christmas song. Merry Christmas!" 
When "Christmas Tree Farm" dropped on December 6, Swift took to social media to share the news with fans. "I actually did grow up on a Christmas tree farm," she captioned her post. "In a gingerbread house, deep within the yummy gummy gumdrop forest. Where, funnily enough, this song is their national anthem." 
Watch Swift prove she's a musical genius in the video above!