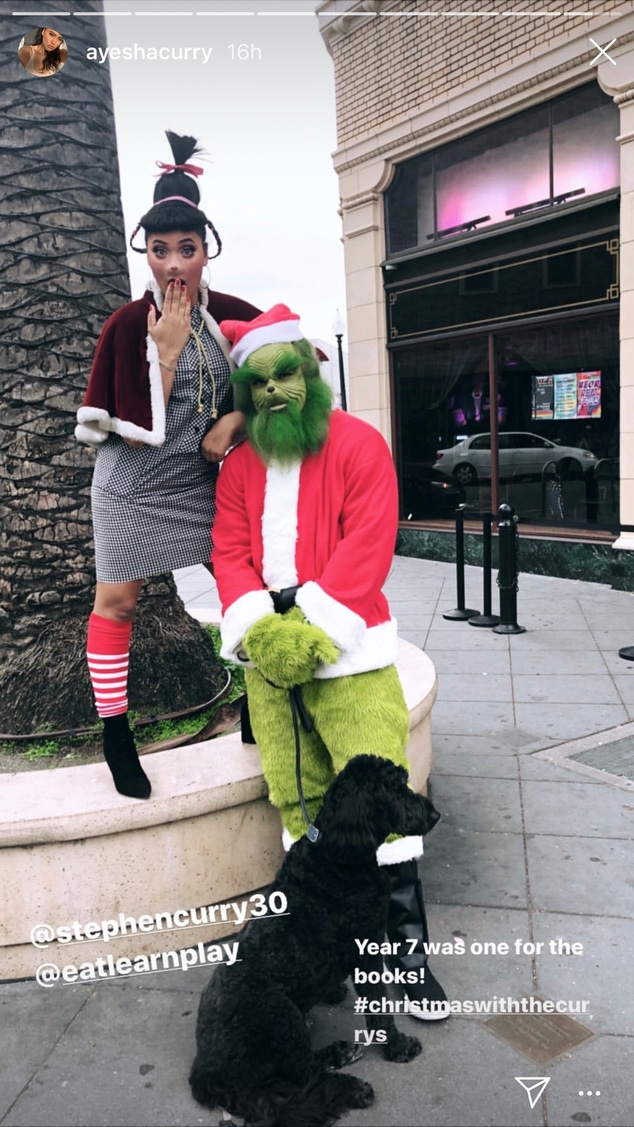 Instagram
It came without ribbons, it came without tags. It came without packages, boxes, or bags—instead, the Christmas spirit came as Ayesha Curry and Stephen Curry dressed up as The Grinch and Cindy Lou Who. 
During Stephen's annual "Christmas with the Currys" event at the Fox Theater in Oakland, Calif. on Saturday, Dec. 21, the Golden State Warrior basketball player and his wife dressed up as The Grinch and Cindy Lou Who to bring Christmas cheer to Bay Area youth. 
According to Curry's foundation (@eatlearnplay) on Instagram, the power couple surprised over 500 Oakland families with food, books, games and gifts. 
The foundation wrote on the social platform, "500+ families. 2,000+ Oakland residents. 2 very interesting characters. The 7th Annual #ChristmasWithTheCurrys didn't disappoint! Dressed as the Grinch and Cindy Lou Who, @stephencurry30 and @ayeshacurry welcomed hundreds of Oakland families and provided gifts inspired by Eat, Learn and Play. THANK YOU to all the partners who made today possible! #eatlearnplay." 
And for the Curry's, it wasn't just about showing up and handing out presents.
For them, it was about really getting into character and making sure these families in the Bay Area experienced Christmas and the holiday spirit in all its glory. 
So, what better way to do that by than channeling your inner Grinch and Cindy Lou Who? 
From the looks of Ayesha's Instagram Stories, hair and make-up to transform into our favorite green grump character and into the sweet Cindy Lou Who was no easy feat. 
The mother-of-three posted a series of Instagram Story videos as she walked us through the process of her and her husband getting ready to dance and play with families in Oakland. 
She also shared a couple of hilarious selfies with her beau. In one picture, the 31-year-old basketball player is completely in his Grinch get-up and Ayesha captioned it, "Okayyyyyy he could get it." 
In another selfie, she wrote, "During glam trying to steal smooches. Doesn't he know a winged liner takes precision?"
It looks like the two were having a blast in costume while also giving back to their community. 
"But in all seriousness! We are so grateful to all of our @eatlearnplay partners! This day wouldn't have been possible without you," she wrote on another Instagram Story, alongside a picture of her at the event. 
This year's "Christmas with the Currys" marks the 7th year that the two host this charitable event. 
"Another year in the books! We couldn't be happier to give back to the community during this holiday season. Thank you to @googlenest with their Google Assistant for being apart of this special day! #HeyGoogle," wrote Ayesha on Instagram, alongside a picture of her and Stephen with a young boy as they handed out presents. 
"Christmas with the Currys! the Grinch, Cindy Lou Who and Max (aka Rez). Thanks to everyone on the team that helped bring the 7th version to life. More to come @eatlearnplay," wrote Stephen on his Instagram page, alongside more pictures of him and his beloved Cindy Lou Who. 
Now this is what the Christmas spirit is all about. 
Watch:
Ayesha Curry Spills on Upcoming 30th Birthday Surprise