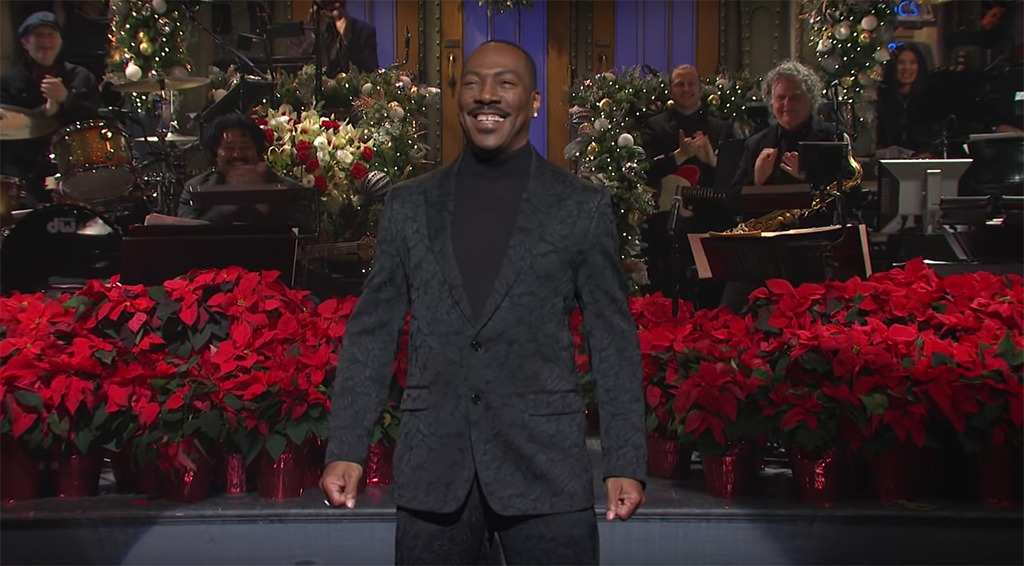 NBC
Eddie Murphy is back!
The 58-year-old star hosted NBC's Saturday Night Live, marking the first time he has acted on its stage since he left the show 35 years ago. And boy, did he bring the nostalgia and the laughs.
Here are five highlights:
1. Revenge Is a Dish Best Served Funny: Wasting no time, Murphy immediately fired off a sick burn at fellow '80s comedy legend Bill Cosby, who is currently in prison for sexual assault. In his iconic 1987 Eddie Murphy Raw comedy special, Murphy had recalled a time Bill had chastised him over the phone for "being too dirty on stage."
"If you had told me 30 years ago that I would be this boring, stay-at-home house dad, and Bill Cosby would be in jail, even I would have took that bet," Murphy, who has 10 children, said in his SNL monologue.
"Who is America's dad now?" he said, imitating Cosby.
Cosby's rep later issued a statement on Instagram in response to Murphy's diss.
"Mr. Cosby became the first Black to win an Emmy for his role in I Spy and Mr. Cosby broke color barriers in the Entertainment Industry, so that Blacks like Eddie Murphy, Dave Chappelle, Kevin Hart and et al., could have an opportunity to showcase their talents for many generations to come," the statement read. "It is sad that Mr. Murphy would take this glorious moment of returning to SNL and make disparaging remarks against Mr. Cosby. One would think that Mr. Murphy was given his freedom to leave the plantation, so that he could make his own decisions; but he decided to sell himself back to being a Hollywood Slave." 
"Remember, Mr. Murphy, that Bill Cosby became legendary because he used comedy to humanize all races, religions and genders; but your attacking Mr. Cosby helps you embark on just becoming click bait," the statement continued. "Hopefully, you will be amenable to having a meeting of the minds conversation, in order to discuss how we can use our collective platforms to enhance Black people rather than bringing all of us down together." #NotFunnySNL #SNL #FarFromFinished #FreeBillCosby #BillCosby."
2. The Fab Four: During his monologue, Murphy united onstage with fellow fan-favorite black comics Dave Chappelle, Chris Rock and Tracy Morgan, the latter two of which are also former SNL stars.
"Alright, now you're looking at half of Netflix's budget, right here on stage," Chappelle said.
3. Welcome Back, Mister Robinson: Murphy reprised his old SNL character from the recurring sketch Mister Robinson's Neighborhood, a racially charged parody of Mister Rogers' Neighborhood.
4. Welcome Back, Gumby: Murphy reprised his depiction of '50s character Gumby in a racially charged segment of SNL's Weekend Update.
5. Welcome Back, Buckwheat: Murphy reprised another one of his SNL characters in a parody of The Masked Singer.
Lizzo was the musical guest. She performed her songs "Good as Hell" and "Truth Hurts."