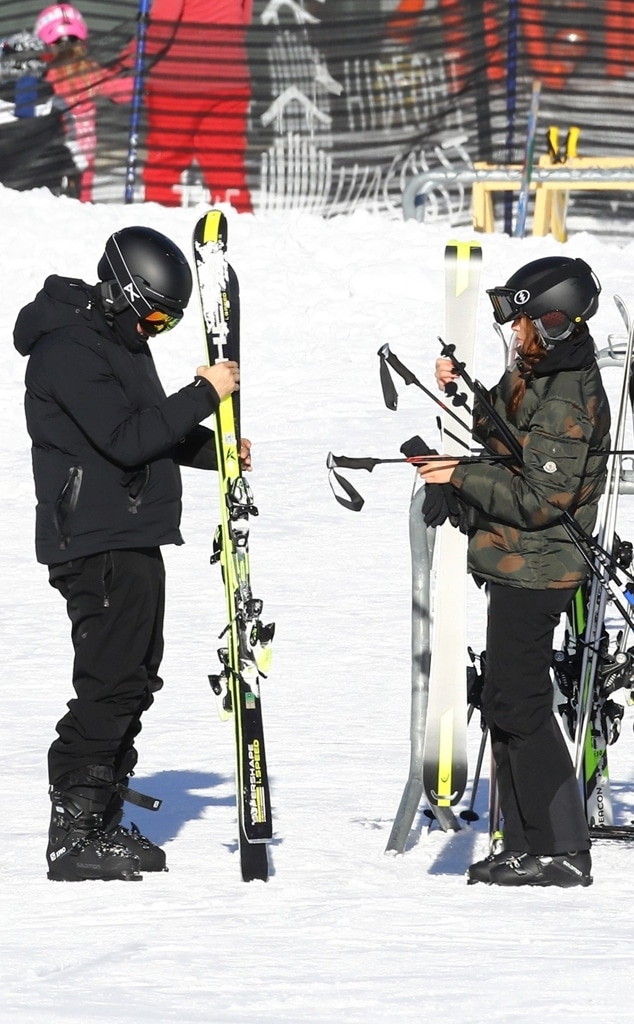 BACKGRID
It's a Winter Wonderland for these two lovebirds. 
Leonardo DiCaprio and Camila Morrone are celebrating the holiday weekend hitting the slopes in Aspen, Colorado. 
The two lovebirds were spotted in full on skiing gear on Saturday morning, Dec. 21, living their best life. The 22-year-old actress and the 45-year-old actor were pictured taking full advantage of the snow in Aspen and brushing up on their skiing skills.
The Once Upon a Time in Hollywood actor and the Mickey and the Bear actress have been romantically linked since December 2017.
While the 25 year age gap between them has sparked a lot of scrutiny from the public, it looks as though they're ignoring the negative talk and focusing on their careers and their relationship. 
Earlier this month, the Argentine American model told the Los Angeles Times, "I just think anyone should be able to date who they want to date." And in case you were wondering what her thoughts are on everyone's opinion of her relationship, she said, "I probably would be curious about it too." 
At the end of the day, the two haven't shied from making their relationship public and stepping out on the spotlight together. 
And it's clear the two love to be adventurous together. 
In August of 2018, the pair was spotted enjoying a romantic European getaway. The two enjoyed boat rides and snorkeling in the sea. A little over a year later, it looks like the two traded in the snow for a Winter Wonderland. 
At the time, a source told E! News that their romance could be described as "very relaxed." 
"Things with Leo and Cami are going very well. Leo really likes Cami and they spend a lot of time together," the insider told us. "She's got a great, spunky personality that Leo is drawn to and she's obviously gorgeous. All Leo's friends like Cami too. She's just a low key, cool girl."
Last November, another source told E! News, "It is getting more serious. They've been inseparable for the last year and are crazy about one another. They've gotten to know each other's families and they love being together."
During another occasion, DiCaprio was spotted capturing the beauty of his beautiful partner outside Hotel du Cap-Eden-Roc in Antibes, France, where they were staying during the Cannes Film Festival. 
While the two have yet to make their red carpet debut as a couple, it's safe to say we can expect more shots of them vacationing together in the near future. 
Watch:
Leonardo DiCaprio's Most Oscar-Worthy Roles RANKED