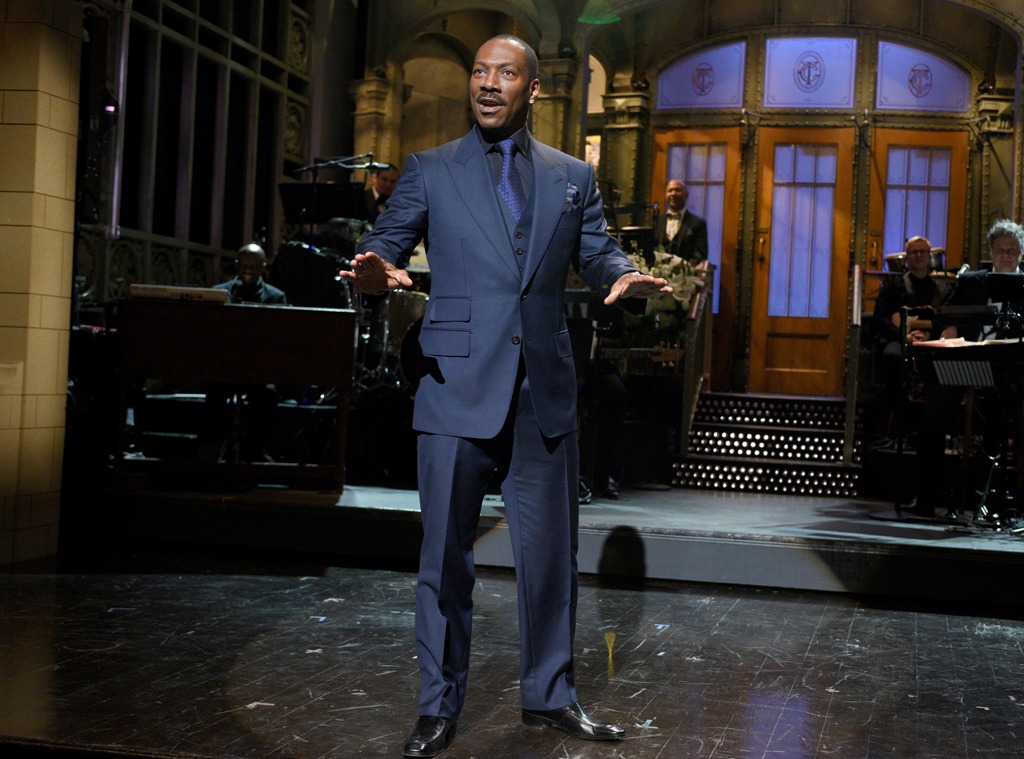 Dana Edelson/NBCU Photo Bank/NBCUniversal via Getty Images via Getty Images
He's Gumby, dammit, and he's coming home. 
35 years after he last hosted and left the show, Eddie Murphy is returning to Saturday Night Live to host this year's Christmas show, and it's about as big a deal as it sounds like it might be. 
Murphy was a cast member from 1980 to 1984, those years when Lorne Michaels had left the show and it was in the hands of Jean Doumanian and then Dick Ebersol. He was one of very few big name cast members of that time period, which also included Jim Belushi and Julia Louis-Dreyfus, and he was by far the biggest draw the show had at the time, and kept the show alive as it was struggling without Michaels. He even once hosted last minute while still a cast member, when Nick Nolte got sick in 1982. You may not have watched the show between '80 and '85. You might not even have been alive at the time, but you've heard of Gumby, Mr. Robinson, or James Brown and his celebrity hot tub. And you certainly know who Eddie Murphy is. 
Since he hosted in 1984, just a few months after his last episode as a cast member, Murphy has only returned to SNL to make an appearance on the 40th anniversary special, and now he's finally back for what might be the most anticipated show of all time. 
As Kenan Thompson put it to E! News, "That's the biggest reunion the show has ever had. Eddie coming back, it's like the prodigal son." 
For a long time, Murphy was actually boycotting the show, partly over a joke made by David Spade. When Spade joined the show in 1990, he had a segment called "Hollywood Minute," and he made a joke about the failure of Murphy's movie, Vampire in Brooklyn, and said "Look children, it's a falling star. Make a wish!" Murphy later called to yell at Spade, and it turned him off of the whole thing for years. He was incredibly unhappy.
Fred Hermansky/NBC/NBCU Photo Bank
"They were sh--ty to me on Saturday Night Live a couple of times after I'd left the show," Murphy told Rolling Stone in a 2011 interview. "They said some sh--ty things. There was that David Spade sketch. I made a stink about it, it became part of the folklore. What really irritated me about it at the time was that it was a career shot. It was like, 'Hey, come on, man, it's one thing for you guys to do a joke about some movie of mine, but my career? I'm one of you guys. How many people have come off this show whose careers really are fucked up, and you guys are sh--ting on me?' And you know every joke has to go through all the producers, and ultimately, you know Lorne or whoever says, [Lorne Michaels voice] 'OK, it's OK to make this career crack…'"
He's gotten over it in the years since. 
"I felt sh--ty about that for years, but now, I don't have none of that," Murphy continued. "I wouldn't go to retrospectives, but I don't let it linger. I saw David Spade four years ago. Chris Rock was like, 'Do you guys still hate each other?' and I was like, "I don't hate David Spade, I'm cool with him."
Spade was mortified and terrified, and wrote in his 2015 memoir (per Salon) that he continued to be afraid of Murphy for years. Eventually, about a month after those quotes ran in Rolling Stone, they had a brief run-in on the street in Beverly Hills, when Spade was crossing the street and saw Murphy get into a car nearby.
Alan Singer/NBCU Photo Bank/NBCUniversal via Getty Images via Getty Images
"My old-school fear came crashing back. Should I say something? We hadn't spoken in almost twenty years at this point. Before I knew it, Murphy had spotted me through the windshield. Maybe he thought I was Miley Cyrus. Either way, for some reason I gave a half wave and quick nod. It was my equivalent of the white flag. This can be a risky move if it goes unreciprocated. Then I heard the sound of a window going down. Once again, I was paralyzed by doubt. Do I look? I looked. He stopped in the middle of the street and I walked over. Through the open passenger window he said, 'Hey, Spade, how are you doing?'
I reached in and shook his hand. I said, "Hey, Eddie. Glad we're good." "Take it easy," he said, and drove away with a girl young enough to be . . . well, my date. (She was superhot.)
My Watergate with Eddie Murphy was over. My burden was lifted. After all those years, that stupid joke can just be that, a stupid joke. And I can go back to appreciating what a funny motherf--ker he is." 
Murphy went on to appear in the SNL's 40th anniversary special in 2015, though he didn't do anything funny. He just stood there and talked about how it was like going back to high school, and he'd always love this show. 
His return as host was announced in August, weeks before the season premiered or most of the other hosts of the fall were named, as if they wanted to lock it in as much as possible, and probably make the cast and writers as nervous as possible too. 
"I'm sure they are all really excited," Tina Fey told us last month at the American Museum of Natural History's 2019 gala, chaired by Lorne Michaels. "I'd be so nervous to pitch sketch ideas to Eddie Murphy. I did call immediately to be like 'Can I have two tickets?' which I almost never do. Because I knew those would be impossible to get." 
"We are extremely both nervous and excited," Thompson confirmed. "It's a very last minute-type show. We'll have to pitch him and see if he likes anything... but I have a bunch of ideas." 
"We are all having these discussions in the office about how important he is to all of us, so we are all excited to have him back," said Bowen Yang. 
Watch:
"SNL" Comedians Explain "SNL" Audition Process
"I'm a little nervous because what do you write up for Eddie?" Mikey Day said, while Heidi Gardner was just excited about being in the room with him. 
"It crossed my mind at that we are going to hear his laugh at the table read," she said. "His laugh, like his laugh! We are going to hear it in person!" 
"Everyone was freaking out when they announced it to us first," Ego Nwodim recalled. "We were like, wait is this real? Are we gonna be here for this? This is crazy. You get a little nervous for the greats because they're coming back to their old stomping grounds, so it's really fun and its more of an adrenaline rush, knowing that they're coming." 
Murphy sat down with Al Roker on the Today Show to talk about his return, saying it was "dreamy" to return to that studio that hasn't changed all that much in several decades. 
While there were surely be some new stuff, he teased the return of Gumby, Buckwheat (who was tragically assassinated in 1983, then revealed he faked his death in 1984) and a "very funny" Bill Cosby thing, as well as some possible Mr. Robinson and Velvet Jones (most of which you can see in the video below).
"I'm down for whatever, as long as it's really, really funny," he said. 
So far, Murphy's keeping the jokes for the show. He doesn't even tell the jokes in the promo with Thompson and musical guest Lizzo, but he does laugh very hard when Lizzo makes a Nutty Professor reference, and it's almost enough to just watch him stand on that stage cracking up. 
Whatever Murphy brings to the table tomorrow night, it's going to be a historic moment for us all. 
Saturday Night Live airs Saturdays at 11:30 p.m. on NBC. 
E! and NBC are both part of the NBC Universal family. 
Additional reporting by Jessica Finn