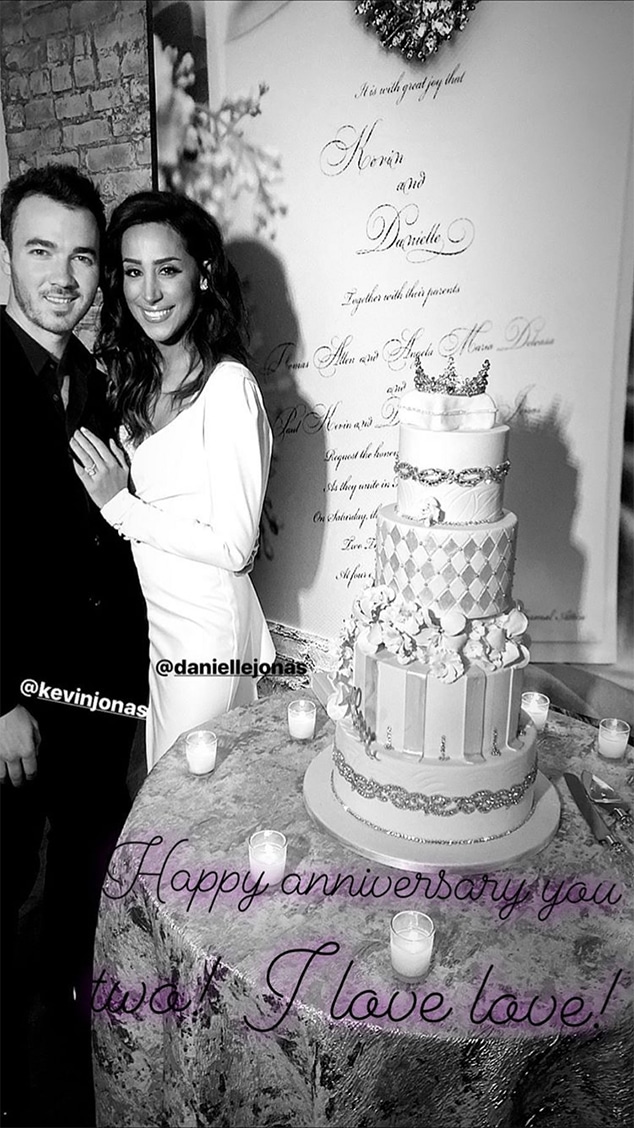 Instagram
Happy anniversary, Kevin Jonas and Danielle Jonas!
The 32-year-old Jonas Brothers band member and his 33-year-old wife celebrated 10 years of marriage on Thursday. E! News has learned that the couple marked the major milestone with a party at the Italian restaurant Mamo in New York—the same place Joe Jonas and Sophie Turner hosted their engagement party back in 2017.
E! News has also learned that celebrity event planner Mikie Russo organized the soirée. In fact, he planned the pair's wedding back in 2009 and brought back many of the details. For instance, replicas of the original invitations, cake and flowers were made. The décor also featured photos from the couple's wedding day, candles and pillows with the celebrities' initials and the number 10.
Danielle stunned in a one-sleeved white ensemble and Kevin looked dapper in a black suit.
Of course, they invited their famous family members to the party. Joe, Nick Jonas and Priyanka Chopra were all there. However, Sophie was not able to make the gathering. Kevin and Danielle's daughters, Valentina and Alena, were there for a little bit, too. 
Throughout the night, guests enjoyed dancing and taking pictures in the photo booth.
Earlier in the day, Kevin paid tribute to his spouse on social media.
"It is traditional for a husband to forget the anniversary of his marriage and how many years he's been married," he wrote alongside a picture of the sweethearts walking down the aisle. "As you can tell today, that is not the case here. I remember the date we met May 23rd. The date we got engaged July 2nd, and of course the date we were married December 19th. I remember these not because I'm good with numbers. (I'm a musician, after all.) I remember them because they are the three most important days of my life. I guess not counting my birthday, since if I wasn't born, I never would have met Dani. My wife of ten years. My best friend of twelve years. The love of my life. I cannot explain how amazing it is to look back on our journey together and to see how much we have grown together! You help me see my true potential in all things. You make me better, stronger, and show me what love is every day. So what I will say to my best friend, mother of my children, and forever love. This is just the beginning, we haven't even started our journey and I cannot wait for the next 10 and then the next. I love you to the moon and back."
Congratulations to the couple!